politics
Malaysia Reacts Coolly to Prospect of Trade Pact Minus U.S.
By and
Officials to meet in Chile this week to discuss deal's future

Australia among those pushing to revive Pacific agreement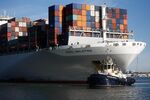 Efforts to salvage a blockbuster Pacific trade deal are struggling against waning enthusiasm from participants such as Malaysia before a meeting of officials this week in Chile.
With President Donald Trump nixing the U.S.'s involvement in the 12-nation Trans-Pacific Partnership, some countries are turning their focus to bilateral pacts, or to a separate Asian deal being championed by China. The rival 16-nation Regional Comprehensive Economic Partnership is focused on expanding Southeast Asian trade ties and doesn't include the U.S.
"The biggest attraction for us was America," Malaysian Trade Minister Mustapa Mohamed said of the TPP in an interview last week in Manila. "We are open, but 'minus one' would be tough for us. That's why RCEP is important to us."
Australia is pushing for a TPP pact without the U.S., arguing that countries spent too many years negotiating the deal and got too close to completion to let it fail. Some of the TPP countries will attend a summit Tuesday and Wednesday in Chile, where the future of the pact -- which covers 40 percent of the global economy -- will be discussed.
Trump has attacked multi-nation trade deals and touted an "American First" doctrine that would punish countries whose policies are deemed by the administration to be undermining U.S. jobs. The rise of protectionism in the U.S. is giving China the opportunity to champion free trade and boost its global clout.
Sending Ambassador
While Australia and New Zealand are sending their trade ministers to the Chile meeting, Malaysia will just be represented by its ambassador, according to the trade and industry ministry.
China is sending Yin Hengmin, its special representative for Latin American affairs, to the talks, though it's not a party to the TPP. Still, Australian Foreign Minister Julie Bishop downplayed the prospects of China potentially replacing the U.S. in the pact.
"We shouldn't assume that China is able or ready to do so," she said Monday in a speech in Singapore. "The TPP set a very high standard in terms of a free trade agreement and I don't think we should expect that China is currently in a position to meet that standard."
China is continuing to push meanwhile for the RCEP, which would cover 30 percent of the global economy and almost half the world's population. Even so, doubts remain about how fast the RCEP negotiations can advance, with the next round of talks expected in May in the Philippines.
"I don't think RCEP will see much progress," said Rahul Bajoria, a senior economist at Barclays Plc in Singapore. "It is difficult to get everyone to agree and it will take time. Trade deals are going to be at the back burner."
The TPP was a high-value agreement that included provisions for things such as intellectual property, state-owned enterprises and environmental and labor standards. While the RCEP covers matters like intellectual property, it's more of a traditional pact with a heavy focus on tariffs.
Read more: How migration has become a sticking point for RCEP
Malaysia will also push for free-trade deals with other countries, said Mustapa, who attended a meeting of the 10-member Association of Southeast Asian Nations in the Philippines last week. As a trade bloc, Asean is working on removing non-tariff barriers to boost trade within the region, he said.
More broadly, Southeast Asian nations are concerned about the rise of protectionism in the U.S. under Trump, Mustapa said.
"We have been on this path of opening up economies and now we have some countries getting more protectionist," he said. "We don't agree with that. We believe in openness. Asean has benefited from openness. When people appear to be more inward-looking, we get worried because we have benefited from this open regime."
Read more: How Southeast Asia makes progress in talks to dismantle trade barriers
The minister said officials are concerned Trump may not favor Asean as much as former U.S. President Barack Obama, who undertook an economic and security rebalance to Asia. The initiative was designed in part as a counterpoint to China.
"There are some worries that under Trump, Asean will not receive the kind of attention it used to," Mustapa said. "Obama was close to Asean."
Philippine Trade Secretary Ramon Lopez echoed Mustapa, saying there were sideline concerns during the Asean meeting about the U.S. approach to trade.
"Hopefully the U.S. will realize that it should take a lead role in globalization efforts as it is one of the biggest economies and has always been a leading proponent," Lopez told Bloomberg. Protectionist steps will only backfire, Lopez added, "as experienced by countries which have tried such a move."
— With assistance by Ditas B Lopez, and Shamim Adam
(
Updates with China and TPP in 7th paragraph.
)
Before it's here, it's on the Bloomberg Terminal.
LEARN MORE