Bharara, Wall Street's Cop, Among Prosecutors Asked to Quit
By , , and
Manhattan U.S. attorney had said he reached agreement to stay

Exit would disrupt prominent fraud, corruption investigations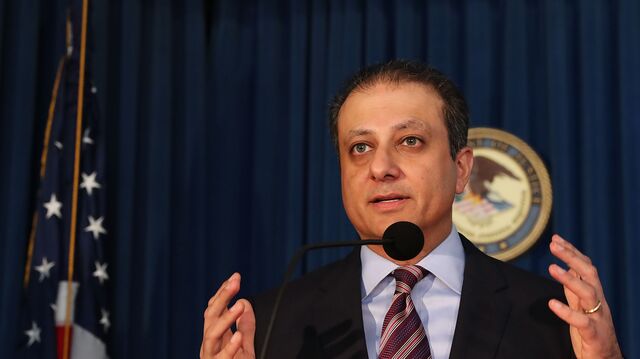 Wall Street enforcer Preet Bharara may be forced out as the U.S. attorney in Manhattan despite assurances he said he'd received from the incoming Trump administration that he would remain in the job.
Attorney General Jeff Sessions on Friday abruptly asked for the resignations of 46 U.S. attorneys: all those remaining who were appointed by President Barack Obama. Although most of the holdovers were expected to leave at some point, Bharara said shortly after meeting with Sessions and President-elect Donald Trump in November that he was asked to stay on in the new administration and had agreed to do so.

A Justice Department statement on the request for resignations didn't address whether all would be accepted or some held for later use, allowing for continuity on important investigations. After a similar request to State Department political appointees, the resignations were accepted immediately.
Sessions' request for resignations on Friday didn't specify exit dates. The U.S. attorney in Brooklyn, Robert Capers, and Paul Fishman of New Jersey said in separate statements that they'd been told to resign effective Friday.
Probes Pending
The Senate's top Democrat, Chuck Schumer of New York, said the attorney general's move to purge U.S. prosecutors would interrupt investigations and hinder the department's work. "While it's true that presidents from both parties made their own choices for U.S. attorney positions across the country, they have always done so in an orderly fashion that doesn't put ongoing investigations at risk," he said in a statement.
Trump declined to accept the resignations of Dana Boente, a U.S. prosecutor in Virginia who's currently acting deputy attorney general, and Rod Rosenstein of Maryland, Trump's pick to become deputy attorney general, Justice Department spokesman Peter Carr said in an email.
Bharara might not willingly step down, forcing Trump to publicly fire him, CNN reported Saturday, citing a person with knowledge of the situation. Sarah Isgur Flores, a Justice Department spokeswoman, declined to comment on that possible development.
Flores on Friday said the request for resignations applied to "all Senate-confirmed U.S. attorneys." An administration official who spoke on the condition of anonymity said all U.S. attorneys were being asked to submit resignations and that they were all expected to be accepted.
'Career Prosecutors'
"Until the new U.S. attorneys are confirmed, the dedicated career prosecutors in our U.S. attorney's offices will continue the great work of the department," Justice Department spokeswoman Sarah Isgur Flores said in a statement.
If Bharara departs, some of the most prominent and difficult Justice Department investigations could be disrupted. They include inquiries into Deutsche Bank AG's handling of "mirror trades" that helped Russian clients convert rubles into Western currency, a high-profile securities fraud case against Valeant Pharmaceuticals International Inc., and political corruption cases involving New York Mayor Bill de Blasio and aides to New York Governor Andrew Cuomo.
Last year, charges from Bharara's office led to the arrest of Reza Zarrab, a Turkish-Iranian gold dealer accused of moving money for Iran through his network of companies to circumvent sanctions controls. The arrest of Zarrab, considered an ally of Turkish president Recep Tayyip Erdogan, roiled relations between Turkey and the U.S. Zarrab has pleaded not guilty and is fighting the charges. Zarrab's trial is scheduled for October.
Rooting Out Corruption
Bharara, 49, who's held his post since August 2009, had been praised by Republicans and Democrats for aggressively prosecuting corruption in Albany. One of the reasons he may have initially been asked to stay was because of his pursuit of several political corruption cases of Democratic state officials.
While incoming presidents, most notably Bill Clinton, have changed out U.S. attorneys before, the new purge comes in a politically charged atmosphere as Democrats call for a special counsel to look into the Trump camp's relationships with Russia during the presidential campaign.
For a QuickTake on the Trump-Russia saga click here.
Sessions, who has recused himself from the Russia matter, told a conservative radio host on March 9 that he was open to naming a special counsel to look into the Justice Department under Obama. Later in the day, Sean Hannity of Fox News called for the Justice Department to be swept of Obama holdovers. "It's time for the Trump administration to purge these saboteurs before it's too late," Hannity said.
Senator Dianne Feinstein of California, the top Democrat on the Senate Judiciary Committee, said she was surprised by the Sessions' request. "Under previous administrations, orderly transitions allowed U.S. attorneys to leave gradually as their replacements were chosen," Feinstein said in a statement. "This was done to protect the independence of our prosecutors and avoid disrupting ongoing federal cases."
— With assistance by Chris Strohm, Bob Van Voris, David Voreacos, Justin Sink, and Tom Schoenberg
Before it's here, it's on the Bloomberg Terminal.
LEARN MORE