South Korea's President Park Ousted in Unprecedented Ruling
By
President is removed from power immediately, loses immunity

Election to be held within 60 days, with Moon ahead in polls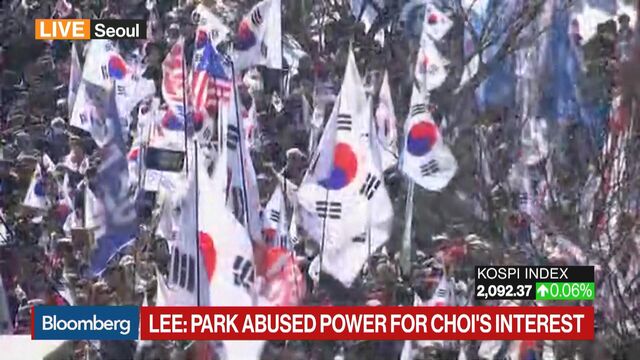 A South Korean court removed Park Geun-hye from office, raising the prospect of possible jail time and capping one of the most stunning downfalls in modern political history.
Friday's ruling means Park must leave the presidential residence in Seoul, where she had plotted her defense since lawmakers impeached her in December amid a corruption probe. It triggers an election that must be held within 60 days, with opposition figures leading in polls.

The decision brings South Korea closer to moving past one of its most turbulent periods in decades, in which millions of people rallied to demand a graft investigation into some of the country's most powerful business and political leaders. Prosecutors have indicted about 40 people so far, including Samsung Electronics Co. heir-apparent Jay Y. Lee.
Click here for a Q&A on why Park's out
Park's removal could allow South Korean policy makers to focus more on a slowing economy, tensions with North Korea and economic retaliation from China over a plan to deploy the Thaad missile-defense system. The leading candidates to replace her also favor moves to break up family-run conglomerates that have dominated Asia's fourth-biggest economy for decades.
"History is moving forward with the great power of the people," presidential front-runner Moon Jae-in said in a statement. "The Republic of Korea will now restart upon this new and amazing experience."
After the decision, Hwang put the military on heightened alert. A commentary in China's official Xinhua News Agency called on Park's successor to repair ties with Beijing and "find ways to neutralize Thaad's security threats against China." U.S. State Department spokesman Mark Toner said Park's removal would have no impact on ties, the Associated Press reported.
The decision strips Park of the immunity from prosecution she enjoyed while in office. Prosecutors have been investigating allegations that Park pressured top business executives, including Samsung's Lee, to donate tens of millions of dollars to foundations run by her friend Choi Soon-sil in return for government favors. The trial for Lee, who has denied any wrongdoing, started on Thursday.
To read more on the Samsung bribery allegations, click here.
"She has betrayed the trust of the people," acting court president Lee Jung-mi said in her ruling on Park's impeachment. The president committed a "grave" violation of the law by leaking classified documents to Choi, Lee said.
Park intends to stay at the official residence Friday, a spokesman said by text message. Her opponents planned to rally in Seoul on Friday night to celebrate her ouster.
Clashes erupted between hundreds of Park supporters and opponents near the court after the decision. At least two people died, including a 72-year-old man, Yonhap reported. Police in riot gear used buses to contain the demonstrations, and erected barriers in front of the presidential compound.
"Our country's democracy had backslid in recent years," Park Seung-jin, a 64-year-old former airport employee, said near the court. "I shed a lot of tears when I saw our young people come out to the streets to fight against the deep rooted evils, and I am happy for them now."
Acting President Hwang Kyo-ahn said in a televised address to the nation that the court decision should be respected.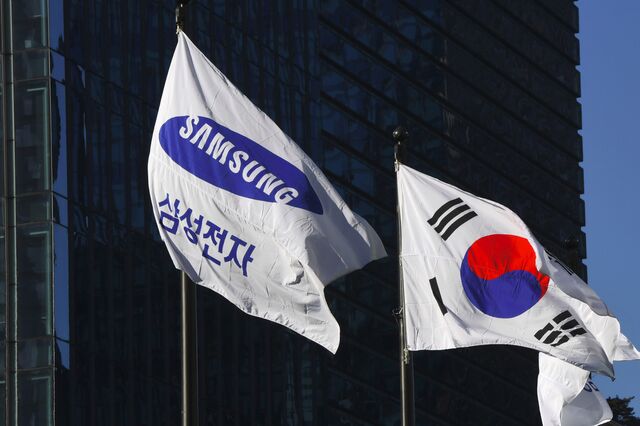 "Our society has been facing severe conflicts and confrontations in the past few months. We've seen hostility and jealousy deepening among ourselves," Hwang said. "There are people who says they can't accept it now, but it's just about time to embrace it and end the confrontation."
QuickTake South Korea's Chaebol
The benchmark Kospi index briefly rose to a session high after the ruling, before closing up 0.3 percent. South Korea's stocks and currency have remained resilient despite the crisis.
Read more on the top contenders to replace Park
"With political uncertainty removed and an early election to be held in May, we see upside potential for Korea's economy as sentiment stabilizes," Standard Chartered analysts led by Chong Hoon Park wrote in a note after the decision.
The main opposition Democratic Party of Korea is home to several top candidates in recent polls, including Moon. The party will hold a nationwide primary over the next month to pick a nominee. Park's Liberty Korea Party, formerly known as Saenuri, has yet to put forward a candidate.
The scandal exposed flaws in South Korea's democracy after the country transitioned from dictatorship in 1987, according to Kim Sung-soo, professor of political science at Hanyang University in Seoul.
"Today's ruling gives a good example that any leaders in the future should be punished when they abandoned their duty," Kim said.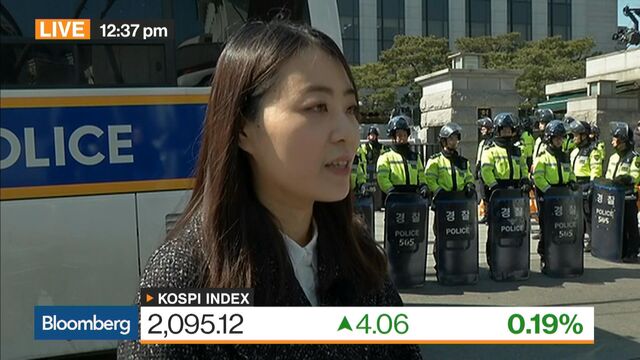 — With assistance by Sam Kim, Hooyeon Kim, Sohee Kim, Andy Sharp, Shinhye Kang, Heesu Lee, Seyoon Kim, and Peter Pae
Before it's here, it's on the Bloomberg Terminal.
LEARN MORE