Polish Posturing in Brussels Risks Curbing Nation's EU Clout
By and
Warsaw's failed push to topple Tusk in EU job raises eyebrows

Confrontational stance may deprive Poland of political allies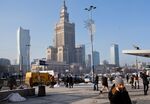 Poland's ruling Law & Justice party, in trying to thwart the re-election of a fellow countryman to a top European Union post, showed just how far it's willing to back out of Europe's mainstream.
Donald Tusk will serve another 2 1/2 years as EU president after all the bloc's national leaders except Polish Prime Minister Beata Szydlo endorsed his reappointment on Thursday. Her opposition to Tusk, from the rival Civic Platform party, is the latest high-profile example of Law & Justice's refusal to play by the EU's political rules -- and might serve to undermine Poland's influence in the bloc.
"The Polish government is clearly isolating itself," said Steven Blockmans, head of the politics and institutions unit of the CEPS think tank in Brussels. "It's self-destructive. It's counterproductive on so many fronts."
The 28-nation EU has the characteristics of a club with informal practices that can be as important as the formal rules when it comes to decision-making. The combination makes coalition-building important and puts a premium on diplomatic sensitivity and savvy, qualities for which Poland's current rulers aren't known.
Voting Power
Poland has a strong financial incentive to prevent a deterioration in ties with EU partners because the country is the biggest net beneficiary of the bloc's 140 billion-euro ($150 billion) annual budget. For the seven-year period through 2020, the EU's spending plan earmarks more than 100 billion euros for Poland.
Tusk retained his job chairing EU summits because Szydlo on her own lacked the voting power to veto a decision that European leaders traditionally take by consensus. Her stance was part of a strategy by the right-wing Law & Justice making criticism of the EU a domestic political plank, an approach that risks leaving the Polish government with fewer allies on European policy matters ranging from factory pollution limits to migration obligations.
Law & Justice, led by Jaroslaw Kaczynski, has clashed openly with the EU over a range of issues since returning to power in October 2015. The party's curbs on independent constitutional powers led Poland to become the first member country to face an EU probe into democratic behavior. The Polish government has vocally opposed a German-backed European plan for refugee quotas. And Warsaw has lashed out at efforts to tighten Europe's caps on emissions blamed for climate change, seeking to protect the domestic coal-fired power industry.
In this case, the Polish government's skeptical attitude toward the EU was accentuated by personal animosity.
Kaczynski regards Tusk as his biggest political competitor and a foe who, as Poland's premier in 2010, was morally responsible for a Polish Air Force plane crash that killed Kaczynski's brother Lech, then the country's president, and nearly 100 other people in Russia.
Polish Probe
Law & Justice also accuses Tusk of inappropriately intervening in the EU's rule-of-law probe of Poland. In a letter to fellow EU leaders on Tuesday, Szydlo said this alone rendered Tusk unfit to continue in the job.
About two hours after Tusk's re-election, Kaczynski called it "very bad" and said Szydlo had defended Polish interests by voting against. He also told reporters in Warsaw the EU betrayed its founding principles and has become "overwhelmingly dominated" by Germany.
Foreign Minister Witold Waszczykowski went a step further on Friday, saying in a radio interview that German Chancellor Angela Merkel gave a "directive" to other EU leaders to back Tusk and that Poland will check whether larger countries didn't "blackmail" smaller ones in the vote.
Merkel told reporters after the vote that, because it was clear in advance Poland would oppose Tusk's candidacy, the other leaders "were able to prepare ourselves for this very well" and get it out of the way. "How this develops, we'll have to see," she said. "I hope that we can arrive at a rational, cooperative relationship."
In any case, the extent to which the Polish government was interested as much in posturing over Tusk as in unseating him was revealed after it nominated Jacek Saryusz-Wolski, a European Parliament member from Poland, for the job at the last moment. Saryusz-Wolski belonged to Civic Platform until it kicked him out for accepting the nomination.
Waszczykowski, asked by reporters in Brussels on Monday which other EU governments backed the candidacy of Saryusz-Wolski, said: "I'm not interested in who supports him. He's our candidate and he's in play."
'Enfant Terrible'
Poland's stance over Tusk ran counter to a call that Warsaw has made in the run-up to negotiations on the U.K's planned exit from the EU for unity among the bloc's 27 other governments.
Yann-Sven Rittelmeyer, an analyst at the European Policy Centre in Brussels, described the current Polish government as "the enfant terrible of the European family." He said its propensity to turn EU issues into domestic political contests threatens to chip away at goodwill in other capitals, including fellow eastern European member nations such as Hungary, which often aligns itself with Poland on policy matters.
"There are risks in the medium term in getting the support of allies at crucial moments," Rittelmeyer said.
— With assistance by Patrick Donahue, and Wojciech Moskwa
Before it's here, it's on the Bloomberg Terminal.
LEARN MORE