pursuits
Paris Big Dig Abandons Chic Haussmann for Trains to the Suburbs
The most extensive infrastructure plan since Georges Haussmann's 150 years ago aims to boost the economy in the metro area.
By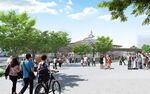 Paris is embarking on its most ambitious building project in more than 150 years, when a young bureaucrat replaced the medieval city center with grand buildings and boulevards in a signature style that is now known by his name — Haussmannian.
Today's bureaucrats aim to channel more than 35 billion euros ($37 billion) in the next two decades toward the urban hinterland that represents all that ails the city — even the country. First floated in 2008, the plan is intended to foster development by connecting suburbs to each other, as well as the downtown.

The project has taken on more urgency since Paris began pitching itself to global businesses as an alternative to London following the U.K.'s vote to leave the European Union. While it hasn't come up as a campaign issue, nationalist presidential candidate Marine Le Pen has indicated she considers the plan an excessive burden on public finances.
"This is the year when Grand Paris steps up," Philippe Yvin, head of the state agency charged with the plan's transportation piece, said in an interview. "We are engaged in an international competition with other metropolises to attract investment."
Building Boost
With a 15-year construction schedule for the extended transport network, it's a bonanza for a building industry emerging from a slump. Vinci SA and Bouygues SA have partnered for a 968 million-euro contract to build part of the new metro line, which at 5.7 billion euros will be the costliest part of the blueprint. Train and signal-system makers Alstom SA and Siemens AG could also benefit.
"As the saying goes, when the construction sector is thriving, everything is," said Raoul de Parisot, head of the cement industry lobby. He estimates the project will boost volumes in the region by around 10 percent over the next 10 to 15 years, though not enough to reverse a 30 percent decline since 2007.
Even if the French capital loses to Frankfurt or Dublin in the post-Brexit scramble, the 12 million people living and working in greater Paris stand to gain from the plan, as does France as a whole. The region accounts for almost a fifth of the nation's population and about a third of its gross domestic product. It's home to 80 percent of the members of the benchmark CAC-40 stock index.
Metro Expansion
Under the plan, 200 kilometers (124 miles) of new metro tracks and 68 stations will be added to the capital's transport network. Work just got under way on a new line, the number 15, that will form an arc through 22 southern suburbs and cut travel time substantially for commuters among many densely populated towns.

"It will make trips to visit my children and my friends who live in the suburbs faster," said Denise Guyader, a retired inhabitant of Cachan, south of Paris, as she waited for a train while the sounds of construction boomed under the station. "For now, the works are terrible."
By building links among some of the least prosperous suburbs around the city, "Grand Paris" is also intended to spur development in such places as Aulnay-sous-Bois, a troubled town where violence broke out last month over alleged police brutality. The town will get a new train station, and an abandoned car factory will be converted to a transport maintenance and management center.

As an add-on to the "Grand Paris" plan, the French parliament also voted to spend 1.7 billion euros to develop a new train connecting Paris to the main international Charles de Gaulle airport in 20 minutes, or half the time it now takes on a heavily-used commuter line. This should help attract tourists, according to Valerie Pecresse, the head of the Ile-de-France region.
Wealth Generation
"Grand Paris" also includes plans for the sale of city-owned land to private companies, which will have to invest more than 6 billion euros to build train stations, harbors, pools and plazas in and around the capital.
The project, birthed by former President Nicolas Sarkozy, was picked up and amplified by his Socialist successor, François Hollande. It offers the prospect of job creation as France seeks to boost sluggish economic growth and reduce a 10 percent unemployment rate. So far, 4,000 people are working on the plan's transport expansion projects.
"The effect of Grand Paris on wealth generation is real," said Pierre-Philippe Combes, an economist who teaches at the Paris Institute of Political Studies, or Sciences Po, and is working on an evaluation of productivity gains related to the project. As bigger cities are more productive, a grander Paris will benefit the whole country, he said.
Before it's here, it's on the Bloomberg Terminal.
LEARN MORE