GOP Senators Say August Deadline for Tax Plan May Be Unrealistic
By
McConnell says health-care debate constrains timing for tax

Brady, White House remain committed to meeting August target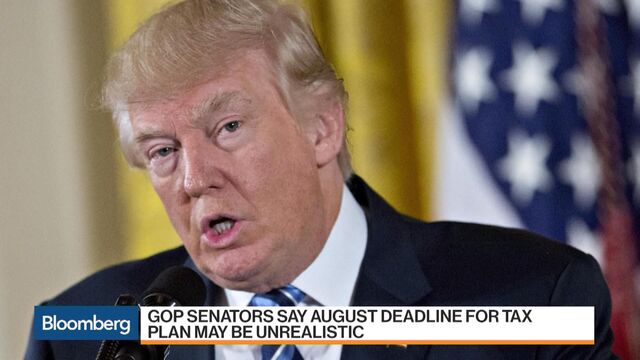 Top Republican senators are signaling that they may not be able to complete a tax overhaul before August, even as House leaders and members of President Donald Trump's administration say they're committed to meeting that deadline.
Senate Majority Leader Mitch McConnell said during an interview with Politico Thursday that debate over repealing the Affordable Care Act is putting some constraints on addressing taxes before Congress takes its summer break in August.
"I think finishing on tax reform will take longer," McConnell said. "We do have to finish the health-care debate, up or down, win or lose, before we go to taxes."
House Republicans are deliberating over legislation to unwind Obamacare. While the second of two key congressional committees has cleared the bill, moving it a step closer to a full House vote, it faces opposition or expressions of concern from GOP senators, conservatives, doctors, hospitals, insurers and AARP, the lobbying group for seniors.
Congressional leaders and Trump have said they need to tackle health care before taxes.
Ryan's Target
House Speaker Paul Ryan set a target in December of getting a tax overhaul done within the first 200 days of the new administration. Since then, House Ways and Means Chairman Kevin Brady and members of Trump's administration, including Treasury Secretary Steven Mnuchin, have repeated that goal.
Senate Finance Committee Chair Orrin Hatch, the top tax writer in the chamber, called that deadline into question on Thursday, saying the health-care legislation may delay it.
"It could. It sure could, because it's a very complex debate," Hatch told reporters. "Tax reform is complex, too."
Senate Majority Whip John Cornyn said Thursday there's pressure to move on health care because Republicans can't move onto a tax overhaul or other goals until health care is completed.
"This is so basic to what we've promised over the last few elections," Cornyn said to reporters. "I think if we fail to keep this promise then I think it makes the rest of our work much, much more difficult to accomplish."
'Parallel Tracks'
So far Brady isn't backing down. He told reporters earlier this week that the debate over health care shouldn't delay the tax overhaul.
"From the Ways and Means perspective we're staying right on the same track, which is to deliver tax reform this summer," Brady said. "We expect action in our committee this spring. So we're running parallel tracks. They're both equally important."
Trump said on Feb. 9 that he'd announce a "phenomenal" tax plan in the next "two or three weeks." He hasn't yet released a plan. White House spokesman Sean Spicer said Thursday the president intends to "get a lot done this year" on taxes.
Last week, Mnuchin said during an interview on Fox Business that completing a rewrite of the tax code by August was aggressive, but realistic.
"I think there's a likelihood of it happening later this year, but less than 50 percent -- I wouldn't bet money on it," said economist Kyle Pomerleau, director of federal tax projects at the conservative Tax Foundation. "Plus, they haven't seen any legislative language of a tax reform bill, so there's nothing to debate yet."
Border-Adjusted Tax
The House GOP tax plan includes a border-adjusted tax concept that's facing intense opposition. The measure, which would replace the corporate tax rate of 35 percent with a 20 percent rate applied to companies' domestic sales as well as imported goods, is under attack from import-heavy industries such as retail and automakers.
Steve Gates, a board member of the American International Automobile Dealers Association, which opposes the border-adjustment plan, met Thursday with McConnell's staff members. He said they told him "there's so much going on that perhaps nothing would occur this year."
"The people that I met with were certainly familiar with border adjustment but
certainly were not ready to commit," said Gates, who owns car dealerships in Kentucky. "I heard a couple of times maybe that they were looking forward to hearing something from the executive branch."
— With assistance by Lynnley Browning, Ben Brody, and Kaustuv Basu
Before it's here, it's on the Bloomberg Terminal.
LEARN MORE