markets
BHP Requests Formal Meeting With Escondida Union to Resume Talks
By
Company asks union to resume negotiations in month-long strike

Offer includes improved proposals on points union sees as key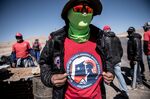 BHP Billiton Ltd. has sent a formal request to meet with union leaders at the world's largest copper mine in Chile, the first attempt to meet since talks failed on February 20, the company said in an emailed statement Friday.
BHP wants to propose a new wage offer that includes improvements in several areas that the union has said are essential to resume negotiations, Patricio Vilaplana, Escondida vice-president of corporate affairs, said in an interview in Antofagasta on Thursday. Vilaplana didn't specify what the changes were.
"We want to sit down to talk and present a new offer," Vilaplana said. "Obviously, there are some improved proposals in this new solution."
The month-long strike in Chile coincides with a halt in concentrate exports from the world's second-biggest copper mine in Indonesia, crimping global supply and bolstering prices on the London Metal Exchange. In a further disruption on Friday, workers at a Freeport-McMoRan Inc. mine in Peru plan to begin an indefinite strike at 6:30 a.m. local time after wage talks broke down, according to the union.
BHP said it proposed union leaders to meet over the coming days. The company has not requested government mediation for this meeting, a labor directorate official said Friday. Escondida's Union Number 1 has received the offer but hasn't issued a response, a union official said.

Wage talks at Escondida have been stalled for almost three weeks. The union, which represents 95 percent of Escondida's operators and maintenance workers, has said it will only go back to the negotiating table if management maintains benefits and working hours, and doesn't differentiate between existing and new workers.
It also needs to know the specifics of the company's proposals on those three issues beforehand, Marco Lopez, a legal adviser to the union, said Friday.
"The company hasn't contacted us to say they have a new offer," Lopez said. "We still don't know what these changes are about, or if they are important enough to overcome our concerns on the three main points."
Escondida is looking for options to meet the workers' demands half way, Vilaplana said. During the last meeting on Feb. 20, they talked about working hours, and the company said it's prepared to do things like installing resting areas in remote sites so workers don't spend a long time moving from one place to another.
Labor Costs
"There are new proposals, new adjustments, things that can get us closer," Vilaplana said. "But this doesn't mean we are leaving our wallets wide open."
In 2013, BHP paid workers a 23 million-peso ($34,500) end-of-conflict bonus, considered the highest such bonus in Chile's history at the time. Earlier in this negotiation, workers sought a 25 million-peso bonus and a 7 percent salary raise, while the company offered an 8 million-peso bonus and no increase.
"What's important is to change the direction of the curve," Vilaplana said. "We can't keep going with this trend of increasing labor costs, we are already above the market and we are not the most productive."
The strike is entering its 30th day, and the company can now legally make individual offers. While management would rather present a collective contract, the option of individual contracts is always there, Vilaplana said. Legally, if over 50 percent of strikers accept individual offers, the stoppage must end.
Contractors Sought
By this stage too, the company can resume output and replace strikers with contractors or its own workers. Escondida's miners are fiercely opposed to that. About 1,100 are camped at the mine entrance, in the Atacama desert, at 3,100 meters above sea level. They take three to four-hour shifts to guard the six access points and are determined not to let anyone pass. Contractors and minimum services workers have had trouble going in or out of the mine.
BHP's priority is to resume work at the Coloso desalination plant, a project about 170 kilometers from Escondida, and at a concentrator plant within the mine precinct. The first involves about 400 workers, while the former needs 1,200 to 1,300 people. It's also considering using contractors to do the maintenance necessary to restart output once the dispute is settled.
"We probably will not resume production immediately," Vilaplana said. "First, we would like to restart construction projects which don't have anything to do with production."
Weeks Not Months
The company is contacting contractor companies to see if they can count on their workers. Vilaplana says management will not put contractors at risk, but any attempt to get workers inside the mine is likely to spur confrontation.
"We're not looking to get 1,000 people in the mine in one go, we're not looking for confrontation, but replacement is a right," Vilaplana said. "We hope it will take weeks to restart production once the strike is finished, not months."
Not only is Freeport involved in a dispute with the Indonesian government over the terms of its operation in the country, which has stopped concentrate shipments from Grasberg, but it's now facing a strike at its Cerro Verde mine in Peru over pay.
Before it's here, it's on the Bloomberg Terminal.
LEARN MORE