Trump Accused of 'Whack-a-Mole' Tactic With New Travel Ban
By
States say block on earlier order ban should bar replacement

Stump speeches claimed as evidence of anti-Muslim motive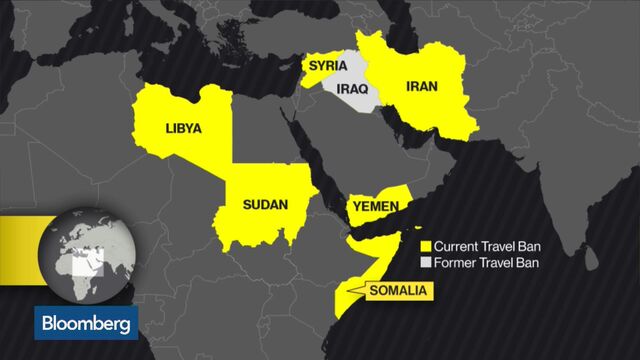 The Washington state attorney general who stymied President Donald Trump's original travel ban is doubling down for a new battle over the revised order issued three days ago.
In Trump fashion, the latest challenge to the White House's authority over immigration was announced not in a press conference, but in a Twitter post.
"Defending the Constitution cannot be a game of whack-a-mole," the office of Washington Attorney General Bob Ferguson tweeted Thursday. Hours later, he urged the same Seattle judge who blocked the Jan. 27 executive order to make it clear that earlier ruling also bars the Trump administration from enforcing its revised travel ban.
As with the president's first travel ban that sparked dozens of lawsuits, Democratic state attorneys general are leading the charge to block Trump's renewed push to make good on his campaign promise to curb immigration in the name of national security.
Seattle Judge
Hawaii was first to the courthouse this time, challenging the revised immigration restrictions as religious discrimination against Muslims. New York Attorney General Eric Schneiderman and his Massachusetts counterpart Maura Healey both announced plans to join Ferguson's fight in Seattle federal court.
Justice Department spokeswoman Nicole Navas declined to comment on the legal challenges.
Taking on another Trump cornerstone, the city of San Francisco is escalating its attack on a presidential edict to withhold funding from sanctuary cities.
The common issue is whether Trump's executive orders violate the Constitution -- in the travel ban cases, plaintiffs will try to prove Muslims are being singled out, while sanctuary cities contend the president has cast aside fundamental tenets of federalism. At the ground level, the outcome will determine who will be allowed to come to or remain in the U.S., and who might be left in limbo.
'Unjustified' Power
"The only way to stop this progression of unjustified executive power is through federal litigation," said Geoffrey Hoffman, director of the University of Houston Law Center Immigration Clinic. "This is how you rein in the executive when it's made various attempts at circumventing the constitution. These are both extremely viable causes of action."
Actions on Wednesday and Thursday follow weeks of courtroom battles in which civil rights advocates and state attorneys general have assailed Trump's temporary ban on immigrants from a handful of mostly Muslim countries. Having won the first round, those officials and organizations aim to block the new policy before it takes effect March 16.
Trump has repeatedly taken to Twitter to denounce court rulings against his original ban, including the decision by U.S. District Judge James Robart that blocked the executive order from being enforced nationwide. "The opinion of this so-called judge, which essentially takes law-enforcement away from our country, is ridiculous and will be overturned!" Trump said to his 26.3 million followers. Instead, a federal appeals court kept the travel ban on hold.
"You cannot tweet your way out of it," Ferguson's office said Thursday on Twitter. "That doesn't work in a courtroom."
In court, Ferguson argued that the Trump administration was incorrect when it asserted in a filing Monday that Robart's ruling from five weeks ago "does not limit the government's ability to immediately begin enforcing the new executive order."
"When a court enjoins a defendant from implementing policies, the defendant cannot evade that injunction simply by reissuing the same basic policies in a new form," Ferguson said.
Syria, Iran
Trump's new travel ban, which bars people from Syria, Iran, Somalia and three other countries from entering the U.S. for 90 days, removes an exemption that would have favored Christians over Muslims and exempts lawful permanent residents, among other changes. That will likely make it more difficult to challenge than Trump's previous executive order, legal experts said.
Hawaii, whose request to block the order will be heard by a judge on March 15, argues the revised ban still discriminates on religious grounds. Trump's stump-speech pledge to ban Muslim immigrants, which he softened later in the campaign, show the religious impetus for the travel ban, said the state's attorney general, Douglas Chin.
The re-worked ban still violates the Constitution's establishment clause, which bars the government from favoring one religion over the other, Chin said.
Tourism Loss

At the core of Chin's argument are Trump's cries for a Muslim ban on immigration over the last 18-months. From July, 2015 to December, 2016, Trump made nearly a dozen references to a Muslim ban or registry as he emerged as the Republican party's nominee and ultimately won the presidency.
Whether Trump's campaign rhetoric can be evidence in court may now be the central question before federal judges. Without references to religion in the latest ban, the stump speeches that won Trump the Oval Office may be all the evidence of discriminatory intent challenging attorneys have at their disposal.
The updated executive order has done a good job of at least hiding those motivations, making the religious discrimination argument less convincing in court, said Allan Ides, a professor at Loyola Law School in Los Angeles.
"You can point to all of that, but I don't think that's going to serve as strong evidence, especially after the White House backed down and changed things," said Ides, who served as a court-appointed counsel on immigration cases before the U.S. Court of Appeals in San Francisco from 2004 to 2006. "It starts looking like a foolish exercise of executive power, but not necessarily an unconstitutional one."
After filing its initial lawsuit, the state added the imam of the Muslim Association of Hawaii as a co-plaintiff. Ismail Elshikh contends the Trump order subjects him, his family and members of his mosque to discrimination, denying them the right to travel. That includes his mother-in-law, who is Syrian and will be barred from coming to the U.S., Elshikh said.
Hawaii also alleges that the order will harm the state's tourism economy which generated $15 billion in revenue in 2015. It will also prevent the state's residents with links to those six countries from freely traveling in and out of the country while promoting a culture of religious discrimination, according to the amended complaint.
In a Maryland case, a judge will hear arguments March 28 on whether to block a part of Trump's order limiting to 50,000 the number of immigrants who can enter the country. U.S. lawyers on Wednesday urged the judge to reject the request by a refugee resettlement group because the president has power to set the cap.
The American Civil Liberties Union and other immigrant rights groups also promise more lawsuits.
Sanctuary Cities
The strongest challenge to Trump's immigration policies could come from San Francisco. The city and a Silicon Valley neighbor, Santa Clara County, are suing Trump over an executive order that threatens to cut funding to jurisdictions that provide a safe haven for undocumented immigrants without a criminal record.
City Attorney Dennis Herrera on Wednesday asked a judge to temporarily block the president's directive, claiming San Francisco may lose up to $2 billion in direct and indirect federal funding if the policy is enforced; this while it tries to cobble together a balanced budget for its fiscal year starting July 1.
"With a stroke of his pen, President Trump is trying to seize the spending power that our Constitution entrusts to Congress," Herrera said. "Then he's using it as a weapon to illegally bully cities and counties across this country, potentially threatening funding for things like meals and medical care for seniors and low-income families."
San Francisco is seeking a preliminary injunction to bar the president from withholding federal funds from the city.
— With assistance by Erik Larson, Chris Dolmetsch, and Andrew M Harris
Before it's here, it's on the Bloomberg Terminal.
LEARN MORE