This Mobile Device Can Map Your Future Home
The tablet-size Contour uses a laser range finder to make digital models of building sites.
By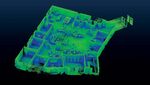 Innovator Kevin Dowling
Age 56
Chief executive officer of Kaarta Inc., a two-year-old, four-employee startup in Pittsburgh
Form and function
The Contour, a touchscreen device that's a little thicker than a tablet, uses a built-in laser range finder to generate computer models of building sites or interiors undergoing renovation as it's carried through them.

Measure
As an architect or contractor walks through the space, the Contour gathers about 43,000 measurements a second at a range of up to 49 feet.
Model
The Contour's processor turns the measurements into a 3D model displayed in real time. To make building plans, the model can be exported to standard computer-aided design (CAD) software via a USB cable. 
Origin
Dowling, a roboticist trained at Carnegie Mellon University, joined Kaarta to commercialize the proprietary algorithms created by CMU grad student Ji Zhang.
Funding
Dowling says the company is already turning a profit on licensing and sales of its proprietary software and outdoor-mapping hardware. 

Preorders
Customers who've signed up to receive the first production units include architecture, engineering, and construction companies as well as researchers at automakers working on self-driving cars.
Next Steps
"There's a gap in the marketplace for something that captures 3D, does it quickly, and does it indoors," says Aaron Morris, a senior manager at CAD developer Autodesk Inc., who predicts that the Contour will score with builders and renovators. Dowling says production will start in the second half of this year. Kaarta's next product, Traak, aims to enable robots and self-driving vehicles to navigate without GPS.
Before it's here, it's on the Bloomberg Terminal.
LEARN MORE