GM Finally Leaves Europe Behind
It's the end of an era. Here's what it means.
By and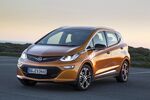 After almost nine decades in Europe, the Detroit giant is selling its European unit, Opel, to France's PSA Group, the maker of Peugeot and Citroën. The deal creates the region's No. 2 seller of cars (behind Volkswagen AG) and effectively revives an alliance the companies abandoned in 2013.

Fuzzy Math
The sticker price is $2.3 billion, for which PSA gets Opel, Vauxhall Motors, and (together with BNP Paribas bank) GM's European finance business. GM, in turn, will give PSA $3.2 billion upfront for current worker pensions and spend $400 million annually for the next 15 years to cover payments to Opel retirees. Barclays Bank Plc figures the bottom line is that GM is paying Peugeot $600 million to take Opel off its hands.
The New Company
Together, PSA and Opel have 16 percent of the European market, which will help them spread development costs across a larger number of vehicles.
The Background
Opel has lost almost $20 billion since 1999, and the future looks tough given its focus on low-margin cars and its facilities in high-cost countries such as Germany, Britain, and Spain. Worse, European automakers have the production capacity to manufacture far more vehicles than are sold annually in the region, which keeps a lid on prices.
The Politics
The deal will have to be approved by unions, especially in France and Germany, where workers are guaranteed a say in major decisions. And the French government will be a key shareholder, because it took a stake in PSA following a rescue in 2014.
End of an Era
GM in 2013 pulled Chevrolet out of Europe, so the sale largely brings to a close an adventure it began in 1929 with the purchase of Opel—at the time Germany's biggest automaker.
Before it's here, it's on the Bloomberg Terminal.
LEARN MORE