Fake News Campaign Targeted French Frontrunner Macron
By
EU body cites parallels with 2014 incident traced to Russia

Fake newspaper site was used to spread campaign-funding story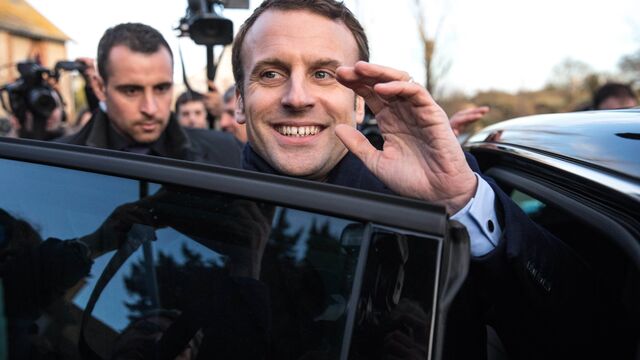 French presidential candidate Emmanuel Macron was hit recently by a fake-news hoax in which a bogus website resembling the site of Belgian newspaper Le Soir reported that Saudi Arabia was financing his campaign.
The report drew attention after Marion Marechal-Le Pen, a lawmaker with France's right-wing National Front, posted it on her Twitter feed on March 2. It was retweeted by others including her aunt, Marine Le Pen, the party's presidential candidate, and Francois Fillon, the conservative Republican candidate. Both candidates later removed the item from their Twitter feeds, as did Marion Marechal-Le Pen.
The article, which carried a Feb. 24 dateline and purported to be a dispatch from Agence France-Presse, appeared on a website with the address www.lesoir.info, whose design and typeface were identical to Le Soir's real site, www.lesoir.be. Adding to the ruse, readers who clicked on the page were redirected to the genuine site.
In a statement on March 2, Le Soir said it had been "a victim of plagiarism" and "totally distanced itself" from the report. AFP told Bloomberg News it never published such a dispatch. Philippe Close, a Belgian lawmaker quoted in the article as saying Macron had met repeatedly with the Saudi ambassador to France, posted a statement on his Twitter feed saying the report was false.
'Troll Factory'
In a report on March 9, a European Union-backed task force that monitors disinformation cited parallels between the Macron hoax and a 2014 incident, traced to a Russian "troll factory," in which cloned versions of genuine news websites spread reports about a supposed chemical disaster in the U.S.
The EU-sponsored East Stratcom Task Force doesn't know who orchestrated the hoax against Macron, it said in an email.
"The comparison is based on the fact the same tool is used, a fake of an established and credible news site to give credibility to disinformation," and the fact that Macron has been "a target of a pro-Kremlin disinformation campaign," it said.
Macron, who takes a tougher stance on Russian relations than either Le Pen or Fillon, has complained recently that Kremlin-controlled media outlets are spreading "fake news" about him as he's become the front-runner in the race. Russian officials have denied the allegation. Messages left for a Macron spokesman about the Le Soir hoax were not immediately returned.
The phony Le Soir site, which is no longer functioning, was registered on Feb. 14 to "Donald Thomas" in Wilmington, Del., and hosted on a server belonging to a German hosting company, according to records of the Internet Corporation for Assigned Names and Numbers. A message left on an answering machine at a Delaware telephone number listed on the registration was not answered.