Government Ethics Chief Concerned by Trump's Refusal to Discipline Conway
By and
Federal ethics regulator Shaub writes letter to White House

President's adviser endorsed Ivanka Trump's apparel line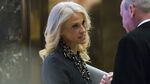 The federal government's top ethics regulator said he's concerned that the White House has opted not to discipline Kellyanne Conway over the presidential adviser's on-air promotion of first daughter Ivanka Trump's clothing line.
"Not taking disciplinary action against a senior official under such circumstances risks undermining the ethics program," Walter Shaub, director of the Office of Government Ethics, said in a letter Thursday to the White House. Additionally, Shaub said he was alarmed that White House lawyers have argued that many ethics rules aren't applicable to people working for the president.
Shaub said Conway, who was Trump's 2016 campaign manager, violated federal rules that bar White House employees from using their official positions to endorse specific products and services.
Conway endorsed Ivanka Trump's apparel during a February interview with Fox News from the White House briefing room following reports that retailers, including Nordstrom Inc., had dropped the line amid declining sales.
"It's a wonderful line. I own some of it," Conway said during the interview. "I'm going to give it a free commercial here. Go buy it today everybody; you can find it online."

List of Punishments
While the Office of Government Ethics can highlight rule infractions and recommend discipline, it's up to the president to impose actual penalties when White House employees are involved. Federal regulations say those punishments could include reprimand, suspension, demotion, or removal from office.
The White House didn't immediately respond to a request for comment. Representative Elijah Cummings of Maryland, who serves as the top Democrat on the House Oversight and Government Reform Committee, responded to Shaub's letter with pointed criticism of Trump's staff members.
"The president's staff need to follow ethics rules -- not flout them," Cummings wrote in a letter to White House counsel Don McGahn. His letter asked McGahn to respond to several questions, including: "What specific OGE regulations do you consider inapplicable to employees of the Executive Office of the President?"
'Off-Hand Manner'
In the Conway case, the White House counseled her on the ethics rule but took no further action. White House lawyer Stefan Passantino has said in a letter to Shaub that Conway's remarks were made in "light, off-hand manner."
Conway told Fox News in a subsequent appearance that the president "supports me 100 percent" and that all women should have bosses who treat them "the way the president of the United States treated me today."
Shaub indicated in his letter that he was most concerned by "the extraordinary assertion" from the White House that many federal ethics regulations don't apply to employees of the president's office.
"It is critical to the public's faith in the integrity of government that White House employees be held to the same standard of ethical accountability as other executive branch employees," he wrote.
The OGE director was "absolutely correct to raise these concerns," said Kathleen Clark, a professor at Washington University School of Law in St. Louis who specializes in government ethics.
"I wasn't aware of any prior White House counsel asserting that the government ethics rules that apply across the executive branch don't apply to White House employees," Clark said. She called that assertion "astounding."
Shaub has clashed with Trump and his team over ethics issues before, notably the president's decision not to divest his assets. Shaub took the highly unusual step for an OGE director of publicly criticizing Trump's decision. "Officials in any administration need their president to show ethics matters, not only through words but also through deeds," Shaub said in a Jan. 11 appearance at the Brookings Institution. "This is vitally important if we're going to have any kind of ethics program."
— With assistance by Toluse Olorunnipa, and Bill Allison
Before it's here, it's on the Bloomberg Terminal.
LEARN MORE