markets
Canadian Oil Gets More Canadian as Internationals Pull Back
By and
Canadian Natural buys Alberta fields, plants for $9.4 billion

Purchase comes after Exxon, Conoco reduced their reserves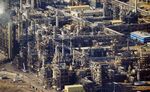 The future of the Canadian oil sands is looking a lot more Canadian.
Calgary-based Canadian Natural Resources Ltd. said Thursday it will spend C$12.7 billion ($9.4 billion), its biggest purchase ever, to buy Alberta oil fields and facilities that process the sticky bitumen from oil sands from Royal Dutch Shell Plc and Marathon Oil Corp.
"At the time you see some of the majors pivoting to other assets, you see Canadian companies that are doubling down on the oil sands," Kevin Birn, a director at IHS Energy in Calgary, said by phone Thursday.
The deals come as West Texas Intermediate, the benchmark U.S. crude, has dropped below $50 a barrel. It's also less than a month after two major U.S. producers removed billions of barrels of Canadian oil from their stated reserves because the lower prices made the crude uneconomical. As some producers shift capital away from Northern Alberta toward lower-cost, quicker-return resources such as U.S. shale, Canadian companies without the same global reach are staying put and filling the void.

"This transformational acquisition strengthens our robustness and sustainability," Steve Laut, president of Canadian Natural, said in a conference call. "By any measure, these are world-class assets."
Canadian Natural rose 10 percent Thursday to settle at C$43.41. The shares have gained 26 percent in the past year.
Shell's sale comes as the Anglo-Dutch producer seeks to divest $30 billion of assets to cut its debt, which surged after the acquisition of BG Group Plc last year. It helps the company in its strategy to pivot toward gas production from oil, boosting reserves of the cleaner-burning fuel to 60 percent from half.
Shell is getting rid of almost all its production assets in the oil sands. It is keeping the Scotford upgrader, which converts heavy oil to lighter synthetic crude.
Permian Shift
Marathon agreed to buy 70,000 acres in the Permian Basin, a shale play in Texas, for $1.1 billion at the same time it exited the oil sands. The company said Thursday that Canadian oil sands accounted for about a third of its expenses and 12 percent of production.
Shell and Marathon follow Statoil ASA in selling oil-sands assets. Statoil's sale was seen refocusing the company on its core assets and allowing it to stay clear of criticisms over the climate impact of oil sands. On the day Canadian Prime Minister Justin Trudeau was being feted at the CERAWeek by IHS Markit conference in Houston for his greening of the oil sands, one of the world's biggest energy companies was pulling back.
Some international oil companies are shunning oil sands as they focus resources on natural gas and shale oil, which have "shorter-term horizons," Birn said. Oil-sands projects can take years to get to production, compared with months for shale.
Reserves Cut
Meanwhile, Exxon Mobil Corp. reduced its reserves by the most in its modern history on Feb. 22, largely due to having to remove all of the oil associated with the $16 billion Kearl project in Canada. ConocoPhillips said its reserves fell to a 15-year low after removing oil-sands barrels.
Canadian Natural is acquiring the new oil-sands operations at about 60 percent of what it would cost to build new similar operations, something that would require an oil price of about $90 a barrel, Amir Arif, analyst at Cormark Securities Inc., said by phone. "The acquisition prices are generally more favorable."
Canadian Natural, which has boosted its dividend and reported fourth-quarter results last month that were three times higher than analysts' estimates, has said that the economics of expanding oil production from its Horizon project are "awesome."
Canadian Natural, Cenovus Energy Inc. and MEG Energy Corp. have announced expansion projects in the past five months that will add a total of 110,000 barrels a day of capacity when completed in 2019. The industry has long been hampered by a lack of adequate transport options to move its crude to market. A series of proposed pipelines -- and renewed support in the U.S. for the Keystone XL project -- may help to ease a bottleneck that has kept Western Canadian oil prices below global benchmarks.
The economics of oil sands are often "misunderstood," Randy Ollenberger, an analyst for BMO Capital Markets, wrote in a note to clients last month. While the costs are high to get projects started, once operating the outlay is minimal and the industry remains economically viable with oil at $50 a barrel, he said.
— With assistance by Michael Roschnotti
Before it's here, it's on the Bloomberg Terminal.
LEARN MORE