Anti-Wilders Tactical Vote May Benefit Rutte as Dutch Decide
By , , and
Estimated 30% of voters considering backing another party

Poll evidence shows strategy is motivating Liberal backers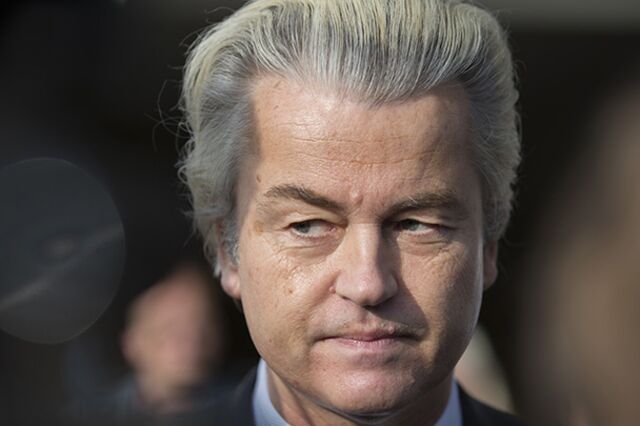 For some Dutch voters, it's more important to take a stance against Geert Wilders than to back the party they really want.
Amsterdam-based entrepreneur Wouter Smook has switched his support to Prime Minister Mark Rutte's Liberal party, known as the VVD in Dutch, from the Christian Democrats ahead of next week's general election. His aim -- to help build up the Liberals and stop Wilders's populist Freedom Party from winning.
"The reason I'm voting for the VVD is purely a strategic choice, as I don't want to see Wilders getting a hold on power," Smook, 44. said in an interview. "We've seen enough proof that populism leads nowhere but strife and hate."
Talk of switching sides reflects the divisiveness of this year's Dutch election, with Wilders's anti-European Union, anti-Islam agenda at its center. And while it's far from certain whether tactical voters like Smook are having much impact -- the Liberals have moved up only marginally in opinion polls in the past month -- it's clear he is not alone.
Read more about Wilders and whether he can win
"At a rough estimate, 30 percent of Dutch voters are considering a tactical vote," Joop van Holsteyn, professor of electoral research at Leiden University, said in an interview. "This is a large group, roughly good for 10 seats in parliament, so therefore it could cause a serious change to the final result.'' But it's hard to pinpoint how many people will actually cross party lines on March 15, he said.
In the Netherlands, votes translate pretty directly into seats in the 150-member lower house of parliament, so an extra 60,000 or so people backing Rutte's party would produce one additional Liberal lawmaker.
Read more about how the Dutch elections work
The latest polling shows the Liberals edging ahead of the Freedom Party for first place, though that's more a consequence of ebbing support for Wilders, who's been less in the spotlight as he's refused to take part in broadcast debates and had to restrict campaigning due to security concerns.
The fight for the top spot has given some voters the impression that there's a race between Rutte and Wilders to become prime minister, pollsters say, even though a Wilders-led government is highly unlikely because most other parties have ruled out going into coalition with him.
"If you want to avoid populism getting a chance, then the only choice you have is voting for the strongest party out there, and that's the VVD," said Smook, who runs a household maintenance and cleaning company.
The very latest poll, from I&O Research, showed the Liberals on 24 seats with the Freedom Party four behind on 20, level with the centrist D66 party. The survey found 22 percent of those backing the Liberals citing tactical reasons as being at least partly behind their vote.
I&O questioned 3,208 voters, mostly online, between March 3 and March 7.
'Partly Working'
"The Liberal Party's strategy of excluding the Freedom Party appears to be partly working," I&O said in a comment on a previous poll last month. "A lot of people who vote for the Liberals say they will vote for Mark Rutte's party in order to keep the Freedom Party out of the government."
With four or five parties going to be needed to form a coalition, there are other options for tactical voters too. The Christian Democrats, partners in Rutte's first coalition from 2010 to 2012, were on 16 seats in the I&O poll and are a strategic choice for 15 percent of their backers.
"In order to attract tactical voters, political parties should make it plausible they will be at the coalition table after the election and that they have a good chance to govern,'' Van Holsteyn said. "Strategic voters expect the PVV not to be part of the coalition, so why vote for them?''
Before it's here, it's on the Bloomberg Terminal.
LEARN MORE