3D-Printed Jewelry Ditches the Lab for the Boutique
Relatively easy customization is boosting designers' profit margins.
By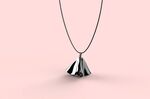 In college, when Mario Christian Lavorato and his brother started making jewelry to sell, they quickly learned that the business had kept one foot in the Middle Ages. They designed their beads and charms out of clay, then molded the finished products by hand. Peers they met at trade shows used blowtorches to meticulously craft each piece for weeks.
That heavy labor is a big factor in the slim profit margins of the typical U.S. jewelry store, which hover around 4.6 percent, according to researcher IBISWorld. The Tiffanys of the world have U.S. margins of about 20 percent. But Lavorato, 32, studied architecture in college, and he knew how to use 3D printers. Daniel Christian Tang, his three-year-old Toronto business, claims a 40 percent profit margin, though Lavorato wouldn't disclose revenue.
3D-printed jewelry has been a pricey curiosity for the past few years. Now producing it is getting cheap, fast, and precise enough to make it a little more mainstream. Instead of using 3D printers just to make wax models of designs to be cast in gold or platinum, Lavorato's company is one of a growing stable of startups using printers to make the end products.

Lavorato says Daniel Christian Tang can take as long as 100 hours to design a necklace, bracelet, or earrings with 3D-imaging software. But once that's done, it takes less than an hour to print a copy, or a few hours to modify the design for a customer with slightly different taste. "Then it just becomes a matter of how many printers you can fit in the room," says Lavorato, who went to Hong Kong in February to set up a factory. The company's pieces range from a $16,000 gold bangle to a $100 platinum and sterling ring, and most of the cheaper items are available through Lord & Taylor and Saks Fifth Avenue.
Affordability is a big part of the sales pitch, but the layered construction of the printing process is also attractive, says Chantal Marois, an engineer in Portland, Ore. At local SaySay Boutique, she paid about $40 for a black plastic necklace that looks like an abstraction of flowers—an intricate, 3D weave of strings. "It had an unusual shape, an unusual design. It caught my eye," she says. "It would have been very difficult to produce the necklace with another method." SaySay proprietor Sarah Utrup says she's sold out most of her 3D-printed stock.
The ease of customization has also boosted novelty. In Dublin, jeweler Love & Robots lets buyers enter a date and location, then uses historical wind speed data to personalize windblown designs of its earrings. On American Pearl.com Inc.'s website, once buyers choose the pearl color and size, they can customize the necklace length and the metal used in a design. "Today we do a tremendous amount of custom work using 3D printing," says Eddie Bakhash, who heads American Pearl's online arm. "The lion's share of what we do is custom or adapted. The manufacturing costs of our pieces are cut probably by 75 percent."
Some jewelers use their own equipment. Bre & Co., for example, was started in October by Bre Pettis, the former chief executive officer of printing company MakerBot Industries LLC. Others rely on print-as-you-go services such as Shapeways so they don't have to buy materials or handle inventory.
The printing processes aren't perfect. They tend to leave behind trace amounts of gold powder, and the waste can add up. There's a learning curve, too. "Most jewelers don't have those skills, and it takes a lot of effort to learn CAD [computer-aided design] software that produce these designs," says Terry Wohlers, president of researcher Wohlers Associates. "That's the biggest obstacle. Over time, as young people take over their parents' business, that may drive the market faster."
Fatter profit margins may also lead more jewelers to 3D printing, especially as the technology continues to improve. "Now it takes 30 to 45 minutes to print a bracelet," Lavorato says. "Within a year or two, it'll come down to several minutes. Eventually you'll be able to print instantly." Then the margins will jump, too.
The bottom line: 3D-printed jewelry, once the stuff of novelty, is getting cheap and speedy enough to cut sellers' costs and boost profits.
Before it's here, it's on the Bloomberg Terminal.
LEARN MORE