'This Is Not the Obamacare Repeal Bill We've Been Waiting For'
The GOP's health-care replacement is a bill with few friends.
Bloomberg News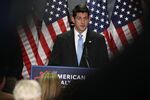 When Paul Ryan released a draft of a bill to replace Obamacare on March 7, it didn't exactly get a warm reception. And not just Democrats assailed it: GOP members of Congress mounted a savage attack. While President Donald Trump said he was "proud" to support it, most conservatives went out of their way to say how much they hated it.
"House Leadership plan is Obamacare Lite. It will not pass. Conservatives are not going to take it."
–Kentucky Republican Senator Rand Paul in an early-morning tweet; Paul later said the bill was "dead on arrival" during an interview with Bloomberg TV
"It's a stinking pile of garbage."
—Kentucky Representative Thomas Massie in comments to the Washington Examiner
"This is a Republican welfare entitlement."
—Statement issued by the Republican Study Committee, a group of 172 conservative Republicans in the House of Representatives
"This is not the Obamacare repeal bill we've been waiting for."
—Utah Republican Senator Mike Lee in a statement condemning the House health-care bill
"This bill is a train wreck waiting to happen."
—Michael Cannon, director of health policy studies at the Cato Institute and a strong critic of Obamacare
They're "taking the Obamacare framework and trying to call it a Republican piece of legislation."
—Michigan Representative Justin Amash in an interview on CNN
Before it's here, it's on the Bloomberg Terminal.
LEARN MORE