Wealth Divide Spurs Rise of Trump-Style Populism in Australia
By and
Australia's growing inequality is fanning a surge of populism

Anti-immigration party on track for state election success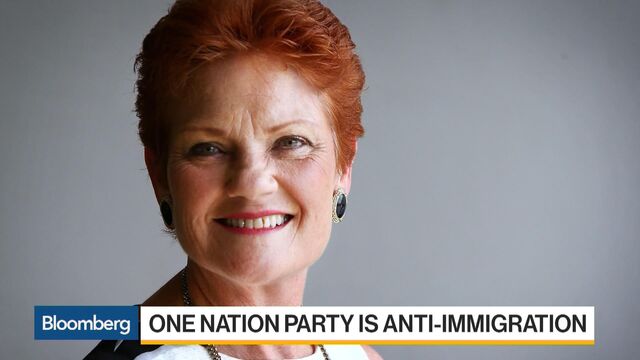 Christopher Fowler is angry.
On a steaming hot day in Collie, the Western Australia coal-mining town he's called home for 28 years, Fowler surveys the empty main street and laments the economic rot that's set in. The target of his ire: mainstream politicians.
"They're traitors to the Australian people, they're not working for us," said 62-year-old Fowler, who recently retired from working at a nearby coal-fired power station. "They've let this country down. They've sold it off. We've lost our sovereignty, and most of our industry is gone."
In a state election Saturday, Fowler will head to the polls with thousands of others to make a stand. He plans to vote for Pauline Hanson's One Nation, a populist party that's captured 10 percent of national public support and wants to ban Muslim immigration, abolish multiculturalism and curb free trade.

Australians are growing more disenchanted as the nation's economy fragments. The two largest cities, Sydney and Melbourne, are driving most of the country's growth while the states that enjoyed the spoils of a mining-investment boom for much of the decade to 2012 now suffer from its demise. That's laying fertile ground for the rise of populism and voter resentment that helped elect Donald Trump to the U.S. presidency and spurred the Brexit vote.
QuickTake How to Spot a Populist
"Trump, Brexit, Le Pen in France or Pauline Hanson in Australia are responses to widening inequality and economic disruption," said Jeremy Lawson, chief economist at Standard Life Investments in Edinburgh and a former Reserve Bank of Australia economist. "They're not causes. They're carriers of a message, in particular from groups that are most disenfranchised and angry about this situation: the white, middle-aged, less-educated male."

Unlike Trump, Hanson won't gain ultimate power anytime soon. While One Nation is polling 13 percent in Western Australia and more than 20 percent in her home state of Queensland, it only has single-digit support in the major cities. Still, that's enough in Australia to win vital Senate seats -- the party claimed four in last year's federal election, meaning Prime Minister Malcolm Turnbull has to negotiate with Hanson to pass laws.
After years of party infighting and leadership changes resulting in political gridlock, angry voters have found a voice in One Nation. The rise of populism adds a thorny ingredient to an already painful law-making process, leaving the outlook for budget repair and job creation even more daunting. S&P Global Ratings has warned that Australia's continued fiscal inaction may see the nation forfeit its prized AAA score.
Watch: How to Spot a Populist Politician
It was starkly different at the turn of the decade: Western Australia and Queensland states were the centers of growth. But the nation's mining hubs didn't bank on a commodity price rout that saw Western Australia's annual gross state product growth sink from 9.1 percent to 1.9 percent in the past five years. In the same period, growth in New South Wales and Victoria -- home to Sydney and Melbourne -- almost doubled.
"The economy has really gone through the floor in Western Australia," said David Miller, a 55-year-old electrical fitter running as the candidate for One Nation in the electorate that includes Collie, about 130 miles south of Western Australia capital Perth. "Working class Australians are disillusioned, they don't want to vote for either of the big parties. They've never had a choice before, but they do now."
Resentment toward politicians is a common theme among One Nation candidates, who are capitalizing on a sense of abandonment by the ruling Liberal-National coalition and main opposition Labor party. A lack of new policies and a raft of expenses scandals have fanned cynicism among voters who don't feel part of the nation's solid economic growth.

For many Aussies, the mining boom has left a sour legacy. After providing years of lucrative labor to satisfy Chinese demand for raw materials, the work has dried up. Unemployment soared 2.4 percentage points in Western Australia alone since 2012 to 6.5 percent, compared with a national rate of 5.7 percent. Many are finding it awkward to adapt to services jobs that the government is steering the economy toward.
In Collie, job losses are spreading despair and people are "suffering", according to Fowler. He compares the town of around 7,000 people to the so-called Rust Belt in the U.S., referring to the region of economic decay where disillusioned voters helped propel Trump to a surprise victory in November.
"There's been a lot of workers laid off from the mines," said Fowler. "I wouldn't like to be a young person growing up here today."
The Other Side
Some 2,000 miles away, on the other side of Australia, places like Collie are barely thought of. In the offices and dining rooms of downtown Sydney, there's one main topic of conversation: house prices. A large chunk of the harbor city's residents have amassed wealth after average home prices soared 73 percent in the past five years. Homes further south in Melbourne aren't so far behind, with values up 47 percent. Perth prices are just four percent higher.
In Sydney, cranes dot the inner-suburban skyline; a light-rail that will stretch from the harbor to near the eastern beach suburbs is under construction; and a new 21-mile motorway is also being built. With a near A$4 billion ($3 billion) state budget surplus, the city can afford it. Western Australia, however, is saddled with a more than A$3 billion deficit.

The lopsided economy has the Reserve Bank of Australia in a bind. With the cash rate at a record low 1.5 percent since August, further cuts would stoke record household debt levels; yet, any hikes would burden borrowers amid anemic wage growth and low inflation.
"The RBA has to manage booming economies in Sydney and Melbourne while the rest of the country is struggling to grow in the face of a range of headwinds," said Terry Rawnsley, an economist at Sydney-based consultancy SGS Economics & Planning. "Social outcomes, combined with feelings of disenfranchisement within communities and dissatisfaction with major political parties, are changing the political landscape."
Inequality and the global rise of anti-establishment forces have ensured the time is ripe for Hanson's comeback after two decades out of the spotlight. One-in-10 people nationwide surveyed by Newspoll last week backed her party, more than double its support base late last year. That's despite internal skirmishes and one of its senators resigning amid a bankruptcy row.
She's Back
After selling fish and chips to working-class voters in Queensland before entering politics in the mid-1990s, Hanson quickly established herself as a populist. Winning a lower-house seat in 1996, she used her maiden speech to warn that Australia risked being "swamped by Asians." An electoral redistribution and internal party disunity saw her lose her seat at the 1998 election.
Hanson, who won an upper house seat last year, is now turning her attacks to Muslims, immigration and foreign investment. In a television interview this week, she questioned whether it was possible to identify a "good Muslim" from a radicalized one.
While handing out flyers at a suburban Perth train station, One Nation candidate Tshung Chang defended his party's policy of curbing immigration from Muslim countries as pragmatic due to terrorism concerns. Chang, who has a Malaysian-Chinese father and Australian mother, then points to one of his campaign posters that's been defaced with the word "racist."

"How could I be a racist if I come from a bi-cultural background?," said Chang. "I've met Pauline Hanson and she doesn't have a racist bone in her body. This is a party that will call a spade a spade."
Sitting outside in Collie finishing his egg and bacon lunch, Fowler says he's sick of mainstream parties failing to deliver, thinks land sales to Chinese state-backed buyers are treasonous and reckons free trade has been a disaster.
"A lot of people knock Trump, but everything he promised before the election, he's carrying through," said Fowler. "Globalization is an insidious thing."
— With assistance by Kimberley Painter
Before it's here, it's on the Bloomberg Terminal.
LEARN MORE