SocGen CEO Sees French Election Strengthening EU Currency Union
By
Second round of election will be more rational, CEO says

Oudea, Tepper don't expect Le Pen to win the election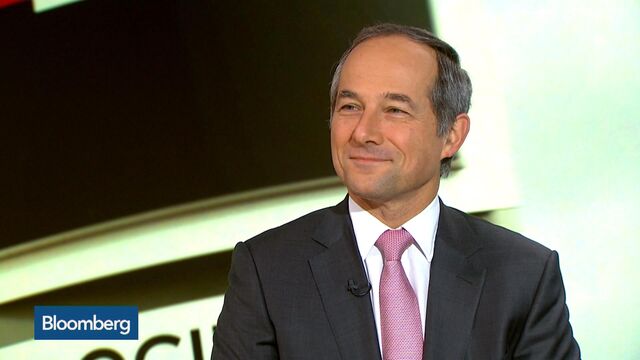 Societe Generale SA is sticking to its strategic agenda ahead of the French presidential election, betting that the euro area will emerge stronger from the vote, Chief Executive Officer Frederic Oudea said.
"2017 will be a transition" toward "a reinforcement of the euro zone and with the need to think strategically about this," he said Wednesday in an interview with Jonathan Ferro on Bloomberg Television.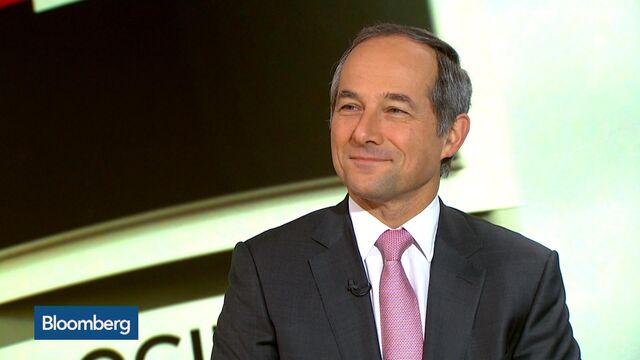 France's second-biggest bank is keeping to its plans, he said, when asked whether he was taking steps to limit its risks including a victory by Marine Le Pen, who advocates the country leave the euro. On Wednesday, Le Pen said she'd introduce a new franc at a rate of one-to-one to the euro and then allow it to fluctuate.
Polls over the past month have shown that Le Pen would win the most votes in the April 23 first round of the presidential election, but heavily lose the May 7 second round against independent Emmanuel Macron. Tuesday's daily Ifop poll put her at 26 percent and Macron at 25 percent in the first round, with Macron winning the run-off.
"My central scenario is a reinforcement, slow, but reinforcement of the Europe construction, euro zone construction," Oudea said. "There is support for that in France. And we think there is opportunity for banks."
Earlier Wednesday, billionaire David Tepper, founder of Appaloosa Management, said he is long on European stocks despite the political risks from the French election.
"It's a probability game in Europe," Tepper said Wednesday in an interview on CNBC. Valuations there are "much much lower" compared with the U.S.
Like Tepper, Oudea said he doesn't expect Le Pen to win the election.
"I would like to highlight that in this election we have two rounds," the CEO said. "The first might be a vote of protest, but the second is a more rational vote."
Before it's here, it's on the Bloomberg Terminal.
LEARN MORE