Questions About Loyalty to Trump Stall Mnuchin's Treasury Picks
By and
Trump aides say Mnuchin choices too liberal or too Wall Street

Goldman's Donovan remains under consideration for deputy job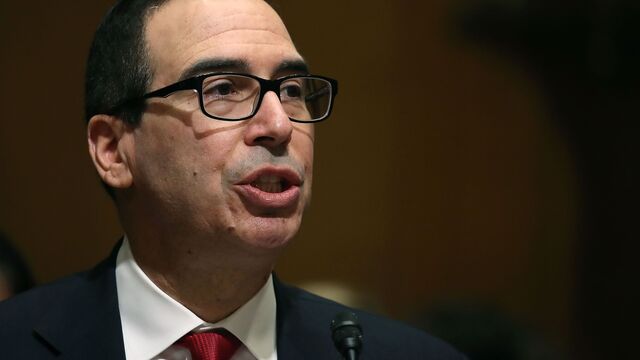 Steven Mnuchin's picks for the top ranks of the U.S. Treasury are stalled due to resistance from White House aides, including one recruit whose Twitter account was scrutinized for potential criticism of Donald Trump, according to people familiar with the matter.
Bogged down are Mnuchin's choices for his senior management team -- deputy secretary, undersecretaries for domestic finance and international affairs, general counsel and several other posts, these people said. Mnuchin has complained privately to friends that President Trump's advisers are hindering him as he tries to get the Treasury up and running.
More than a dozen people with knowledge of the debate spoke on condition of anonymity to discuss the confidential deliberations.
The impasse is fueling impatience inside a department eager to put its mark on issues ranging from international economic diplomacy at a Group of 20 meeting next week to a domestic tax overhaul that Mnuchin, 54, has promised will get done before September.
The White House's reasons for the holdups vary, but questions about loyalty to Trump played a role in at least two cases, some of the people said.
Mnuchin's pick for the Treasury's top lawyer, Brent McIntosh, got an especially tough vetting by the White House personnel office after his Twitter feed was flagged as potentially critical of Trump.
Twitter Posts
The trouble with his Twitter account, now set to private, wasn't actual comments made by McIntosh, but news articles he had highlighted for his followers, according to people familiar with the situation. A partner at the Sullivan & Cromwell law firm, McIntosh originally backed former Florida Governor Jeb Bush's failed run for Republican candidate in last year's presidential race.
As the White House's scrutiny intensified, McIntosh, who is well-known in conservative Washington legal circles, had several supporters contact administration officials to vouch for him, the people said. His friends stressed that his Twitter account didn't show any anti-Trump sentiment. Rather, they argued, McIntosh's tweets showed he strongly opposed Democrat Hillary Clinton.
One person who weighed in on McIntosh's behalf at the White House said he thinks the push has worked to quell questions about his loyalty. McIntosh declined to comment.
In another instance, a potential Treasury hire was told by an official on Mnuchin's senior staff that he was among the people the White House opposed because he was a Democrat, according to one person with direct knowledge of the matter.
Empty Offices
The administration has yet to fill positions requiring Senate confirmation at other key cabinet departments and agencies across the government. Secretary Rex Tillerson, for example, is the only Senate-confirmed appointee at the upper ranks of the State Department.
A White House spokesperson said there was no effort to block Mnuchin's choices, for political or other reasons, but declined to discuss specific individuals. The spokesperson added that the hiring process is a collaborative effort between the department and the White House. A Treasury spokesperson said there is no disagreement. Both spokespeople declined to be named.
Still, Mnuchin is the only Senate-confirmed official at Treasury, days before he is set to leave for his first international summit of G-20 finance ministers in Germany. The department's top international official, who would normally accompany the secretary, has yet to be nominated.
The front-runner for the job is former Bear Stearns economist David Malpass. He's seen as likely to win White House approval, but his nomination probably won't be made public until Mnuchin's deputy is announced.
Team Effort
Jim Donovan, a Goldman Sachs money manager, has been asked by Mnuchin to fill that No. 2 post though his nomination is being held up at the White House, according to the people familiar with the recruitment efforts. Donovan has told Wall Street colleagues that he thinks the nomination is still on track.
Donovan has been helping Mnuchin try to assemble a team and identify potential hires. That process has been under way for weeks, even before Mnuchin was sworn in on Feb. 13, which was several days later than previous Treasury chiefs at the turn of administrations.
On Tuesday, the White House announced Trump's intent to appoint Tony E. Sayegh Jr., a Republican strategist and Fox News contributor, as assistant secretary for public affairs at Treasury.
Sofitel Interviews
As Mnuchin waited for the Senate to act on his own nomination, he spent much of his time interviewing people for his team. Mnuchin, Donovan and other aides have conducted interviews in hotels near the Treasury, mainly the Trump International, according to people who witnessed the meetings. Sometimes they talked to candidates at the Sofitel Washington, a block away from the department headquarters in Washington.
Others who sat in on the interviews were Eli Miller and Shannon McGahn, both of whom now work at the Treasury in non-Senate confirmed jobs. Miller, who worked on Senator Marco Rubio's presidential campaign before joining Trump, is Mnuchin's chief of staff.
The Trump administration isn't yet behind the curve with Treasury personnel decisions if the past two newly elected presidents' records are any guide. Barack Obama's administration named its choices for deputy secretary and head of international affairs in late-March 2009, while the undersecretary for domestic finance was announced in July. Before him, George W. Bush took until March 8 to announce his Treasury deputy secretary with undersecretaries following a month later.
Ironically, one of the few people in place at Treasury while the dust-up over nominees plays out is a Democrat. Craig Phillips, a former BlackRock Inc. executive who was a Hillary Clinton supporter, joined Mnuchin's Treasury team as a counselor. That role doesn't require Senate approval.
— With assistance by Jennifer Jacobs
Before it's here, it's on the Bloomberg Terminal.
LEARN MORE