North Korean Missiles Prompt French Bid to Tighten EU Sanctions
By
U.S. says all options are on the table regarding North Korea

Moves follow firing of four missiles landing close to Japan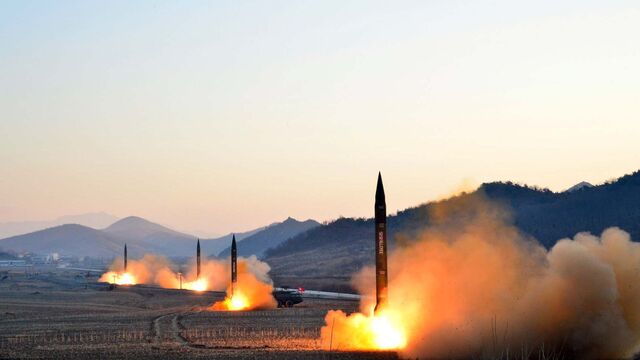 Frustration over North Korea's weapons programs prompted France's United Nations' envoy to say the country will seek additional European Union restrictions on Pyongyang, a sign the UN Security Council is unable to reach a consensus on new sanctions.
France is working with other EU nations to introduce new restrictions beyond those passed by the Security Council last November, Francois Delattre, the nation's ambassador to the UN, told reporters Wednesday. He didn't provide additional details. The announcement came as the entire 15-member Security Council said they "strongly condemned" missile launches this week but offered no new penalties.
"The Security Council has to make sure that its latest resolutions reinforcing the sanctions against North Korea are fully implemented, and we as France strongly favor the adoption of new restrictive measures by the European Union," Delattre said. "We need to both punish the regime for its irrational behavior and change its rational cost-advantage calculus."
The Security Council condemnation comes two days after North Korea launched four missiles and the U.S. began deploying a new missile defense system to South Korea that China opposes, raising regional tensions in President Donald Trump's first major international challenge. The U.S. is "re-evaluating" all options on how to deal with Pyongyang, said U.S. Ambassador to the UN Nikki Haley.
For a QuickTake Q&A on the Thaad missile defense system, click here
North Korea must show "some sort of positive action" before the U.S. and European allies can take Pyongyang seriously, Haley said. The challenge for the U.S. and the Security Council is how to respond, given that earlier sanctions and tough-sounding statements have failed to restrain Kim Jong Un.
North Korean banks subject to international sanctions have recently been banned by Swift from using its global financial messaging service, according to a statement from the Belgium-based Society for Worldwide Interbank Financial Telecommunication. And last month China said it would ban coal imports from North Korea -- a key source of hard currency for the regime -- for the rest of the year.
China's move came after the death of Kim's half-brother, Kim Jong Nam, by poisoning in a Malaysia airport. Kim Jong Nam lived in Macau, China.
Yet none of those decisions is expected to convince Kim to abandon his weapons plans.
'Irrational' Actor
The North Korean leader is an "irrational" actor, Haley said. "We have not seen any goodwill at all coming from North Korea. We are not dealing with a rational person."
Last year, North Korea conducted two nuclear tests and fired 24 ballistic missiles. This year, an initial missile test in February was followed by the four fired this week, which landed in waters inside Japan's exclusive economic zone. That prompted Japan to move to its highest possible alert level.
Earlier Wednesday, China's foreign minister urged North Korea to halt its nuclear activities and the U.S. to suspend nearby military drills, saying that would ease tensions.
"The two sides are like two accelerating trains coming towards each other, with neither side willing to give way," China's Foreign Minister Wang Yi said in Beijing. "The question is, are the two sides really ready for a head-on collision? Our priority now is to flash a red light and apply brakes on both trains."