Trump's Immigration Moves Meet Rising Wave of Challenges
By
Hawaii sues president for discrimination over travel ban 2.0

San Francisco seeks to pre-empt sanctuary city funding cut-off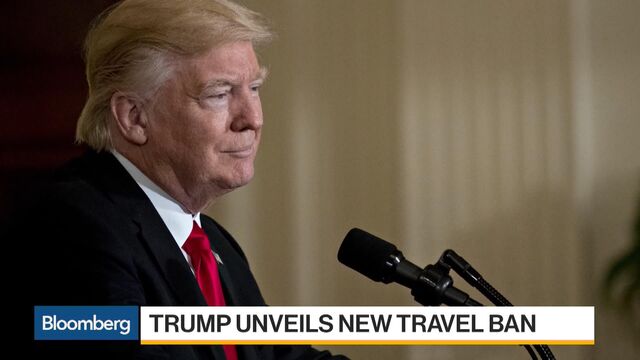 The first fight about President Donald Trump's revised travel ban came within hours, in Hawaii. Then San Francisco doubled-down to protect undocumented immigrants and its budget.
The wave of legal challenges to Trump's push to realign immigration policy continues to build across the U.S.
As with the president's first travel ban that sparked dozens of lawsuits and was halted by a federal court, a state attorney general in Hawaii is leading the charge to block Trump's renewed push to make good on his campaign promise to curb immigration in the name of national security. Taking on another Trump cornerstone, San Francisco is attacking a presidential edict to withhold funding from sanctuary cities.
The common issue is whether Trump's executive orders violate the Constitution -- in the travel ban cases, plaintiffs will try to prove Muslims are being singled out, while sanctuary cities contend the president has cast aside fundamental tenets of federalism. At the ground level, the outcome will determine who will be allowed to come to or remain in the U.S., and who might be left in limbo.
"The only way to stop this progression of unjustified executive power is through federal litigation," said Geoffrey Hoffman, director of the University of Houston Law Center Immigration Clinic. "This is how you rein in the executive when it's made various attempts at circumventing the constitution. These are both extremely viable causes of action."
Wednesday's actions, which include a fight to deport a so-called dreamer in Seattle, follow weeks of courtroom battles in which civil rights advocates and state attorneys general, all of them Democrats, have assailed Trump's temporary ban on immigrants from a handful of mostly Muslim countries. Having won the first round, those officials and organizations have been picking apart Trump's more limited restrictions on immigrants and refugees as they ponder what to do before they take effect March 16.
Syria, Iran
Trump's travel ban, which bars people from Syria, Iran, Somalia and three other other countries from entering the U.S. for 90 days, removes an exemption that would have favored Christians over Muslims and exempts lawful permanent residents, among other changes. That will likely make it more difficult to challenge than Trump's previous executive order, legal experts said.
Hawaii's case is the first attempt to halt the travel ban after being tailored to stand up to claims it discriminates on religious grounds. Trump's stump-speech pledge to ban Muslim immigrants, which he softened later in the campaign, continues to be seen by critics as proof of the religious impetus for the travel ban, including the revised version.
Douglas Chin, the state's attorney general, argues the re-worked ban still violates the Constitution's establishment clause, which bars the government from favoring one religion over the other.
"The history of this executive order is rife with evidence that this has been, from start to finish, a Muslim ban," said Neal Katyal, a lawyer of Hogan Lovells in Washington who's representing Hawaii. "President Trump may now want to not call that spade a spade, but he's done so many times before."
TOURISM LOSS


Hawaii alleges that the order will harm the state's tourism economy which generated $15 billion in revenue in 2015. It will also prevent the state's residents with links to those six countries from freely travelling in and out of the country while promoting a culture of religious discrimination, according to the amended complaint.
After filing its initial lawsuit, the state added the imam of the Muslim Association of Hawaii as a co-plaintiff. Ismail Elshikh contends the Trump order subjects him, his family and members of his mosque to discrimination, denying them the right to travel. That includes his mother-in-law, who is Syrian and will be barred from coming to the U.S., Elshikh said.
U.S. District Judge Derrick Watson in Honolulu agreed to hear the state's request for a temporary block on the ban on March 15, a day before the directive is set to go into effect.
The updated executive order has done a good job of at least hiding those motivations, making the religious discrimination argument less convincing in court, said Allan Ides, a professor at Loyola Law School in Los Angeles.
"You can point to all of that, but I don't think that's going to serve as strong evidence, especially after the White House backed down and changed things," said Ides, who served as a court-appointed counsel on immigration cases before the U.S. Court of Appeals in San Francisco from 2004 to 2006. "It starts looking like a foolish exercise of executive power, but not necessarily an unconstitutional one."
Legal action by other states is likely to follow. New York Attorney General Eric Schneiderman, California's Xavier Becerra and Washington's Bob Ferguson are all reviewing Trump's order. The American Civil Liberties Union and other immigrant rights groups also promise more lawsuits.
The Trump administration has agreed to a timetable for deciding Hawaii's challenge, according to a court filing. The state won permission Wednesday and filed an amended complaint with a request to halt the ban, which will be considered by a judge on March 15, the day before Trump's directive takes effect.
Sanctuary Cities
The strongest challenge to Trump's immigration policies could come from San Francisco. The city and a Silicon Valley neighbor, Santa Clara County, are suing Trump over an executive order that threatens to cut funding to jurisdictions that provide a safe haven for undocumented immigrants without a criminal record.
City Attorney Dennis Herrera on Wednesday asked a judge to temporarily block the president's directive, claiming San Francisco may lose up to $2 billion in direct and indirect federal funding if the policy is enforced; this while it tries to cobble together a balanced budget for its fiscal year starting July 1.
"With a stroke of his pen, President Trump is trying to seize the spending power that our Constitution entrusts to Congress," Herrera said. "Then he's using it as a weapon to illegally bully cities and counties across this country, potentially threatening funding for things like meals and medical care for seniors and low-income families."
The city could be protected by a 1997 U.S. Supreme Court ruling that the Brady Handgun Violence Protection Act violated state rights to "dual sovereignty" while unconstitutionally imposing financial burdens on them. The court ruled that the Tenth Amendment protects state officials from being commandeered by the federal government.
San Francisco is seeking a preliminary injunction to bar the president from withholding federal funds from the city.
Dreamer Deportation
Civil rights lawyers are also planning to fight the Trump administration on an immigrant-by-immigrant basis.
In Seattle Wednesday, U.S. Magistrate Judge James Donahue considered a 23-year-old man's request to be freed from deportation proceedings after being detained in February by Immigration and Customs Enforcement agents. Daniel Ramirez Medina claims he's being held illegally despite twice winning permission to stay in the country under President Barack Obama's Deferred Action on Childhood Arrivals program, known as the Dreamers program.
His detention is seen by advocacy groups as evidence that the nation's 1.4 million dreamers aren't exempt from a federal crackdown on undocumented immigrants. Under Trump's Jan. 25 executive order on enhancing public safety and a subsequent policy memo drafted by the Department of Homeland Security, being in the U.S. without papers is enough to prompt deportation.
"The Obama approach of letting all illegal residents stay unless they did something wrong -- that's over," said Mark Krikorian, executive director of the Center for Immigration Studies, a Washington-based think-tank. "You're not going to ever have immigration law taken seriously if it's just considered an afterthought."
Litigation against the president's executive order on internal security could follow if his plan to hire 15,000 federal agents is enforced, leading to the detention or deportation of immigrants without criminal records.
Ramirez's lawyer has said his client could be the first DACA beneficiary deported without having been convicted of a felony, opening the door to the detention of some of the remaining 11 million undocumented immigrants in the U.S. and further litigation.
— With assistance by Erik Larson, and Chris Dolmetsch
Before it's here, it's on the Bloomberg Terminal.
LEARN MORE