North Korean Banks Barred From Swift Global Messaging System
By and
Seven blacklisted banks had continued use of Swift, WSJ Says

Belgium withdrew authorization for North Korean services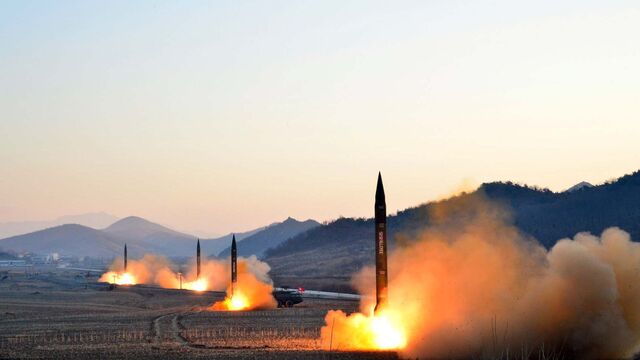 North Korean banks subject to international sanctions have recently been banned by Swift from using its global financial messaging service, according to a statement from the Belgium-based Society for Worldwide Interbank Financial Telecommunication.
Swift said it had recently been informed by Belgian authorities that they would no longer provide the "necessary authorizations" for it to continue offering services to North Korean banks covered by United Nations sanctions. "As a result, Swift suspended access of UN-designated North Korean entities to the Swift financial messaging service," the statement said.
North Korea has further stoked regional tension by firing four ballistic missiles into the sea near Japan on Monday. In response, the U.S. reaffirmed its military alliance with Japan and has announced the start of the deployment of its Thaad missile-defense system in South Korea.
The Wall Street Journal, which reported on the Swift move earlier Wednesday, said the ban came as UN investigators uncovered evidence that the North Korean banks had continued to use Swift's services despite being subjected to UN sanctions.
Blacklisted Banks
Seven blacklisted North Korean banks had continued to use the Swift network in recent years, the newspaper cited a UN report as saying. Later, four had voluntarily withdrawn, leaving three banks -- identified as Bank of East Land, Korea Daesong Bank and Korea Kwangson Banking Corp. -- continuing to use Swift during 2016, according to the Wall Street Journal.
The impact of the move by Swift will be blunted by Pyongyang's limited trade and financial ties with countries other than China, said Andrei Lankov, a North Korean expert at Kookmin University in Seoul. But trade with other countries will become even harder.
"They will get around this if the Chinese are willing to allow North Koreans to move cash through China as they have done in the past," Lankov said. "It's a lesser blow than it would be for nearly every other country in the world, but it's still a blow," he added.
Before it's here, it's on the Bloomberg Terminal.
LEARN MORE