Luxury Travel
Emirates Is Making Its Flying Bar Bigger and Swankier
By and
Tables and chairs to replace curved leather banquettes

Saloon-style makeover aims to create 'yacht-club' ambience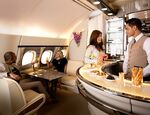 Flying bars that cater to premium passengers on the world's biggest fleet of A380 jetliners are set for a saloon-style upgrade as Gulf carrier Emirates seeks to lure affluent travelers amid slowing revenue growth.
Out will go the semicircular benches on which passengers have perched since Emirates introduced the on-board lounges almost a decade ago, to be replaced by an altogether more comfortable setup featuring a table for four located either side of the counter and below the superjumbo's windows.

In addition to the eight seats, the new watering holes will have room for 18 standing guests, so that drinkers can still prop up the horseshoe-shaped bar if they prefer. And almost in anticipation of people finding it harder to drag themselves away, the areas will get soundproof curtains to separate them from adjoining first- and business-class cabins.
Emirates, the world's biggest long-haul airline, has "taken inspiration from private yacht cabins" in revamping its lounges, President Tim Clark said in a statement, adding that the design will make the areas "more intimate and conducive for passengers to socialize."
One table has double berths facing each other, while the other features L-shaped seating around a smaller cocktail table, with each person having their own seat belt so that they'll be able to remain in the bar even when the plane encounters turbulence.
A "champagne" color-scheme and ambient lighting will also be used to give an "airier look and feel," according to Dubai-based Emirates, which is enhancing its cabins after forecasting a year of flat growth as the oil-price slump continues to crimp travel to Mideast states.
A mock-up of the lounge went on show at the ITB Berlin travel fair Wednesday, with the first due to be installed in a new A380 at Airbus Group SE's interiors factory in Hamburg before entering service in July, followed by six more by the year's end. All 50 or so double-deckers in the Emirates backlog will get the same treatment, though it doesn't plan to retrofit the 90 already delivered.
Zoe Ferguson, an Emirates flight attendant who demonstrated the bar at the fair, said passengers can generally be relied upon to limit their own alcohol consumption, though crew are "very vigilant" in ensuring customer safety. While the bars are popular with traveling sports teams, most tend not to imbibe, she said. Whiskey is the favored drink on New York flights, with gin and tonic preferred on U.K. routes.
Wurlitzer Piano
The company's existing bar featured prominently in a 2015 TV ad, in which actress Jennifer Aniston was shown being offered a bag of peanuts and a hand towel by American-accented flight attendants after asking for her plane's lounge and shower -- only to be transported to an Emirates A380 where she sipped a martini while describing her "nightmare" to the barman.
On-board lounges had their heyday in the 1970s, when faltering economies and occupancy levels as low as 50 percent prompted carriers to remove seats from their brand new Boeing Co. 747s and McDonnell Douglas DC-10s and fit room-sized drinking dens in a bid to lure travelers and boost revenue.
The luxury touch wasn't restricted to premium cabins, with American Airlines even installing Wurlitzer electric pianos in its coach-class lounges. Once the economy picked up more seats were added and the bars began to disappear, with their demise hastened as the 1973 Oil Crisis put capacity at a premium.
Richard Branson's Virgin Atlantic Airways Ltd. brought back the lounge for its Upper Class customers decades later, though only a handful of other carriers -- among them Qatar Airways, Korean Air Lines Co. and Etihad Airways PJSC -- have followed its lead.
Emirates already provides in-flight showers for first-class passengers on its A380s, as does Abu Dhabi-based competitor Etihad, which has taken the luxury push a step further with its Residence suites featuring a lie-flat bed, living area complete with 32-inch television -- and a private butler.
Before it's here, it's on the Bloomberg Terminal.
LEARN MORE