China's Trademarks for Trump Create Conflict, Democrats Say
By and
Dozens of trademarks sought by Trump get preliminary approval

China 'trying to curry favor with the president,' Cardin says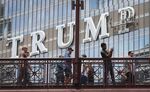 China's preliminary approval of dozens of new trademarks for businesses and products owned by President Donald Trump and his family raises fresh questions about potential conflicts of interest with foreign governments, several Senate Democrats say.
Senators Debbie Stabenow of Michigan, Ben Cardin of Maryland, Dianne Feinstein of California and Richard Blumenthal of Connecticut said Wednesday the trademarks are the clearest example of how the Trump Organization can benefit from actions of foreign governments.
China is "trying to curry favor with the president of the United States," Cardin said at a news conference in Washington. Cardin, the top Democrat on the Foreign Relations panel, has introduced legislation calling on Trump to divest from the Trump Organization or put his assets in a blind trust.
"This is a controlled country where the political leadership makes all the important decisions," he said. "So granting these trademarks to the president of the United States was clearly cleared through the highest sources within the Chinese government, because that's how they operate on matters like this."
Feinstein called on Trump to establish far more distance from his company, and said he is "blatantly defying" a constitutional prohibition on government officials receiving financial benefits from foreign governments without Congress's consent.
QuickTake Q&A: Those Trump conflict concerns that won't go away
"It's appalling that the president refuses to address this crystal clear conflict of interest," Feinstein, the ranking Democrat on the Judiciary Committee, said in a statement. "He should immediately divest and create a blind trust, and he must be transparent about his business interests. Instead, we're seeing a president who appears eager to leverage his office for personal gain."
Trump, whose interests in real estate, licensing and golf courses reach into about 20 nations, said in January he would step down from his leadership roles at his businesses and forgo any foreign deals during his presidency. His two sons are running the company. Trump said that goes further than is required by a federal ethics law, which requires government officials to divest financial holdings that pose conflicts, but doesn't cover the president.
China granted at least two dozen trademarks, and the Associated Press reported that the number was as high as 38. Trump's lawyers in China applied for the trademarks in April 2016, AP said, while he was campaigning for president and accusing China of stealing U.S. jobs and currency manipulation.
By not divesting from his businesses as other presidents have over four decades, Trump opened the potential for unprecedented conflicts.
In Congress, Republicans haven't been criticizing Trump over the matter. All 33 lawmakers co-sponsoring Cardin's legislation are Democrats.
'One China' Policy
Cardin said the timing of China's award of an earlier trademark in mid-February was disturbing because it came days after the new president said he would stand by the "one China" principle in which that country insists both Taiwan and mainland China are indivisible parts of a single nation. He had broken with diplomatic norms in December and accepted a call from the president of Taiwan.
"President Trump is compromising the integrity of the office of the president and it's absolutely essential that he divest or set up a blind trust of his assets in order to protect the integrity of that office," Cardin said.
Stabenow accused Trump of deferring action, while the trademark decisions were pending, on his campaign pledge to name China a "currency manipulator" on his first day in office.
"Why all of the sudden after making the promise so clearly is he suddenly backing up on this and, surprise of all surprises, he's now getting 38 more trademarks in China for businesses and products?" said Stabenow, a leading advocate for imposing penalties on China over its currency policies. "I find the whole thing stunning."
Blumenthal said the trademarks raise the prospect "that the president possibly is beholden to the approving officials in China, even more than to the American people."
Pushing the Boundaries
The new trademarks are the latest indication that the company may push the boundaries of what Trump means with his promise not to do new foreign deals.
Trump already has one large financial connection with the Chinese government. The Industrial & Commercial Bank of China Ltd., the world's largest lender and a state-owned enterprise, is a tenant of his Trump Tower in Manhattan. The bank is slated to renegotiate its lease during his term. He also listed multiple companies in his filing to the U.S. Federal Election Commission related to business in China. In October, Trump Hotels CEO Eric Danziger told Chinese media that he plans to open locations in 20 to 30 Chinese cities, plus more under the Trump Organization's new Scion brand.
Trump's company is also considering restarting a long-dormant development project at Cap Cana, a resort in the Dominican Republic, after Eric Trump visited the property in February. In 2007, Trump signed a deal with the Hazoury family, which owns Cap Cana, to develop a golf course, villas, a beach club, a condo hotel and residences with ocean views.
The deal foundered in the wake of the 2008 financial crisis, and the Trump Organization sued Cap Cana in 2012 over allegedly unpaid licensing fees. In a Feb. 5 statement on its website, Cap Cana described its relationship with Eric Trump as "incredibly strong."
Alan Garten, executive vice president and chief legal officer for the Trump Organization, didn't immediately return a call seeking comment.
— With assistance by Kean Zhang
Before it's here, it's on the Bloomberg Terminal.
LEARN MORE