Can This Man Save GoPro?
With GoPro's shares near record lows, Chief Operating Officer Prober pledges to do more with less and turn the page on product recalls.
By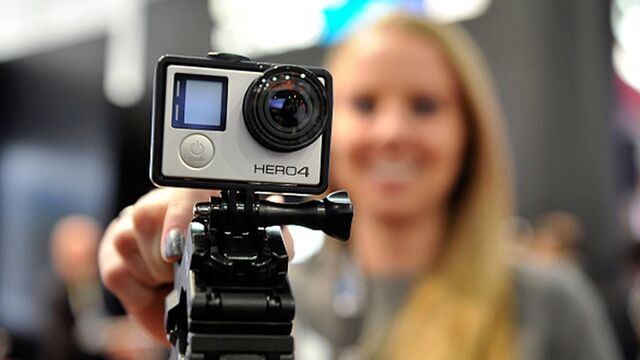 In January, CJ Prober took on a challenge that has become frustratingly common in techdom: turning around a publicly traded hardware company whose products are no longer hits.

Prober is GoPro Inc.'s new chief operating officer, a position that had been vacant for about two years. His promotion followed a rocky 2016, during which the action-camera maker suffered production delays for one product, recalled another and abandoned efforts to turn itself into a media company. Sales tanked, GoPro cut its forecast, and investors bolted. The rout continued this week when the shares slid to a record low after Goldman Sachs became the second firm in two days to recommend selling the stock. The shares recovered a little on Wednesday, rising about 1 percent to $8.01 at 10:24 a.m. in New York. 
Prober, who joined GoPro in 2014 after holding various positions at Electronic Arts, brings solid accomplishments to the new gig, having already rebuilt his employer's engineering operations and improved clunky editing software. Even so, he'll struggle to revitalize GoPro.
The 15-year-old company is trying to grow beyond a niche market of action junkies keen to capture their exploits on video. Much like Fitbit trackers, many GoPro cameras are used a few times and then relegated to the junk drawer.
In his first interview since becoming COO, Prober pledged to hold the line on costs, make the cameras easier to use and chase international growth. "From a product perspective we had an amazing 2016, but from a financial perspective we had a tough 2016," he said. "So we're rebuilding on that. There's a lot of positive momentum behind the changes we're making."
Like any consumer hardware company, GoPro must regularly upgrade existing products and create new ones to keep shoppers happy. Even big players like Apple, with a deep engineering bench and billions to spend on research and development, struggle to pull that off consistently. For small companies like GoPro, it's even harder—especially when low-cost competitors from China quickly copy their best product features and the likes of Apple and Samsung keep improving their smartphone cameras.
With sales slowing in 2015, Chief Executive Officer Nick Woodman bet on a new drone called Karma and a upgraded version of the popular Hero camera. Trying to rush the new products to market backfired.
After the Karma debuted in September, a small number of consumers began complaining that the batteries were failing. Prober says vibrations from the drone's motors were the culprit. The fix was simple enough. GoPro engineers placed springs inside the battery compartment to stabilize the power cells. But the company was forced to recall the drone, and it took months before the gadget was back in stores. Meanwhile, Chinese drone maker DJI used the time to further consolidate its domination of the market. 
The new Hero5 was to be the first update to GoPro's flagship line of cameras since 2014. It would be the easiest yet to use, feature a touch screen and let users upload content to the cloud. The Hero5 also would be waterproof, and Prober says that's where the trouble began. Late in the process, GoPro discovered that pulling this off was harder than anticipated. As a result, the company had a shortage of devices until November. That meant GoPro missed sales during the crucial Christmas shopping and had to pull a number of planned marketing initiatives.
Prober, who in early in his career worked as a management consultant at McKinsey, partly blames a siloed organization for the unforced errors. He says teams were isolated from one other and focused on a specific agenda rather than working together. Ultimately, he says, the company's ambitious product pipeline overwhelmed a management team with too many layers and sign-offs.
Prober vows to avoid future mishaps with a smaller, flatter organization. Late last year, the company shuttered its entertainment unit and eliminated 15 percent of its employees, a third of whom were vice presidents or higher. "A lot of times when you reduce complexity in a business, it helps you make the jobs of teams better," Prober says. "It's less stuff to worry about, more clarity." His mantra for 2017: "Do more with less."
Besides launching a new version of its Hero camera this year, GoPro is expanding its lineup of accessories, including a remote control called the Remo that lets users control the camera with voice commands, and the Karma grip, a handheld camera stabilizer. The aim of the accessories strategy is to make the cameras useful in as many settings as possible and attract new consumers to the GoPro ecosystem.
Another big focus is making GoPro cameras easier to use. The gadgets have long been criticized for a clunky user-interface and editing tools. GoPro has tried to make the process of shooting and sharing videos easier, with new mobile and desktop editing products and its new cloud-connected cameras. But to capture users beyond its core base of action enthusiasts, GoPro needs to make that process even simpler.
 "They're going to keep on fighting the battle of improving the software," says Brad Erickson, an analyst at Pacific Crest Securities. "I don't fault GoPro. I think the amount of people in this world willing to sit and edit videos from a purpose-built camera is very low. We all have smartphones that have decently good editing apps."
International expansion is one of the few bright spots for GoPro. Though demand in the U.S. has declined, sales in Asia doubled in the fourth quarter from a year earlier. The company plans to work with local companies to get bigger reach without spending a ton of marketing dollars. Just last month, GoPro partnered with Huawei Technologies Co. to integrate GoPro's mobile editing app into Huawei's new P10 smartphones. But GoPro faces stiff competition in places like China, where the market is flooded with cheaper options.
Winning back Wall Street will take some doing. When Goldman Sachs analyst Simona Jankowski recommended selling the stock on Monday she warned clients that GoPro's core market is largely saturated and that the company has failed to attract a more mainstream audience. In a note to clients she wrote: "We expect GoPro to continue to struggle fundamentally." 

(Updates share price in the second paragraph. A previous version of this story was changed to correct spelling of the company name.)
Before it's here, it's on the Bloomberg Terminal.
LEARN MORE