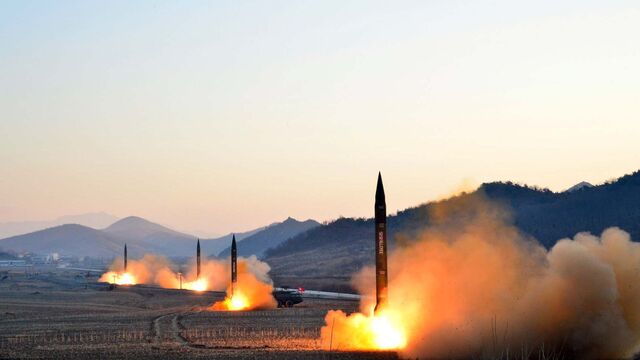 China is fuming about the U.S. deploying a missile defense system in South Korea -- and Korean companies are feeling the impact. While the U.S. says the system, known as Thaad, is meant to defend against attack from North Korea, the Chinese see it as a threat. Now China is curbing travel to South Korea and targeting Korean companies that operate in the mainland.
1. Weren't South Korea and China growing closer?
Until recently, yes. Chinese President Xi Jinping boasted in 2014 the two countries were "shoulder-to-shoulder good neighbors and good partners." A free-trade agreement went into effect in 2015, with China agreeing to end $54.5 billion of duties on imports from South Korea. China is South Korea's largest trading partner, buying a quarter of the country's exports.
2. Why is China so upset now?
While the U.S. regards Thaad as a counter to recent missile launches by North Korea, China says the system will break the regional strategic balance. With South Korea and the U.S. moving ahead despite China's objections, state-run Global Times said March 1: "Chinese consumers should become the main force in teaching Seoul a lesson."
3. Which Korean companies are most vulnerable?
The tourism sector faces an immediate threat. More than 8 million Chinese visited South Korea last year and Chinese make up 85 percent of tourists to the resort island of Jeju. Curbs on visitors to South Korea could cut tourism revenue by about $5 billion, Goldman Sachs estimates, hurting cosmetics companies like Amorepacific Corp. and retailers like Lotte Shopping Co. Already, Chinese authorities have suspended the operations of 55 Lotte Mart stores in the mainland because of alleged fire-safety violations and some Chinese websites have stopped selling Lotte products. Lotte Shanghai Foods, a joint venture with Hershey Co., has been told by Chinese authorities to stop production at its factory for a month.
4. Will the backlash hurt Korea's automakers?
The timing could be bad for Hyundai Motor Co. China is the automaker's largest market and by 2018 Hyundai will raise its capacity there by more than 50 percent. Parts-makers like Hanon Systems, which manufactures auto heating and cooling systems and earned 53 percent of its 2015 operating income in China, will suffer if consumers avoid Korean cars. China in 2015 accounted for 63 percent of operating income for Mando Corp., which makes brakes and steering systems, and 24 percent for parts-maker Hyundai Mobis.
5. Will Chinese policy hurt local companies, too?
Korean TV shows are popular in China, so streaming services that deleted Korean content may lose viewers. Two of Tencent Holdings Ltd.'s top three PC games are from South Korean developers, according to Nomura. The Chinese regulator now will likely take a "much longer time" approving applications for Korean game licenses, Nomura said.
6. Has this happened before?
In 2012, after a territorial dispute with Japan fueled Chinese street protests and calls for a boycott of Japanese goods, sales by Japanese automakers slumped. Last year, relations with Taiwan soured with the election of President Tsai Ing-wen, contributing to a 16 percent year-on-year decline in mainland Chinese tourists. On the other hand, visits to the Philippines surged 76 percent in January, thanks in part to President Rodrigo Duterte's promotion of detente with China.
7. What can South Korea do about China's threats?
The government will offer emergency loans to local exporters adversely affected by the showdown. South Korea is also considering going to the World Trade Organization, according to Trade Ministry official Kang Myung-soo. Finance Minister Yoo Il-ho says the government will expand economic and diplomatic efforts to minimize the impact.
8. Do other countries stand to gain?
South Korean companies may invest more in Southeast Asia. With wages in China on the rise, companies like Samsung Electronics and LG Electronics were already focusing on Vietnam, taking advantage of its low labor costs.
The Reference Shelf
— With assistance by Kyunghee Park, and Sohee Kim
Before it's here, it's on the Bloomberg Terminal.
LEARN MORE