Why You Should Love America's Worst Airport
Those who hate New York's LaGuardia don't appreciate its one big advantage.
By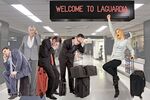 LaGuardia smells like a used car filled with old Cinnabon bags. It's New York's second-busiest airport (behind John F. Kennedy International), and yet there's no convenient way to get there by mass transit. The floors are scuffed. The carpets are stained. Some of the bathroom stalls don't have working locks. Just this month, a runway was struck by lightning, and brown water poured out of a ceiling. Each year it serves about 28 million people through a hodgepodge of terminals that seem to be perpetually under construction. During a 2015 speech about infrastructure, then-Vice President Joe Biden told a Philadelphia audience, "If I blindfolded you and took you to LaGuardia Airport in New York, you must think, I must be in some Third World country." People laughed. "I'm not joking," Biden said. People laughed some more. I don't know why, though. LaGuardia is my favorite airport.
I want one thing from an airport: to get me to my gate as quickly as possible. LaGuardia, dilapidated hellhole that it is, is pretty good for this. "I can get to the airport 41 minutes before my flight and be fine. That's impossible at most big-city airports," says Brian Kelly, founder of the Points Guy website, which offers money- and time-saving air travel tips. Kelly's good fortune is a result of those terminals, which spread out fliers instead of funneling them through a central departure point.
Unfortunately, all this is changing. Last year, the Port Authority of New York and New Jersey, which owns the airport, began an estimated $8 billion renovation that will tear down LaGuardia's terminals and replace them with a central hub. There's $450 million earmarked to beef up public transportation access, which would be especially helpful right now: Traffic has been so awful since the renovation began—particularly when the weather is bad—that some travelers have gotten out of taxis in the middle of the highway because that's as close as they could get to the airport. Nothing, however, is being done to address LaGuardia's measly two runways, the primary cause of flight delays so frequent that they helped lead Kelly to rate the airport America's worst in a list he compiled last November.
Instead, LaGuardia will get upscale shops and eateries for travelers to check out while they wait and wait. I guess this was inevitable: There's already a Korean barbecue truck at Los Angeles International and a bakery that makes sourdough in adorable animal shapes at San Francisco International. Most airports are owned by cities or municipal governments, and they're rewarded financially by leasing gates to airlines and retail space to restaurants and stores. When airlines co-fund terminals, as Delta Inc. is doing at LaGuardia, they can reap some of the rental profit. Fancy terminals beget fancy retailers, who pay higher rent. It's hard to persuade Bulgari to move into an airport without locks on every bathroom stall.
In 2008, JetBlue Airways Corp. paid $743 million for its swanky terminal at JFK, which includes what the New York Times described as a "rustic Italian trattoria" operated by a former chef at Del Posto, a top New York spot. But I don't want to eat at a rustic trattoria when I'm at the airport. I don't want to walk for 30 minutes while carrying two unnecessarily heavy carry-on bags (adding the weight to my checked luggage would cost $150) past Thomas Pink and Swarovski stores, because Delta's new $1.3 billion JFK terminal has been laid out in one straight, mile-long line. I don't want my airport to be, as London's Heathrow Terminal 2 architect Luis Vidal once described his $4 billion renovation plan, "a gathering place." I don't want to gather. I want to fly somewhere and do my gathering there. Sparkly jewelry won't distract me from longer security lines and flight delays, no matter how hard the airline-airport industrial complex tries.
Before it's here, it's on the Bloomberg Terminal.
LEARN MORE