Cars
Volvo Revamps Its Best-Selling SUV as Carmaker Considers an IPO
By
XC60 SUV to compete in crowded segment with BMW's X3, Audi Q5

Model to be available as third plug-in hybrid in Volvo range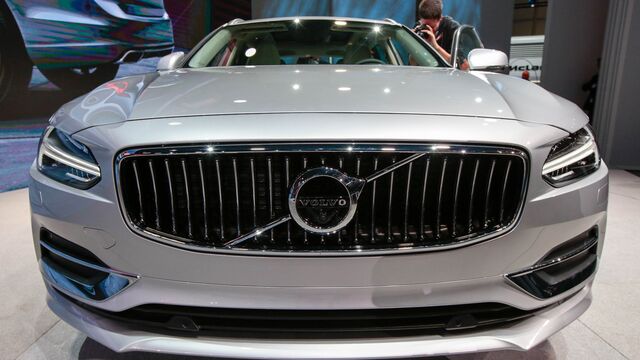 Volvo Car Group, moving toward a public stock listing, unveiled a revamped version of its best-selling XC60 that'll compete with Audi's Q5 and Mercedes-Benz's GLC in a crowded marketplace for compact sport utility vehicles.
Going on sale this year, the vehicle takes its design cues from Volvo's successful top-of-the-line XC90 SUV and features the same safety systems, such as driving assistance to prevent head-on collisions. It can also steer and brake by itself up to a speed of 130 kilometers (80 miles) an hour on highways, Volvo said in a presentation at the Geneva International Motor Show.

"This has been a booming segment and pricing is going to get tougher," said Stuart Pearson, a London-based analyst at Exane BNP Paribas. "The Q5 is still fresh, Mercedes's GLC is still going strong" and BMW's X3 will be replaced by the end of the year, "so essentially they'll compete head-to-head."
Volvo is reaping the fruits of an $11 billion investment to modernize its factories and overhaul its lineup, starting with the XC90 in 2014. The Gothenburg, Sweden-based carmaker is owned by Chinese billionaire Li Shufu, who bought the brand from Ford Motor Co. for $1.5 billion in 2010. A demand boost from the new XC60, whose nine-year-old current version accounted for about a third of Volvo's sales in 2016, would give the company momentum for an initial public offering it's considering.

Volvo is building a factory in the U.S. and expanding production in China as it targets 800,000 annual deliveries by 2020. That would amount to a 49 percent surge from the 2016 figure of 534,000 cars, though still amount to less than half the volume at the world's biggest luxury-car producers. Segment leader Mercedes-Benz last year boosted deliveries 11 percent to 2.08 million autos.
The XC60 "represents the next step in our transformation plan," Volvo Chief Executive Officer Hakan Samuelsson said in a statement.
Volvo made initial moves last year to tap funding sources worldwide as it prepares for a possible IPO, though it hasn't yet decided to sell stock to the public. It previously relied on Chinese banks to provide loans. An IPO is an "option for the future," Samuelsson said in a Bloomberg Television interview at the Geneva show.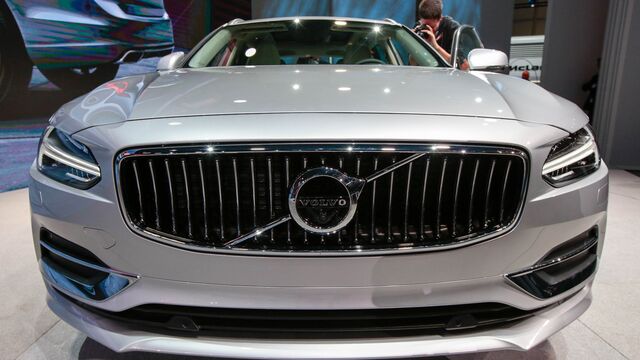 The carmaker conducted its first bond sale in May, raising 500 million euros ($526 million) from institutional investors, and followed that by selling 3 billion kronor ($332 million) in bonds to Swedish purchasers in November. A month later, it raised 5 billion kronor with the sale of preference shares to three Swedish investors that can be converted into ordinary stock.
A share sale would help fund investment in electric and self-driving vehicles as carmakers seek cash to finance the industry's transformation. The XC60 will be Volvo's third model available as a plug-in hybrid, capable of driving 50 kilometers on the battery alone. By 2020, the company plans to offer electrified models across its lineup, including its first all-electric car.
Returns have been promising from new models like the XC90, Volvo's first vehicle designed wholly during Li's ownership, and the S90 sedan. Operating profit surged 67 percent last year to 11 billion kronor.
"There's definitely going to be interest should Volvo IPO," said Exane's Pearson. "There aren't any pure-play premium carmakers, as even BMW has become quite vast in terms of its model range. It's a good story also with Volvo's foothold in China."
Read our complete coverage of the 2017 Geneva Motor Show.
— With assistance by Matthew Miller
Before it's here, it's on the Bloomberg Terminal.
LEARN MORE