Deputy Attorney General Nominee Faces a Congress Divided on Russia Probe
By and
First question at hearing is over past Russian contacts

Nominee Rosenstein says he'd ensure independent investigations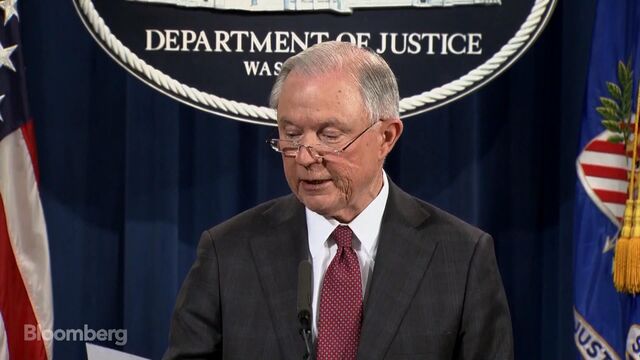 Donald Trump's pick for deputy U.S. attorney general faced a barrage of conflicting demands from senators over how he would handle probes into Russian interference in the 2016 election and potential contacts between Moscow and the president's campaign team.
The Russia question -- "Have you ever met with representatives of the Russian government" was Republican Chairman Chuck Grassley's first query -- dominated Tuesday's confirmation hearing for Rod Rosenstein, the U.S. attorney for Baltimore whom Trump tapped to be Attorney General Jeff Sessions' deputy.
With Sessions recusing himself from the Russia probes after failing to tell senators during his confirmation hearing that he had met the Russian ambassador to the U.S. twice last year, any decision on whether to appoint a special counsel would fall to Rosenstein. He was noncommittal, saying he would have to review the evidence if confirmed.
Either way, he said, "I would ensure that every investigation is conducted independently."
And on the question of his contacts with Russia, Rosenstein said: "Over the course of my career, from time to time, I have spoken to groups of visiting lawyers and judges from foreign countries. It's certainly possible there may have been Russian officials there. But I don't recall any such meetings, no."
With multiple Russia-related probes under way at the FBI and in Congress, the controversy over whether a special counsel should be created or whether the investigation can be handled from within the Justice Department overshadowed the hearing. Grassley, in arguing against a special counsel, said the outcome of such a decision wouldn't be transparent.
"There is no mandatory public report or other finding at the end of the investigation if no charges are filed," Grassley said Tuesday in his opening remarks. "The notion that somehow a special counsel will bring facts to light just isn't true."
Rosenstein, however, said he couldn't commit to providing a public report at the end of any Justice Department investigation either. He didn't rule out doing so but said it would depend on consultations with Justice and other national security officials, including FBI Director James Comey.
"I just don't know what that entails," Rosenstein said. "It's one of the areas where I'm going to have to rely heavily on career officials."
'Independent Investigation'
Senator Dianne Feinstein, the California Democrat, pushed back on Grassley's rejection of a special counsel, saying "the case can be made for an independent investigation that is insulated from any political influence."
"We need steel spines, not weak knees, when it comes to political influence at the Justice Department," Feinstein said.
Connecticut Democratic Senator Richard Blumenthal added that he won't support Rosenstein if he doesn't commit to a special prosecutor.
"This issue of principle is so profoundly important, and only you have the power to appoint a special prosecutor," Blumenthal said. "We are in an extraordinary time careening toward a constitutional crisis with the intelligence agencies in complete agreement that the Russians launched a massive attack on our democracy. There is the danger of a cover-up."
Future Precedent
Rosenstein stood firm, saying he couldn't take the oath of office if confirmed having already agreed to a decision on how he would handle the case.
"If I were to do that in this case, some future deputy attorney general would be here and he would be asked to make a similar commitment," Rosenstein said. "They'd say, 'Well, Rosenstein did it, so why won't you?'"
A veteran prosecutor who served during George W. Bush and Obama administrations, Rosenstein is still expected to win confirmation.
In response to a question from Illinois Democratic Senator Dick Durbin, Rosenstein said he would support "any properly predicated investigation related to interference by the Russians, or by anybody else, into American elections."
Durbin said Sessions declined to offer such an assurance during his confirmation hearing.
Feinstein also took aim at Rosenstein's statement that he hadn't fully read the intelligence community's 15-page, unclassified report from January about Russian hacking. Under repeated criticism about it from Democratic senators, he promised to do so this week.
'Simply False'
Debate over the finding by U.S. intelligence agencies that Russia leaked Democratic emails to hurt rival Hillary Clinton -- and ultimately to help Trump win -- has only grown more toxic over time. Trump said via Twitter over the weekend that former President Barack Obama had his phones in Trump Tower tapped during last year's campaign, although he offered no evidence and a spokesman for Obama called the claim "simply false."
Pushing his case, Grassley said he has full confidence in Rosenstein to lead any Russia-related investigation, calling him "a career civil servant who's served with distinction in both the Bush and Obama administrations."
But the tension over the Trump team's alleged Russian links, and Sessions's failure to disclose his meetings with Moscow's envoy, loomed over the debate. Senate decorum over the issue eventually broke down in a testy exchange between Grassley and Democratic Senator Al Franken of Minnesota.
'Gotcha' Question
Franken said Sessions has so far failed to answer a question as to what he would do if he found out that those on Trump's campaign team had contacts with Russian officials. Franken had asked Sessions that question during his confirmation hearing, but Sessions didn't directly answer it and instead said he didn't have contacts with Russian officials -- a statement that turned out to not be true.
Franken said Sessions should be called back to testify before the Judiciary committee.
With Rosenstein and associate attorney general nominee Rachel Brand looking on, Grassley interrupted Franken and charged the Minnesota senator with asking Sessions a "gotcha" question.
Franken pushed back, saying "look at the tape, Mr. Chairman," from the confirmation hearing. Grassley repeatedly banged his gavel because Franken's allotted time had expired and then called on another senator to ask questions.
Before it's here, it's on the Bloomberg Terminal.
LEARN MORE