Trump Names Sifakis as Public Liaison, Passing Over Scaramucci
By and
Rudy Giuliani's son tapped for job in the liason office

Former RNC and Texas GOP official will serve as well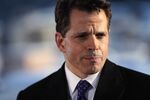 President Donald Trump appointed George Sifakis, founder of information management firm Ideagen Pfc, as his director for the Office of Public Liaison, a job once thought to be reserved for Trump fundraiser Anthony Scaramucci.
Sifakis will coordinate for the administration with various interest groups, including outreach to corporations, advocacy organizations, and state and local elected officials. Scaramucci, a hedge fund investor, had been a leading candidate for the position, but that appointment was put on hold because of a delay in the Office of Government Ethics' review of Scaramucci's financial disclosures, a senior Trump official said last month.
The White House also announced that Andrew Giuliani, the son of former New York mayor and Trump surrogate Rudy Giuliani, also would be working in the Office of Public Liaison as an associate director. Former Republican National Committee deputy political director Jennifer Korn and former Texas Republican Party Chairman Steve Munisteri will serve as Sifakis's deputies.
Scaramucci, 53, was a regular adviser during the Trump transition, appearing almost every day at Trump Tower and regularly defending the president on television. He agreed in January to sell his approximately 45 percent stake in SkyBridge Capital, an investment firm he founded, in a deal that values the company at least $180 million.
The buyer group included a subsidiary of HNA Group, a Chinese conglomerate, as well as a little-known company called RON Transatlantic. Scaramucci said on Twitter on Feb. 27 that the sale of his stake was still moving forward.
Reached briefly on his mobile phone, Scaramucci declined to comment immediately.
The White House didn't respond to a request for comment on why Scaramucci didn't receive the job. It's possible he will still be given another job in the administration.
Before it's here, it's on the Bloomberg Terminal.
LEARN MORE