Photographer: Chris Ratcliffe/Bloomberg
London's Toxic Smog Triggers Business Action Against Illegal Air
By and
Businesses take measures amid lack of government action

London has worse air quality than Beijing by some measures
London's toxic air is bad for business.
That's the conclusion of commercial groups making their own plans to fight pollution for fear the government's failure to tackle emissions levels that break legal limits is driving customers and workers away. At least 15 of the city's 42 so-called business improvement districts, which were established a decade ago to fight urban grime and crime, are implementing programs to protect the environment.
After a raft of studies linking dangerous levels of pollution to ill health and impaired fetal brain development, business groups are looking at the cost to companies. From the swanky shops along Regent Street to transport hubs in King's Cross and London Bridge, they're installing monitors, paying for green spaces and limiting truck deliveries to rein in smog.
With Prime Minister Theresa May's government focused on withdrawing Britain from the European Union, local authorities including London Mayor Sadiq Khan have been left on their own to work on air quality. Those issues are draining 20 billion pounds ($24 billion) a year from the economy, according to a study by the Royal College of Physicians.
"Brexit negotiations are going to demand significant resources from multiple departments," said Nick Molho, executive director of the Aldersgate Group, an alliance of business leaders, politicians and non-profit groups that's lobbying the Treasury on environmental policies. "Key areas of environmental policy such as air pollution, product standards and resource efficiency, may get overlooked."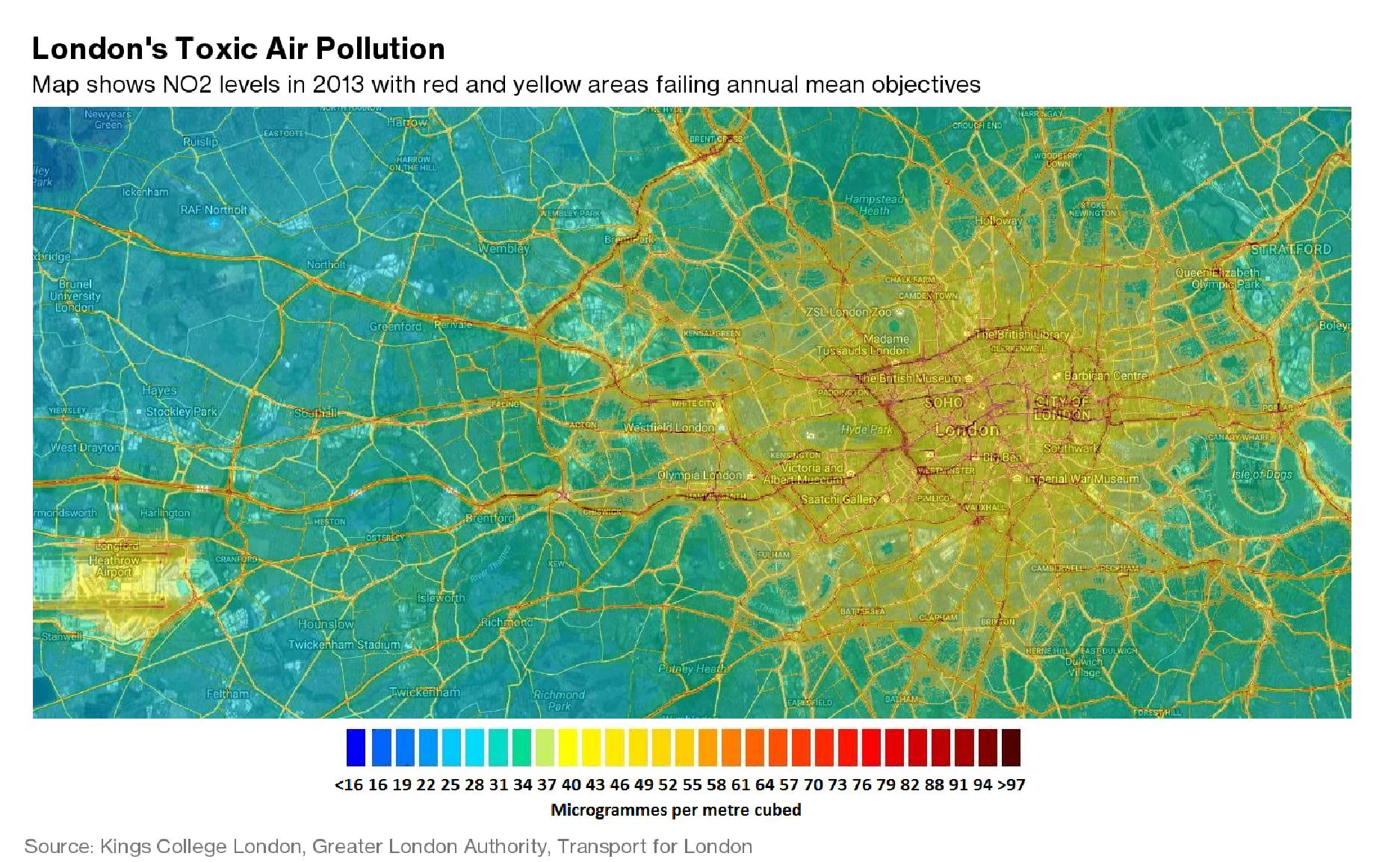 London has some of the worst pollution in Europe. It has missed by seven years legal deadlines to improve air quality, and the government says it can't reach those goals until at least 2025. Smog levels in the form of particulates from tailpipe emissions were worse in London than in Beijing over a few days at the end of January. A High Court judge said in November that the government's plan to curb harmful nitrogen dioxide is so weak that it's illegal, ordering ministers to publish a tougher plan by April 24.
Business improvement districts are taking matters into their own hands. The organizations were set up more than a decade ago mainly to channel local concerns about crime and dirty streets to government authorities. They see air quality is increasingly as a key concern.
"We felt something had to be done," said Henry Johnstone, business and operations manager at Team London Bridge district, which is funded by companies in the area that houses City Hall, the nation's fourth-busiest train station and Europe's tallest office tower, The Shard. He's prodding authorities into "making lovely places for Londoners to walk and cycle" and said, "It's been really hard to get them to commit to something visionary."
Team London Bridge installed a parklet the size of two car parking spaces and a monitor near one of its busiest roads that revealed nitrogen dioxide smog 50 percent higher than legal limits. The group also uses data to lobby Transport for London to reduce traffic in the area.
In Holborn, home to the London School of Economics, the business improvement district spent about 10,000 pounds on a monitor and live display that shows passersby what toxins they're breathing.
The Crown Estate, the landlord for shops on Regent Street, set up a delivery consolidation program with about 50 retailers. It uses electric trucks to curb pollution, and reduces the number of deliveries to participating stores by about 80 percent. They also consolidate garbage collection in the area to cut traffic.
"If we present the right environment to our customers, then that will go to maximizing our financial returns as an organization," said James Cooksey, director of Central London at The Crown Estate, which leases out areas including Regent Street on behalf of The Queen. "We see it as being a symbiotic relationship. It makes good business sense."

The U.K. government is considering further measures to tackle the problem and 'will update our air quality plans in the spring," a spokeswoman for the Department of Environment, Food and Rural Affairs said by email.
A program to scrap diesel vehicles in London would cost as much as 515 million pounds ($632 million) over two years, according to Khan, who wants the government to review its vehicle excise duty that encourages drivers to buy diesel cars. Funding for that is unlikely to materialize in the Treasury's budget due Wednesday. In October Khan will start charging the dirtiest cars an extra 10 pounds a day to drive in the city center.
The U.K. has the largest fleet of diesel vehicles in Europe. Drivers were encouraged to switch from gasoline, as diesel has more range and emits less carbon dioxide. But emissions from the fuel are between eight and 10 times more toxic, according to Stephen Holgate, medical research professor at the University of Southampton and special adviser on air quality at the Royal College of Physicians.
"Diesel particles are classified as a type 1 carcinogen," Holgate said. It has been linked to a long list of health issues from heart disease to strokes to cancers. It also affects fetuses in the womb. "Like cigarette smoking, it delays development of the fetus and its organs. This is about what future generations are going to experience."