Fed Takes Fear Out of Markets as Volatility Plunges in Bonds, FX
By
Gauges of rates, currencies volatility fell to 2017 lows

Markets may glide through March 15 Fed decision to raise rates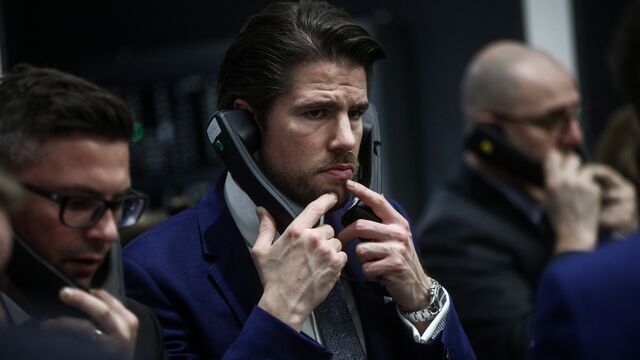 From traders in the $13.9 trillion U.S. Treasury market to those dealing currencies around the globe, signs are mounting that there's little in the pipeline for them to get worked up about in the days ahead.
Ever since Donald Trump gave his speech to a joint session of Congress last week and Federal Reserve officials including New York Fed President William Dudley ramped up odds of an interest-rate hike this month, volatility metrics across the board have plunged. The Merrill Lynch Option Volatility Estimate index, a gauge of expected price swings in U.S. debt, fell on Monday to the lowest level since October. Similarly, JPMorgan's Global FX Volatility index dropped to the lowest since the U.S. election.
The evaporating volatility shows the extent to which financial markets crave certainty after a year that saw surprise victories for Trump and the U.K. leaving the European Union. The implied probability of a March hike is a virtual lock, however you measure it: either 98 percent, based on the assumption that the effective fed funds rate will trade at the middle of the new FOMC target range after the increase, or 87 percent, using the current effective rate of 0.66 percent and the forward OIS rate for the March meeting.
"The Trump speech coming the same night as Dudley were two big events quickly, and the market repriced dramatically in a short period of time," said Thomas Roth, head of Treasury trading at MUFG Securities Americas in New York. "It's really just a wait-and-see game now. There's no real desire for people to take any new positions here in front of Friday's employment number and the Fed meeting next week."
The benchmark 10-year Treasury yield was little changed at 2.51 percent at 11:43 a.m. in New York, according to Bloomberg Bond Trader data. It still remains within this year's 25-basis-point trading range, even after climbing last week by the most since November. The CBOE/CBOT 10-year U.S. Treasury Note Volatility index, also known as the TYVIX, remains close to the lowest since October.
The Bloomberg Dollar Spot index was also little changed on Tuesday.
Labor Department data is expected to show that U.S. employers added 190,000 jobs in February, according to the median estimate of a Bloomberg survey of analysts. Average hourly earnings will likely climb 2.8 percent from a year earlier.
It would take "a very severe miss" for the Fed to hold off on raising its benchmark lending rate next week, Roth said. The last time a jobs report was released so soon before a Fed decision was December 2012. It hasn't come out so late in a month since January 2014.
Dudley said on Feb. 28, just hours ahead of Trump's address to Congress, that the case for tightening "has become a lot more compelling," with most data consistent with above-trend economic growth. That caused a swift move higher in March rate hike odds. Other Fed officials later reiterated that stance.
Before it's here, it's on the Bloomberg Terminal.
LEARN MORE