Record U.S. Plea Deal With Chinese Firm Comes With Big Hitch
By and
U.S. announces record penalties for export-controls case

ZTE allegedly violated U.S. laws with technology sales to Iran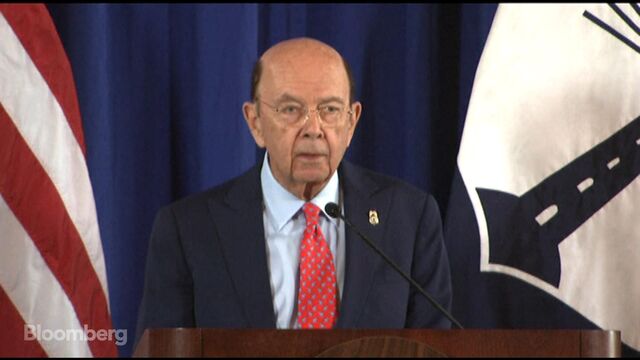 ZTE Corp. has agreed to pay as much as $1.2 billion for violating U.S. laws restricting the sale of American technology to Iran, ending a year of uncertainty about its ability to do business in the world's biggest economy. Its shares surged.
The agreement with the U.S. government calls for the company to pay $892 million in fines and forfeitures and be subject to an additional $300 million in penalties if it violates the terms of the settlement. It's the largest criminal fine for the Justice Department in an export control or sanctions case. The shares climbed as much as 7.4 percent in early Hong Kong trade, while its Shenzhen-listed stock was suspended.
The Commerce Department blocked U.S. exports to ZTE in March 2016 over allegations that the company re-sold goods to Iran, only to suspend that ban several times after both sides opened negotiations. The Shenzhen, China-based company sells smartphones as well as networking gear throughout Europe and Asia and buys components from American companies including Qualcomm Inc. and Micron Technology Inc., according to data compiled by Bloomberg.
"ZTE removed a big potential threat to its business at a relatively reasonable price, it is good news for them," said Peter Liu, an analyst with consultancy Gartner. "ZTE may move cautiously in sensitive markets like Iran, Iraq, North Korea and some African nations in the future, but it will have limited impact on its overall business as the company tries to shift its focus to developed markets for higher margins."
ZTE Shows the Value of a Mea Culpa in Pleasing America: Gadfly
The largest Chinese networking equipment maker after Huawei Technologies Co. reported a 2016 net loss of 2.36 billion yuan ($342 million) after making provisions for the settlement, but is projecting a 10 to 20 percent jump in operating revenue this quarter as telecommunications carriers hike spending.
Under the terms of the settlement, the company will plead guilty to three felonies: violations of export laws, making a material false statement and obstruction of justice. The agreement is subject to court approval. A criminal information document was filed Tuesday in federal court in the Northern District of Texas.
"ZTE Corporation not only violated export controls that keep sensitive American technology out of the hands of hostile regimes like Iran's -- they lied to federal investigators and even deceived their own counsel and internal investigators about their illegal acts," Attorney General Jeff Sessions said in a statement. "This plea agreement holds them accountable, and makes clear that our government will use every tool we have to punish companies who would violate our laws."
ZTE shuffled its top echelons last year, replacing its president and several other executives. Shi Lirong, the top executive over the past six years, ceded the helm to Zhao Xianming. While the changes were portrayed as part of regular leadership changes, Shi had been named in documents released by the U.S. that purported to show how ZTE had circumvented its restrictions. 
"ZTE acknowledges the mistakes it made, takes responsibility for them, and remains committed to positive change in the company," Zhao, ZTE's Chairman and Chief Executive Officer, said in a statement. The company is making personnel changes and instituting new compliance procedures, he said. ZTE declined to comment beyond the statement when contacted Wednesday.
Export Licenses
According to court documents, ZTE, either directly or indirectly through a third company, shipped approximately $32 million of U.S. items to Iran between 2010 and 2016 without obtaining export licenses. In early 2010, ZTE began bidding on two different Iranian projects involving the installation of cellular and landline network infrastructure.
"ZTE engaged in an elaborate scheme to acquire U.S.-origin items, send the items to Iran and mask its involvement in those exports," Acting Assistant Attorney General Mary McCord said in a statement. "The plea agreement alleges that the highest levels of management within the company approved the scheme. ZTE then repeatedly lied to and misled federal investigators, its own attorneys and internal investigators. "
QuickTake Q&A: How That Trump-China Trade War Could Play Out
ZTE has encountered issues with the U.S. government in the past, including accusations of aiding espionage. The company has denied the allegations. The flare-up last year provoked a response from China's government, which urged the U.S. to remove ZTE from its blacklist to avoid damaging economic and trade relations.
"The Department of Commerce is committed to ensuring U.S. and foreign companies regardless of size or location comply with our trade laws," Commerce Secretary Wilbur Ross told reporters. "They should have known better. These penalties are just the first example of the extraordinary powers Commerce will use."
Since the March 2016 finding, the Commerce Department has issued a series of temporary reprieves for ZTE from the sanctions. In a final rule published Feb. 24, the department extended the company's temporary general license until March 29. Under the extensions, U.S. suppliers have been able to continue to supply ZTE with software, technology and components despite the Commerce restrictions.
Before it's here, it's on the Bloomberg Terminal.
LEARN MORE