markets
China's Capital Controls Trigger a Backlash After Scrapped Deals
Bloomberg News
'Door is almost shut for funds going out': Creat Group chair

Government imposed curbs to stem a jump in capital outflows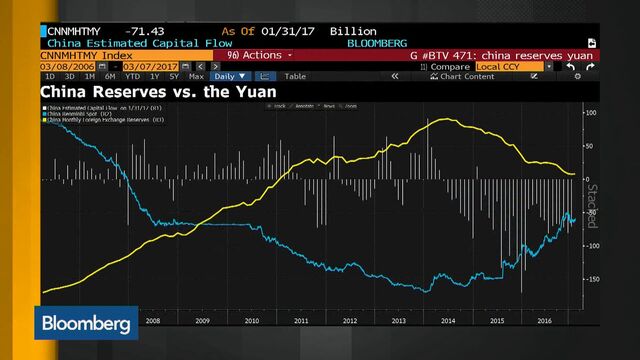 Chinese corporate chiefs are turning vocal critics of the nation's capital controls as the pile of scrapped deals grows.
While the restrictions have helped alleviate pressure on the yuan, they've also curbed overseas acquisitions. Executives in Beijing during the National People's Congress bemoaned the measures, saying they're derailing expansion abroad -- a key tenet of China's long-term economic ambitions.
Yuan funds are turning their focus to the domestic market because of the restrictions, according to Zhang Yichen, chairman and chief executive officer of investment firm Citic Capital Holdings Ltd., who said previously the expectation was that money could be used internationally as well. "It's almost impossible to use the yuan to invest in overseas projects," Zhang told reporters on the sidelines of a meeting of China's political advisory body that runs concurrent to the NPC. "To say that capital controls don't have any impact -- it's a lie. As a result, yuan funds can only give up, and not invest (outside). Yuan funds are now changing their focus to the domestic market."

Zheng Yuewen

, chairman of Chinese drugmaker Creat Group Corp., said separately that "the foreign-exchange management is so strict now that it's almost impossible to move funds out."  

Zhang Li, co-chairman of Guangzhou R&F Properties Co., said that "we see a lot of good projects overseas." But at the same time "the capital controls are very strict now" and it's difficult to transmit funds abroad, he said.

The complaints reflect a tumble in foreign deals, with the $19 billion of acquisitions abroad announced by Chinese companies so far this year amounting to a 74 percent drop from a year ago, according to data compiled by Bloomberg. The blow has seen Chinese executives join their foreign counterparts in criticizing the Communist leadership's restrictions.
European companies have charged that the capital controls are disruptive -- read about that here.
China's leadership faces a balancing act in trying to stoke domestic companies' influence on the international stage while avoiding the kind of bad investments that Japanese firms became famous for in the 1980s. The more immediate concern has been record outflows of capital that have only diminished in recent months after a steady tightening in oversight of and limits on cross-border transactions.
Three straight years of capital outflows and yuan declines spurred authorities to ramp up controls in the second half of last year. The measures have paid off -- in December, the capital account saw its first net inflows since a mini-devaluation of the yuan in August 2015 -- but the danger is that there's been collateral damage to businesses. Data Tuesday showed China's foreign-currency reserves rose in February for the first time in eight months amid the tighter controls and gains in the yuan.
"The door is almost shut for funds going out," said Zheng at Creat Group. "When there are good targets overseas, our units offshore would get involved first and then when we came back to seek approvals, some government department would ask 'why didn't you report it first,'" he said. "But if we reported it in the first place it'd be impossible for us to proceed."

Disrupted Deals
Dalian Wanda Group Co.'s $1 billion bid for U.S. company Dick Clark Productions Inc. was one transaction to hit a roadblock last month, when the Chinese conglomerate struggled to get the money to pay for the deal out of China, people familiar with the matter said. Similarly, Barrick Gold Corp.'s sale of a stake in an Australian mine stalled as the Chinese bidder faced delays securing financing, as well as regulatory clearance from China.
One of the executive's said that part of the problem lies in the process. While the Commerce Ministry may green-light a prospective deal, the National Development & Reform Commission, China's top economic planning body, may refuse a company's request to complete an acquisition on grounds it should have sought approval before the deal was agreed. Without the NDRC's approval, the foreign exchange regulator won't give companies permission to convert funds, the executive said.
The NDRC's press office didn't immediately respond to a faxed request for comment.
It's not clear what bearing the executives' complaints might have on policy, in a year when President Xi Jinping is focused on consolidating his power at a Communist Party gathering this autumn. David Cui, a Bank of America Corp. strategist in Singapore, said in a research note that "we consider the likelihood of any significant change to the renminbi regime before the Party Congress fairly low" if capital outflow pressures persist.
— With assistance by Helen Sun, Jun Luo, Feng Cai, and Ben Scent
Before it's here, it's on the Bloomberg Terminal.
LEARN MORE