U.S. Begins Thaad Deployment in South Korea After Missile Firing
By and
Trump tells Abe on call he wants Japan's people to trust him

North Korea warns peninsula inching to brink of war, AP says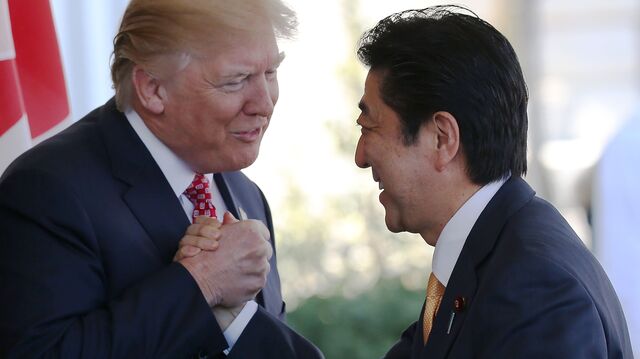 A day after North Korea's latest provocation, the U.S. announced that it unloaded two mobile missile launchers in South Korea to start deployment of its Thaad missile-defense system on the peninsula.
The move by U.S. Pacific Command came as North Korea fired four ballistic missiles into the sea near Japan on Monday. The launches prompted President Donald Trump to reaffirm the U.S.-Japan military alliance in a phone call with Prime Minister Shinzo Abe, pledging to demonstrate "there are very dire consequences" for such actions, according to a White House summary of the conversation. Trump also spoke with South Korea's acting president, Hwang Kyo-ahn.

In a statement, the U.S. military said the Terminal High Altitude Area Defense system was aimed solely at defending South Korea against North Korean missiles. It could come online as early as next month, South Korea's Yonhap News reported.
Tensions between China and South Korea have escalated in recent weeks over the Thaad deployment, part of measures to prevent Kim from gaining the ability to strike the continental U.S. with a nuclear warhead. China sees Thaad as a threat that would upset "the strategic equilibrium in the region."
"While China perfectly understands that this is an effort targeted at North Korea, I think China is concerned more about the strategic, longer-term consequences of bringing the U.S., South Korea and Japan together," said Narushige Michishita, a former Japanese defense ministry official and now professor at the National Graduate Institute for Policy Studies in Tokyo.
For more details on North Korea's latest missile launches, click here
South Korea's military said Tuesday the projectiles were an improved version of Scud missiles previously fired by North Korea. Three fell into Japan's exclusive economic zone, with one dropping about 350 kilometers (220 miles) west of the nation's northern coast.
Abe said Trump agreed that the threat from North Korea had reached a "new level" for Japan, which relies on the "nuclear umbrella" of the U.S. to protect it from regional threats. Japan needs to consider missile defense to preserve peace, Yoshihide Suga, a government spokesman, told reporters on Tuesday.
In a letter to the United Nations Security Council, North Korea's ambassador to the UN complained about U.S.-South Korean military exercises that began March 1, warning they risked driving the peninsula and northeast Asia toward a "nuclear disaster," the Associated Press reported. Pyongyang has called the drills a prelude to an invasion.
'Actual War'
"It may go over to an actual war," North Korea's ambassador to the United Nations, Ja Song Nam, said of the drills, AP reported. "Consequently, the situation on the Korean Peninsula is again inching to the brink of a nuclear war."
North Korea's state-controlled Korean Central News Agency said the launches, overseen by Kim, involved artillery units tasked with striking U.S. bases in Japan.
"President Trump told me that the U.S. is 100 percent with Japan and that he wanted me to convey his words to the people of Japan," Abe told reporters in Tokyo after the call early Tuesday. "He said he wanted us to trust him and the American people 100 percent."
An explainer on the Thaad missile system, and why it irks China
The U.S. and leaders of Japan and South Korea agreed to "continue close bilateral and trilateral cooperation to demonstrate to North Korea that there are very dire consequences for its provocative and threatening actions," according to a White House summary.
While North Korea routinely test-fires missiles -- including more than two dozen last year -- the timing of these launches was particularly sensitive. They coincide with China's National People's Congress -- a gathering showcasing President Xi Jinping's command over foreign and domestic affairs. Foreign Ministry spokesman Geng Shuang said on Monday that China opposed both the missile launches and the Thaad deployment.
"We believe that the deployment disrupts strategic balance of the region, undermines strategic and security interests of countries in the region including China, and does harm to peace and stability of the Korean Peninsula," Geng said of Thaad. "We urge relevant parties to face squarely China's reasonable concerns, call off the deployment and avoid traveling further down the wrong path."
— With assistance by Shinhye Kang, and Seyoon Kim
(
Updates with Japan government spokesman's comments. A previous version corrected the timing of the Thaad deployment.
)
Before it's here, it's on the Bloomberg Terminal.
LEARN MORE