Sessions Changes Tone on Failure to Acknowledge Russia Envoy Meetings
By
Attorney general writes that his answer was correct all along

Letter responds to questions from Senate Judiciary Committee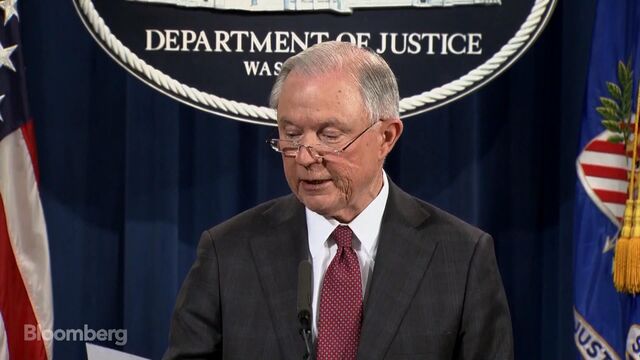 Attorney General Jeff Sessions toughened his defense for failing to acknowledge two meetings last year with Russia's ambassador to the U.S.
In a letter to the Senate Judiciary Committee Monday, Sessions said he was "correct" in not mentioning those contacts during his confirmation hearing because he wasn't asked about them in a question that focused on what he'd do if he found out that anyone affiliated with President Donald Trump's team was communicating with the Russian government during last year's presidential campaign.
"I did not mention communications I had had with the Russian Ambassador over the years because the question did not ask about them," Sessions wrote. While he met with the ambassador twice during the campaign, he has said it was in his role as a senator, not as a Trump adviser and supporter.
Revelations about the contacts forced Sessions last week to recuse himself from probes related to Russia's role in the 2016 campaign and potential contacts between Russian officials and the Trump campaign team. U.S. intelligence agencies have concluded that Russia hacked and released Democrats' emails during the campaign to hurt candidate Hillary Clinton and, ultimately, try to help Trump win.
Trump's Reaction
Trump was furious about the recusal by Sessions -- a decision the attorney general came to on his own -- because it made the administration look weak, said a person familiar with the situation. On Friday, the president yelled at senior staff in the Oval Office, an incident witnessed from a distance by reporters with zoom-lens cameras waiting outside the White House for Trump to board his Marine One helicopter for Joint Base Andrews and a weekend in Florida.
The tone and explanation offered by Sessions in his letter Monday contrasts with comments he made during a press conference last week, when he said that in "retrospect" he should have mentioned the meetings with Russian Ambassador Sergey Kislyak in response to a question at the confirmation hearing from Democratic Senator Al Franken of Minnesota.
Sessions has acknowledged that he met with Kislyak briefly along with other ambassadors at the Republican National Convention in July and in a longer private meeting in his Senate office in September.
'Do Not Recall'
"I do not recall any discussions with the Russian Ambassador, or any other representative of the Russian government, regarding the political campaign on these occasions or any other occasion," Sessions wrote in his letter.
Democrats on the Judiciary Committee have said Sessions's testimony was misleading and asked in a letter why he didn't voluntarily supplement the hearing record to disclose the contacts.
"Having considered my answer responsive, and no one having suggested otherwise, there was no need for a supplemented answer," Sessions wrote.
Sessions said the process for deciding whether to recuse himself from ongoing investigations was already under way before revelations about his contacts with the ambassador surfaced last week.
Sessions also said in the letter that his recusal would apply to any investigations into "Russian contacts with the Trump transition team and administration."
'Quick Action'
Senator Chuck Grassley of Iowa, the Republican chairman of the Judiciary Committee, said in an emailed statement Monday that Sessions took "quick action to clear up confusion about his statement" and there are no plans to make him return to testify before the panel, as some Democrats have demanded.
Democrats also have said Trump sought to divert attention from the flap over Sessions through explosive tweets over the weekend that asserted that his predecessor, President Barack Obama, had ordered surveillance against him. Trump provided no evidence, and a spokesman for Obama said the allegation was false.
White House press secretary Sean Spicer refused on Monday to explain Trump's tweets. He wouldn't say if Trump had personally seen evidence of the claim, or if he had based the accusation entirely on a talk-radio segment and a story published by Breitbart News, the conservative website once run by his chief strategist, Stephen Bannon.
Read more about the controversy over Trump's claim of Obama wiretaps
Spicer also wouldn't say if Trump was accusing his predecessor of breaking the law. And he wouldn't say if Trump would accept the results of a congressional investigation he's requested into his undocumented claim.
"I'm just going to let the tweet speak for itself," Spicer said.
Before it's here, it's on the Bloomberg Terminal.
LEARN MORE