Style
How to Wear the Risky Trend of Soft-Shouldered Suits
Stand head and you-know-what above the crowd with our advice on the newly ubiquitous silhouette.
By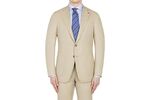 Do you ever feel, gentlemen, that you've got the weight of the world on your shoulders?
Have you felt, lately, that part of this burden has do with concerns related to the shoulders of your suits? 
It is, after all, the most important part of the garment. When it fits badly, people judge you silently, unless you're Sean Spicer, in which case they judge you at ear-piercing volume. 
From Madison Avenue to the mall, many mannequins are currently clothed in suit jackets, sport coats, and blazers with soft shoulders. These suits have little padding in the shoulders, or none, and they're being made in fabrics fit for summer, sometimes with very little structure. At the unspeakable extreme, when these jackets lack even partial canvassing, they look like glorified cardigans. Such garments have a place, and it's in California.

But it's possible not to lose your composure completely in this arena. When its color is dark, its pattern traditional, or its front double-breasted, a soft-shouldered jacket can present a relaxed formality appropriate to a stylish evening in the city. When a jacket exhibits all three of these qualities at once, it is smart enough to be worn anywhere. It might even seem more powerful than a broad-padded power suit on account of its confident un-stuffiness.
While that dressy approach to a soft-shouldered jacket endures as a classic, the more prominent look of the new season (at least, the more heavily promoted) is single breasted, light in color and weight, and sometimes a bit coarse or slubby in texture. In such a context, this a business-casual shoulder, an outdoor-summer-wedding kind of shoulder, an invariably-goes-well-with-jeans shoulder. Its traditions include the insouciance of Italian playboys and the nonchalance of American preppies.

Some refer to the soft look as the "natural shoulder." Speaking of nature: This kind of shoulder looks very best on those genetically blessed with certain proportions. If you feel that your head is too large for your shoulders, you want nothing to do with these jackets. If your shoulders are stooped, forget about it. If you pull a soft-shouldered jacket off the rack and it doesn't fit your shoulders perfectly, then put the jacket back on the rack posthaste.
The rule is so crucially important as to warrant repetition: Don't buy a jacket unless the shoulder fits well, and remember that whether the shoulder is natural or padded, it fits well when it encourages and accentuates your proud posture. It fits well when there's a smoothness across the back and your collar is flat against your shirt's, and when its edges gives a platonic hug to your deltoids.

And remember that—despite rumors of the power suit's resurgence, no matter the talk of an '80s revival—the oversized padded shoulders recently and notoriously shown by the avant-gardists running Balenciaga are not to be taken very seriously. These are a joke, my business-suited brethen, and the designers are not necessarily laughing with you.
Looking Over Soft Shoulders: Recommendations for Jackets
Canali's unstructured jackets, such as the Kei ($1,650), are models of the form. Cool and fluid, they exemplify the Italian approach to an elegant silhouette.
The natural shoulder of Brooks Brothers' Golden Fleece BrooksCloud Silk Sport Coat ($1,498) is easy, like Sunday brunch. Which is a proper place to wear it.
Even if you are unwilling to part with two or three thousand dollars for the privilege of wearing Isaia's Domenico Sport Jacket, you should look to its website for styling tips. An artfully incorrect necktie here, an adroit bit of pattern mixing over there—pretty soon you develop a whole philosophy of soft-shouldered life.
Before it's here, it's on the Bloomberg Terminal.
LEARN MORE