business
Australia Gas Firms Locked in Legal Battles After $200 Billion Spree Sours
By
Disputes mount amid prospects for slower returns on LNG plants

Cost blowouts total $55 billion across 8 Australian projects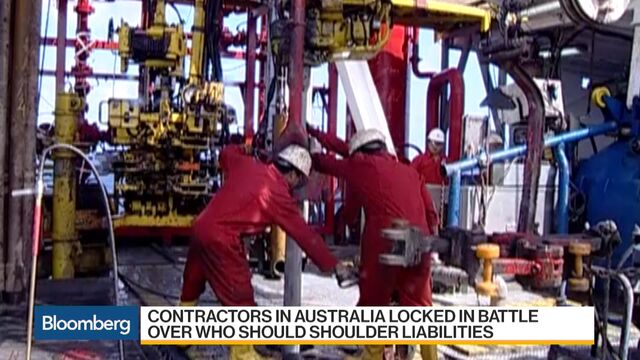 After splurging $200 billion building the world's biggest gas export plants, producers in Australia are now locked in legal battles with contractors over who should shoulder billions of dollars in liabilities sparked by delays and cost blow-outs.
Chevron Corp., owner of the $54 billion Gorgon facility, Australia's largest resource development, along with Inpex Corp. and Santos Ltd. are among energy heavyweights trying to claw back funds. The number of disputes is growing weekly in a chain reaction of litigation, which extends to small businesses subcontracted to supply materials and services.
"There are billions and billions of dollars of claims out there in the market, and claims of hundreds of millions of dollars are not uncommon," said Matthew Croagh, who handles liquefied natural gas matters as a partner in Melbourne with London-based law firm Norton Rose Fulbright. Croagh wasn't referring to any specific dispute.
Read more: All about LNG -- a QuickTake explainer
After an investment bonanza at the start of the decade -- poised to catapult Australia ahead of Qatar as the world's biggest supplier of LNG -- many of the world's top energy producers and service firms face the prospect of weaker returns. Costs of completing eight Australian projects exceeded initial forecasts by $55 billion amid competition from rival projects for equipment, labor and resources that pushed up prices and led to delays. Now, an oil market slump means companies may have to wait years to get a return on their investments.

The scale of disputes is shown in a 138-page document filed by Santos in the Supreme Court of Queensland in December. Australia's third-biggest oil and gas producer is suing U.S. contractor Fluor Corp. for A$1.5 billion ($1.1 billion) in damages for work on its $18.5 billion GLNG facility in the northeastern state.
Santos, Fluor
Lawyers for Santos have detailed alleged delays in delivering on parts of the construction contract, and claim that Irving, Texas-based Fluor wasn't entitled to retain its fees. 
The claims "are without merit," Fluor said in an emailed statement, adding that it will vigorously defend the case. Santos, based in Adelaide, South Australia, declined to comment. The stock gained 0.5 percent to A$3.69 in Sydney trading as of 1:26 p.m. local time and has slipped 8.2 percent this year, compared with a 1.6 percent increase in the benchmark index.
Other high profile disputes include a $2.4 billion legal action by Spanish-controlled engineering firm Cimic Group Ltd. against Chevron and project manager KBR Inc. over a jetty project at Gorgon, off Western Australia state.
In Arbitration
Cimic has entered arbitration over the dispute, according to its 2016 annual report, while also commencing separate U.S. court proceedings that are still ongoing. Chevron doesn't publicly discuss the details of contractual dealings or litigation, a representative said. A KBR official didn't immediately respond to a request for comment.
Inpex's $37 billion Ichthys LNG project in Darwin has also been involved in legal proceedings. UGL, owned by Cimic, may enter arbitration with a contractor over alleged delays to the completion of a power plant, according to a regulatory filing by one of its partners in the venture. Inpex said it doesn't comment on commercial matters.
The careful studying of contractual obligations contrasts with the fervor years earlier of companies concentrating on building giant facilities to feed Asia's hunger for energy.
"Five years ago, there was so much work in front of everyone, there just wasn't the focus on it," said Melbourne lawyer Croagh. "We are getting into that phase where contractors are looking much more closely at the claims potentials. And I think owners are looking more closely at what rights they have."
Dictating Profit
The success of legal claims will ultimately dictate the profitability of LNG plants, which have already stretched some of their owners into uncomfortable debt levels, said John Cooper, a Brisbane-based partner with U.S. law firm Jones Day.
"Simple mathematics will tell you that a win or a loss is going to have an impact on the profitability of projects," Cooper said. "If you're calculating it on a return on investment basis, if the capital value goes up, that will have an impact."
Some of the blame over the struggle to keep projects on both budget and schedule may lie with poorly defined contracts and changes to the scope of works in the early stages of projects, according to consultancy Wood Mackenzie Ltd. While feuding between operators and contractors fluctuates through the energy sector's boom and bust cycles, the slowdown in new LNG developments coming to market has intensified the battle for cash flow.
"Contractors, under financial pressure and with limited alternative work flow, are now in a difficult spot," said Saul Kavonic, lead analyst for Australia with Wood Mackenzie. "A rise in legal disputes, as both operators and contractors focus on cost cutting and minimizing spend, is therefore not unexpected."
Even so, those hoping for a quick resolution may be left disappointed. Hearings on the Gorgon dispute aren't expected to start until 2019, according to Cimic's last annual report.
"Anyone who can have a major claim resolved in less than 18 months is doing very well," said Norton Rose Fulbright's Croagh. "And a period of two to three years is not uncommon for a very substantial claim."
(
Adds that lawyer wasn't referring to any specific case in third paragraph; shares in seventh.
)
Before it's here, it's on the Bloomberg Terminal.
LEARN MORE