Photos: Getty Images, Photo Illustration: Tom Hall/Bloomberg
Brexit Bulletin: Differences Over the Divorce Bill
The British and European positions on paying for Brexit are moving further apart.
By
Sign up to receive the Brexit Bulletin in your inbox, and follow @Brexit on Twitter.
It's rare to find an optimistic chancellor of the exchequer, but Philip Hammond did his best to sound upbeat on Sunday when he said the "mood music" playing from the European Union made him confident a Brexit deal would be struck.

That continental mood may have darkened, however, given two weekend reports which raised doubts over whether the British will be willing to pay the exit bill European leaders plan to slap down. The Times said government lawyers have concluded there is no law or treaty to compel the U.K. to pay the bill EU officials estimate at about 60 billion euros ($63.6 billion or £52 billion). 
While the European Commission has likened covering the bill to paying for your drinks when you leave a pub, the newspaper cited a U.K. official as saying you don't pay anything after you end your golf club membership.
If the British are right then it strengthens Prime Minister Theresa May's hand. However, balking at any bill could mean negotiations start with a simmering row, and make it harder for her to secure the favorable access to EU markets after Brexit. Securing a trade deal may mean she eventually agrees to contribute some cash, yet signing a large cheque would risk criticism from those who campaigned to leave the bloc.
The Times report was echoed by one from a House of Lords panel, which acknowledged that while there was no legal obligation to keep paying into the EU's coffers, the "government will have to set the financial and political costs of making such payments against potential gains from other elements of the negotiations." That study said the bill could run as low as 15 billion euros.
On ITV's "Peston on Sunday," Hammond called specific numbers "positioning before negotiations" while implying he saw no legal need to pay:
"We are a country that very much abides by the rule of law. We meet our international obligations. If there are any outstanding dues that we are obliged to pay then of course we'll pay them."
For more on the looming EU divorce bill, see our QuickTake Q&A.
May's main headache this week will be whether the House of Lords votes on Tuesday to amend her Brexit withdrawal again. Having voted last week to tweak it to guarantee the rights of EU nationals living in Britain, peers will now debate demanding a "meaningful vote" on the premier's final deal. Her office said on Friday that the prime minister will try to overturn the defeats.
No Splurging
As he prepares to deliver his first budget on Wednesday, Hammond said Britain needs "gas in the tank" to offset any Brexit turbulence and wrote in the Sunday Times that a spending spree would be "reckless."
The newspaper also reported he is setting aside a 60 billion fund in case of any Brexit setbacks although he told ITV he didn't recognize that number.
Hammond will use the budget to signal a crackdown on consumer practices, such as subscription traps, that end up costing people money and also to allocate more than £500 million to boost innovation and technology.
More than 40 percent of respondents to a Bloomberg survey of economists listed investment in projects including transport and communications as their first choice when asked what the Treasury should focus on.
Research Wrap
The Institute for Government's Jill Rutter says those "prepared to burrow into the detail" of the budget forecasts may find the first government analysis of the economic implications of May's Brexit negotiating position. Also of interest: Will the Office for Budget Responsibility estimate the size of an exit bill or spending on new systems?
KPMG economists say the food and drink, metals, commodities and car-manufacturing industries would suffer most from a hard Brexit. Insurance is seen as relatively safe.
Companies will struggle to pass on the rise in costs created by a falling pound because of the deterioration in consumer confidence, competition and slower employment growth, according to Capital Economics, adding that inflation may not rise too far above the Bank of England's 2 percent inflation target this year.
On the Markets
LCH, the biggest clearinghouse for trading in interest-rate swaps, hasn't yet seen an exodus of customers seeking other options as policy makers in continental Europe argue the London-based business is on the wrong side of the English Channel.
There are no "indications of business frittering away," Xavier Rolet, chief executive officer of LCH parent London Stock Exchange Group, said on Friday. "Our market share is growing everywhere."

Brexit Bullets
JPMorgan Chase is scouting for office space in Dublin and Frankfurt for a European hub, though it wants flexibility from landlords to shrink or expand depending on Brexit talks
U.K. factory output reaches its highest since 2013, thanks to the weaker pound
BMW CEO Harald Krueger said in Bild am Sonntag that it can react flexibly to events such as Brexit by shifting production to other locations
U.K. population growth is mostly being driven by net migration into the country, according to the Office for National Statistics
Heathrow CEO John Holland-Kaye says Brexit means the airport should be enlarged, Daily Telegraph reports
The Duke and Duchess of Cambridge are to tour Poland and Germany after Brexit vote
House of Lords panel warns the government against a sector-by-sector approach to work visas
House of Commons Brexit Committee says government should unilaterally safeguard rights of EU nationals living in Britain
Researchers say regions of Europe hit by trade impacts are fertile ground for Trump-style protectionist rhetoric
European Commission Vice President Jyrki Katainen says the trade threat of U.S. President Donald Trump is uniting the rest of the world
And Finally...
With the Brexit and Trump waves, 2016 became the year of the populist. In France, Marine Le Pen is hoping the trend continues into 2017. For tips on how to spot a populist, this Bloomberg video has all you need to know.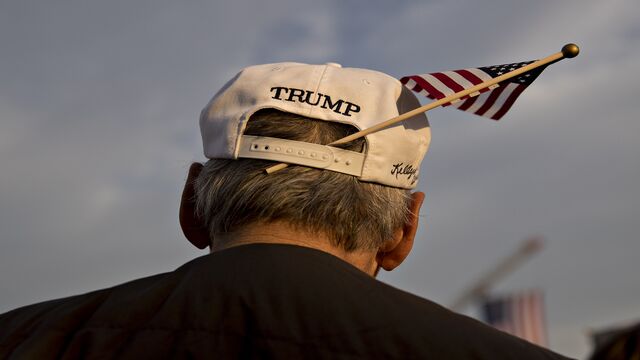 For more on Brexit follow Bloomberg on Twitter, Facebook and Instagram, and see our full coverage at Bloomberg.com
(
Corrects the spelling of Philip Hammond's given name.
)
Before it's here, it's on the Bloomberg Terminal.
LEARN MORE