business
France's Fillon Defiant Ahead of His Party's Meeting on Candidacy
By and
Presidential contender derailed by corruption allegations

Party officials discuss Juppe as replacement candidate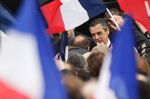 Francois Fillon's vow to stay in the French presidential race will be tested Monday as party chieftains gather to consider his fate amid a persistent corruption scandal.
The leadership of the center-right Republican party is to meet at its Paris headquarters to discuss Fillon's future after potential charges of embezzlement undermined his campaign and caused dozens of his top supporters to withdraw their backing. Fillon said Sunday night that he was staying in the race, after widespread speculation that he would pull out. 
"No one can prevent me from being a candidate," he said on France 2 television. "Any change so close to the election is necessarily doomed to fail." In a rally attended by tens of thousands of party faithful, Fillon emphasized that, as the winner of November's primary, he was the legitimate candidate.
As recently as two months ago, the 63-year-old former prime minister was the front-runner in France's most important election in decades. His withdrawal probably would help anti-euro, anti-immigration Marine Le Pen of the National Front and take support from independent centrist Emmanuel Macron, according to a Kantar Sofres poll released late Sunday. Some Republican executives have suggested that former premier Alain Juppe, 71, should replace Fillon as the party's candidate.
"If Fillon stays, it's good news for Macron," said Yves-Marie Cann, political research director at Elabe polling firm. "He's also the one who would have the most to lose if Fillon is replaced by Juppe."
Juppe's Chances
Juppe as the Republicans' replacement would get 24.5 percent support in the first round of voting April 23, according to a poll by Kantar Sofres for Le Figaro newspaper released late Sunday. Macron would drop about five percentage points to 20 percent in the first round and Le Pen would be little changed on 27 percent.
"This is proof that nothing today is fixed in people's intentions," Emmanuel Riviere, director of Kantar Sofres France, told Le Figaro.
Juppe is due to make an announcement to the press at 10:30 a.m. Monday. The former premier is set to announce that he won't replace Fillon as the party's candidate, L'Obs magazine reported late Sunday, citing people close to him.
According to a Harris Interactive poll for RMC Radio, 56 percent of center-right voters want Fillon to step down and 44 percent want him to stay on.
Fillon canceled a Monday morning radio interview on Europe1. Instead, his allies went on the air for him to stress the importance of Sunday's rally. "It marked a turning point, I feel the right rallying behind Fillon," southern lawmaker Eric Ciotti told RTL Radio. "I feel we will go all the way," Neuilly mayor Jean-Christophe Fromantin said on France2 television. "If we listened to polls, we'd change candidate every week."
But Thierry Solere, who quit as Fillon's spokesman last week, said on RTL Radio that Fillon, Juppe, and former President Nicolas Sarkozy had to meet. "Together, they must find a solution," he said, adding that his preference was a Juppe candidacy.
Fillon is being investigated by French magistrates on allegations that he employed his wife, Penelope, as a parliamentary aide, and she collected as much 800,000 euros ($849,000) over several years, even though she did no work. He has been summoned to speak to judges March 15, which he acknowledges could be a prelude to being charged. 
'Political Assassination'
Fillon denies any wrongdoing and has questioned the motives of the judges leading the probe, labeling it a "political assassination." Sunday, he told his supporters that their voices were the ones that counted.
"The choice is down to you and your votes," he said as people waved French flags. "It will be for all of France if we are capable of the ultimate effort."
In the preceding days, though, the toll of party leaders deserting rose steadily, with the major blows coming from the resignation of his foreign affairs adviser Bruno le Maire, his campaign director Patrick Stefanini, his campaign treasurer Gilles Boyer and his spokesman Thierry Solere.
The Republican Party's political committee has brought forward its meeting to 6 p.m. Monday at its headquarters to assess the situation, at the request of two of Fillon's closest allies, Gerard Larcher, who presides over the French Senate, and Bertrand Accoyer, the party's Secretary-General. Fillon said Sunday evening that he would attend.
Already, three powerful regional party leaders, Christian Estrosi, Xavier Bertrand and Valerie Pecresse have requested a meeting with Fillon Monday morning to persuade him to step down. Sarkozy and Juppe, who had both ran in the primary against Fillon, spoke Saturday night about ways to end the crisis, Agence France-Presse reported.
— With assistance by Angeline Benoit, and Gregory Viscusi
(
Updates with comments from Fillon allies from 10th paragraph.
)
Before it's here, it's on the Bloomberg Terminal.
LEARN MORE