China's Defense-Spending Confusion Highlights Strategic Worries
Bloomberg News
Military budget to increase at slowest pace since 1991

Pentagon has warned that China's opacity increases tensions
China omitted a key defense spending figure from its budget for the first time in almost four decades -- before an official disclosed the number -- highlighting concerns about transparency in the world's largest military.
While authorities said defense expenditures would rise "about 7 percent" this year, the budget report published by the Ministry of Finance on Sunday omitted the figures. Later, a ministry information officer said China's military budget would increase 7 percent this year to 1.044 trillion yuan ($151 billion). That's the slowest pace since at least 1991.
"We didn't remain private deliberately," the information officer, Song Kai, said by phone. China had disclosed annual defense spending figures in budget documents at the National People's Congress since 1980, when it started giving regular financial reports in the aftermath of the Cultural Revolution.
The episode highlighted the general dearth of information on China's military, a point that has raised suspicion among defense officials in the U.S. and Asia about Beijing's strategic intentions. Calls for more transparency are likely to intensify as President Xi Jinping presses ahead with the most sweeping overhaul of the People's Liberation Army since the 1950s.

China's "lack of transparency about its growing military capabilities and strategic decision-making continue to raise tensions and have caused countries in the region to enhance their ties to the United States," the Pentagon wrote in its report on China's military last year. Unlike China, the U.S. provides a breakdown of spending between the army, navy, air force and other units.
Outside estimates of China's defense budget are often significantly higher than Beijing's official numbers, according to the Washington-based Center for Strategic and International Studies, which has a webpage devoted to comparing the official Chinese defense budget with estimates from various organizations.
Read: Inside the Great Asian Arms Buildup
Last year, China budgeted a 7.6 percent increase in military spending to 954.4 billion yuan (equal to $147 billion at the time), the slowest increase since a 7.3 percent rise in 2010. The decline in growth tracks the broader trend in the country's economy.
"One shouldn't really trust those figures, because Beijing could have hidden budget overlays for such opaque activities as military R&D, or other expenses beyond what it wants the public and the international community to know about," said Collin Koh Swee Lean, an associate research fellow at the S. Rajaratnam School of International Studies in Singapore.

The Stockholm International Peace Research Institute estimates China's actual spending is about 55 percent above the officially stated figures. That takes into account items including military research and development, arms imports, some military construction projects and PLA pension costs. Of the official budget, Sipri estimates about a third is spent on personnel, a third on operations and a third on research and development and procurement.
The slowdown in Chinese spending growth comes as U.S. President Donald Trump vows to beef up U.S. defense spending by $84 billion over the next two years. That plan includes reductions in spending for the State Department and federal agencies that aren't involved in security.
Koh said that China's spending is constrained by other spending priorities, in particular social security in the face of an aging population. He expects China's program of building new ships to replace its aging fleet to continue.

The PLA Navy last year commissioned at least 22 vessels, according to state-run media. That represents a combined displacement of about 150,000 tonnes or the equivalent of one-and-a half times as much as the USS Gerald R. Ford, which will become the world's largest active aircraft carrier when it is commissioned later this year.
Premier Li Keqiang highlighted efforts to overhaul China's military Sunday in his annual work report to the 3,000 delegates of the NPC. "We will boost military training and preparedness, so as to ensure that the sovereignty, security, and development interests of China are resolutely and effectively safeguarded," Li said.
The finance ministry's budget report said that the government would support efforts to build a "solid national defense and strong armed forces that are commensurate with China's international standing" and "ensure that adequate funds are available to promote further military-civilian development." 
Watch This Next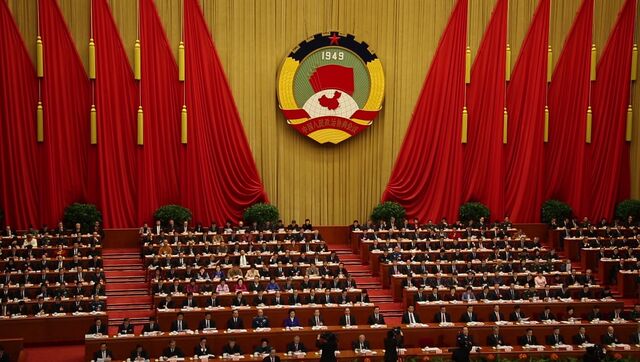 — With assistance by David Tweed, and Keith Zhai
Before it's here, it's on the Bloomberg Terminal.
LEARN MORE