China Dials Back Defense Spending Increases as Economy Cools
By
Growth of 'about 7%' could be lowest in more than a decade

Slower increase contrasts with Trump Plan to Boost U.S budget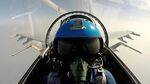 China indicated a continued slowdown in defense spending growth this year, as President Xi Jinping presses ahead with a sweeping military overhaul. 
The defense budget will rise "about 7 percent," National People's Congress spokeswoman Fu Ying told a briefing ahead of China's annual legislative session in Beijing. An actual spending target wasn't expected until Sunday, when the Ministry of Finance releases its 2017 budget at the start of the 11-day legislative gathering.
Last year, the country budgeted a 7.6 percent uptick in military spending to 954.4 billion yuan (equal to $147 billion at the time), the slowest increase since a 7.3 percent rise in 2010. Seven percent would be the slowest expansion in more than a decade, tracking the broader trend in the country's economy.

The increase consolidates China's lead as the world's second-largest military spender, accounting for more than 10 percent of the global arms total, said Siemon Wezeman, a senior researcher with the Stockholm International Peace Research Institute. More than two decades of expansion have helped China build a modern military capable of projecting force further from its coasts, while spurring anxious neighbors to upgrade their own defenses.
Fu said China was committed to peace and described tensions in the South China Sea, where the country's land reclamation campaign has been criticized by the U.S. and rival claimants, as "easing."
"We advocate dialogue and peaceful solutions to disputes of sovereignty and maritime rights," said Fu, a former vice foreign minister and ex-ambassador to the U.K. "Meanwhile, we should possess the capacity to protect our sovereignty and interests."
Trump's Increase
The slowdown in defense spending comes as economic growth continues to cool. The annual work report set to be delivered by Premier Li Keqiang on Sunday is expected to set a growth target of "about 6.5 percent," compared with last year's 6.7 percent expansion, according to a Bloomberg survey of analysts last month.
China's military outlays are dwarfed by U.S. expenditures, which may be boosted further as President Donald Trump seeks to add $84 billion to defense spending over the next two years. On Thursday, Trump pledged during a visit to the USS Gerald R. Ford -- the first of a new class of nuclear-powered aircraft carriers -- to maintain a dozen carriers. The USS John F. Kennedy, which would be the 12th if no others were decommissioned, is already under construction.

"I'm afraid the U.S. worries that China will surpass the U.S. in terms of capability," Fu said. "In fact, China, as a developing country, has a big gap with the U.S., but China's army-building will continue."
China is in the midst of its biggest military overhaul since the aftermath of the Korean War. Xi has called for cutting 300,000 personnel from the 2.3-million-member People's Liberation Army and updating its Soviet-inspired command structure. The armed forces have also been rocked by Xi's anti-graft campaign, with the defense ministry announcing in December the first bribery investigation against an incumbent general.
Xi is tilting the military away from a traditional land-based force to favor the naval and air forces needed to protect maritime resources and trading routes vital to China's economy. As China pursues its "One Belt, One Road" initiative to build an intercontinental web of infrastructure and trade links, it has greater need to project power further from home.
"There is a threat perception, but it's not so much that somebody will invade China, but more issues related to economic security, access to resources, access to markets and to be able to protect that because without that the economy will collapse," said Wezemen. "There's also posturing. To be a major power, you have to show you have military might."
(
Updates with anti-corruption campaign in 10th paragraph.
)
Before it's here, it's on the Bloomberg Terminal.
LEARN MORE