Russia Finds Trail of Fraud Behind Biggest Bank Failure in Year
By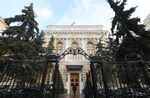 Russia's central bank, on the prowl for mismanaged lenders as part of an unprecedented three-year cleanup, is picking up right where it left off.
The regulator on Friday revoked the licenses of two lenders, including the nation's 42nd-biggest, Tatfondbank PJSC, after efforts to save them collapsed amid evidence of fraud. The affiliated banks are based in Tatarstan, an oil-rich and predominantly Muslim region in central Russia.
Tatfondbank, and the smaller Intekhbank PJSC, had been in temporary administration since December, according to the central bank. The larger lender has a hole in its balance sheet estimated at about 96.7 billion rubles ($1.7 billion), Bank of Russia Deputy Governor Olga Polyakova told reporters in Moscow. Tatarstan's Investigative Committee said it opened a criminal case against Tatfondbank's head on suspicion of fraud.
The bank is the biggest to fail since Vneshprombank was found to have falsified accounts for investments in real estate, expensive vehicles and financial instruments, before being shut down in January 2016. The central bank is purging weak and fraudulent lenders in a campaign to clean up the Russian financial industry, pulling one in three banking licenses since 2014.
Tatfondbank had been mentioned as a candidate for the central bank's new bail-in strategy to reduce the cost of saving teetering lenders after the state has spent trillions of rubles in aid to the financial industry in recent years. 
Not Enough
Two of the bank's investors offered to convert slightly over 5 billion rubles of debt as part of a bail-in, Polyakova said, while the central bank believed at least 60 billion to 70 billion rubles would be necessary to implement it.
Investigators in Tatarstan suspect Tatfondbank employees, in seeking a loan, provided the central bank with "fictitious" information about the availability of a highly liquid asset, according to a statement on Friday. Later, the funds --which exceeded 3 billion rubles -- were transferred to accounts of companies affiliated with Tatfondbank, the republic's Investigative Committee said.
A Tatfondbank spokeswoman in Kazan declined to comment, citing central bank restrictions after the temporary administration was enacted.
Funds taken from Tatfondbank were also involved in the seizure of 8.5 billion rubles in cash from the apartment of anti-corruption police colonel Dmitry Zakharchenko in September, according to court testimony last year at a Moscow district court. Zakharchenko denied any wrongdoing.
Before it's here, it's on the Bloomberg Terminal.
LEARN MORE