politics
Merkel to Meet Trump March 14 as Nations Face Biggest Test in Decades
By , , and
Merkel to Meet Trump March 14 as Nations Face Biggest Test in Decades
By , , and
German chancellor to present her clashing world view in person

White House meeting comes as Merkel gears up re-election bid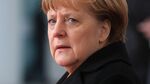 German Chancellor Angela Merkel and U.S. President Donald Trump will meet at the White House on March 14, bringing the two leaders together for the first time as the trans-Atlantic relationship faces its biggest test in decades.
The meeting, confirmed by White House spokeswoman Sarah Sanders on Friday, is a chance for the two leaders to present their world views to each other face to face after Trump's turbulent early weeks as president. Concerns among European leaders include a U.S. shift toward protectionism and differences over NATO, Russia and climate change.
Merkel met Vice President Mike Pence at a security conference in Munich two weeks ago in an attempt to establish a rapport between the two governments. "No nation can resolve the world's problems alone," Merkel told the conference. "These great global crises can only be resolved together."
As she campaigns for a fourth term in September elections, Merkel has spoken out strongly in favor of a multilateral trade agenda that Trump has called into question. The U.S. president called Merkel's open-door refugee policy "insane" while on the campaign trail, once predicting that she wouldn't be re-elected as chancellor. The two are also expected to meet at the German-hosted Group of 20 summit in Hamburg in July.
Old Interviews
To prepare for their first meeting, Merkel was said around the time of his inauguration to be poring over old interviews and video of Trump, seeking clues on how to influence and read the U.S. president.
Europe's longest-serving leader and the billionaire-turned-president will have no shortage of topics to discuss. Merkel has condemned Trump's migration restrictions, pushed back on his administration's claims about manipulation of the euro's exchange rate, criticized efforts to divide the European Union and warned that America will still need allies.
For his part, Trump frequently expressed contempt for Merkel and her migration policy as she struggled with more than 1 million asylum seekers who arrived in Germany over the past two years. While her party's poll numbers have declined, Merkel's popularity hasn't dropped significantly.
"You watch what happens to Angela Merkel, who I always thought of as a very good leader until she did this," Trump told a campaign rally in Virginia last August. "Angela, what happened?"
U.S. Assurances
Last month's European visit by Pence, Secretary of State Rex Tillerson and Defense Secretary James Mattis brought a measure of reassurance to North Atlantic Treaty Organization allies that the U.S. will stand by its commitments. Tillerson also said the U.S. is committed to German-French peace efforts in eastern Ukraine.
Merkel confronts her own challenges in seeking to forge a relationship with Trump. Germany's Social Democrats have largely closed the poll gap Merkel's party this year after appointing Martin Schulz to challenge her. Schulz has scored political points on the campaign trail by criticizing Trump.
"There will be no bashing with me, no badmouthing the EU," Schulz told a rally this week, drawing a contrast with the U.S. president.