Macron Overtakes Le Pen in France as Juppe Looms Over Fillon Bid
By and
Fillon grapples with exodus, vows to maintain candidacy

Juppe featured on front pages as polls show support remains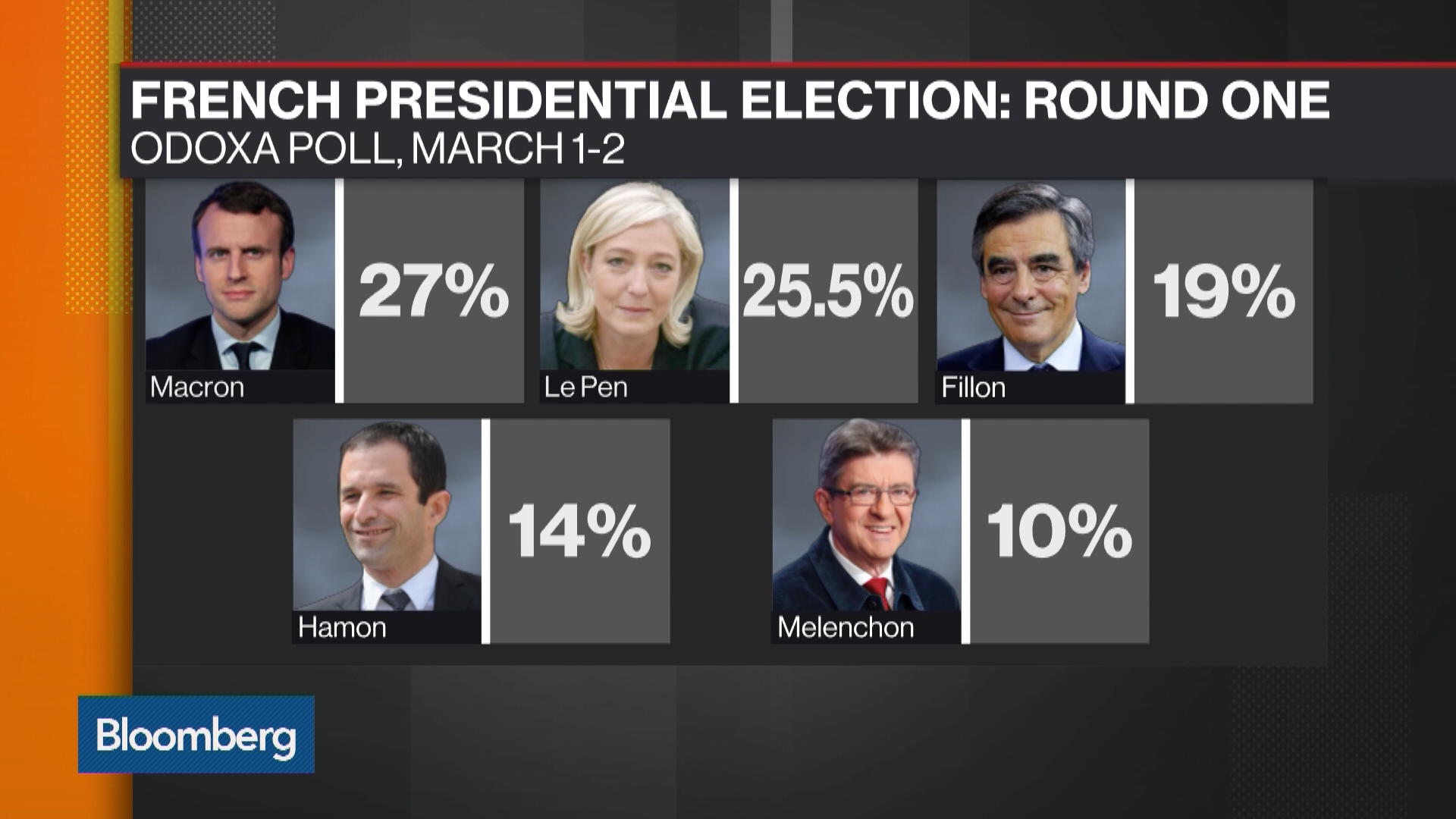 Emmanuel Macron overtook the anti-euro candidate Marine Le Pen for the first time in polling for the French presidential election as the clamor grew for Republican Francois Fillon to step aside.
Macron's support jumped 2 points to 27 percent from a week earlier in an Odoxa survey of first-round voting intentions while Le Pen slipped to 25.5 percent from 27 percent. Yet the March 1 and 2 survey of 951 people also showed that Alain Juppe, defeated by Fillon in the Republican primary, would lead if he was back in the race.

Juppe was favorite to become France's next president last year before he was overwhelmed by a late surge in support for Fillon during the nomination battle. With prosecutors preparing to charge Fillon with embezzling public money, some Republicans are looking to Juppe to jump back in to salvage their party's hopes in the first ballot on April 23.
More than 60 politicians have said they could no longer support Fillon, who is set to be charged for the embezzlement of public funds despite his protests of innocence. Juppe, the 71-year-old mayor of Bordeaux, featured on the front page of Le Parisian newspaper with a report that he is telling allies he is ready to run if the party wants him. One official who was in Juppe's primary campaign suggested he is unlikely to return, while the mayor himself couldn't be reached for comment.
Fillon Clings On
Such a dramatic reversal would be in keeping with a race that has seen three different front-runners and the unprecedented sidelining of both a sitting and former president. For now though, Fillon is registered as a candidate and clinging on to his bid.
"It's not at all given that Juppe would just waltz back into his previous position," Elabe pollster Yves-Marie Cann said in an interview. "A lot has happened since the primary, there's just seven weeks to go."
The return of Juppe would threaten to drain away centrist voters who gravitated toward Macron rather than Fillon, an admirer of former British Prime Minister Margaret Thatcher. Even so, Cann said it may prove tough to stop Macron now.
"There's real momentum for Macron," Cann said. "Look where he is now. With each poll the percentage of Macron voters who say they are certain of their choice is rising."
'Political Assassination'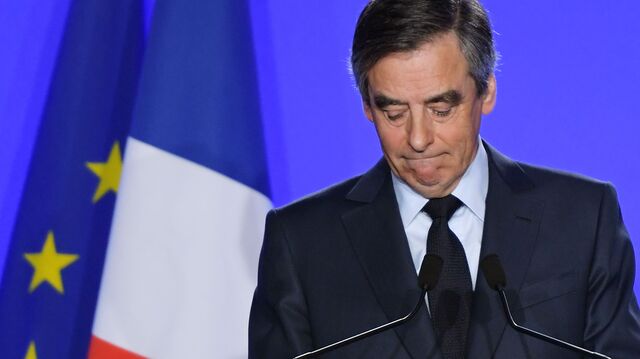 The 39-year-old former economy minister brushed off the possibility of a Juppe challenge.
"A presidential campaign isn't a series of catch-ups," he said on RTL radio Friday. "I'll continue to advance and march no matter what happens."
Fillon, who was the front-runner as little as two months ago, has seen his campaign marred since mid-January by the investigation into his employment of his wife. Currently third in the polls, Fillon says he's done nothing illegal and characterized his judicial woes as a "political assassination" as his center-right party of Charles de Gaulle faces elimination in the first round of a presidential election for the first time.
Fillon Family Pay Revelations Muddy French Race: QuickTake Q&A
The Fillon campaign is planning a crucial rally of supporters in Paris on Sunday. The gathering on an esplanade overlooking the Eiffel Tower is meant to be a show of force, though many officials from the Republican party have said they won't be attending. Speaking late Thursday, Fillon dismissed the significance of the Republican deserters.
"We'll do it without them," he said while campaigning around the southern city of Nimes on Thursday. "The base is holding on. The right-wing voters are holding on."
Watch Next: Fillon Loses More Support From French Republicans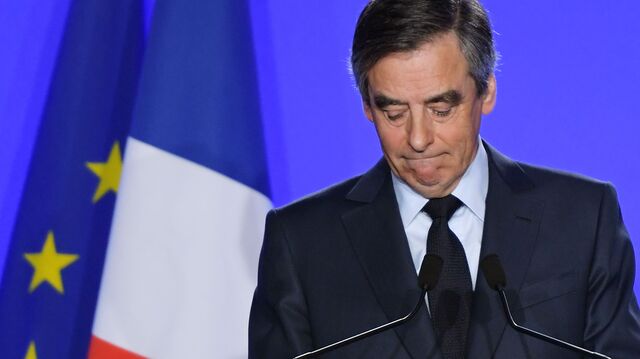 — With assistance by David Whitehouse, Helene Fouquet, and Geraldine Amiel
Before it's here, it's on the Bloomberg Terminal.
LEARN MORE