Paris Hopes for Brexit Bank Jobs Run Up Against Frexit Fears
By
Firms waiting until after the election to consider moves

Labor, tax reforms will be crucial to luring jobs from UK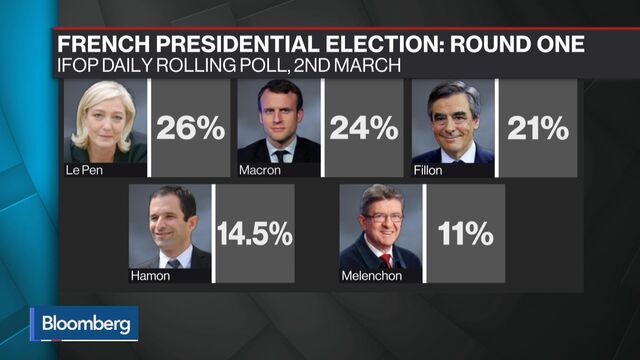 There's one big thing standing in the way of France luring banking jobs from London after Brexit: the prospect of Frexit.
With Marine Le Pen among the leading presidential candidates, her platform of taking France out of the euro and the European Union is repelling finance executives. If she loses, a more business-friendly leader such as Francois Fillon or Emmanuel Macron could implement reforms that would make Paris more competitive.
"It's really black or white: with a Le Pen election no foreign firm would consider to move business to Paris," said Markus Ohlig, a managing director at Greenwich Associates who advises asset managers and banks in Europe and Asia. Fillon and Macron "both have agendas that should create new confidence" for business decisions in favor of Paris.
Le Pen, the candidate of the far right National Front, wants to leave the euro, revoke central bank independence and print a new currency to finance welfare and industrial projects. Polls show the 48-year-old leading in the first round of balloting in April, but losing the May runoff against either Macron or Fillon.
Still, the campaign of the conservative Fillon, a former prime minister, has been rocked by a worsening scandal over the employment of his wife and children as parliamentary aides. And while the 39-year-old Macron, running as an independent, has climbed in opinion polls, he's never held elective office and the durability of his support is untested. 
Twists and Turns
Twists in the campaign have been rippling through the bond market as investors, stunned last year by Britain's decision to leave the European Union and the election of U.S. President Donald Trump, remain attuned to any possibility of a Le Pen upset. The gap in yield between French 10-year bonds and their German equivalent grew to the widest since 2012 last month.
As Paris vies with Frankfurt, Dublin and other cities for the potential spoils of Britain's exit, the presidential race is shaping up as a make-or-break event. Pledges by Fillon, 62, to lower taxes, smooth hiring and firing rules and scrap the 35-hour work-week got discreet praise early on from French corporate leaders. Executives are increasingly looking favorably on Macron's less aggressive reform plans, which he outlined in a presentation Thursday.

Paris currently has about 150,000 finance industry employees, including back-office staff, and could lure 20,000 workers or more from Britain after Brexit, estimated Paris Europlace, the city's financial lobby group. Four globally systemic banks as well as insurance giant Axa SA have their headquarters in the Paris region. The city is also one of Europe's biggest asset-management and bond-trading centers. 
"The Paris hub is hoping to become more competitive after the elections," said Arnaud de Bresson, head of Europlace. Officials from the group are in contact with all of the campaign teams and "everyone is listening to and is aware of" our priorities, he said.
French banks BNP Paribas SA and Societe Generale SA have suggested they may repatriate a marginal number of jobs to France following Brexit.
Read more: French bankers dismiss threat of Le Pen win
London-based HSBC Holdings Plc is the only big foreign bank that's indicated it will relocate employees to Paris. Chief Executive Officer Stuart Gulliver said in January that staff generating about 20 percent of its London investment-banking revenue may move to the French capital. HSBC already owns one of the country's top consumer-banking networks. 
HSBC's choice might remain an isolated case unless France's next president reduces the country's disadvantages in terms of tax levels and labor costs.
"It's maybe an exaggeration to say, but probably close to reality: eliminating a job takes three days in London, three months in Switzerland, three years in Paris," Jean-Frederic de Leusse, head of UBS Group AG's French unit, told senators in Paris in February. "Clearly the new French government's policy will be looked at and will matter in the choice," but so far there isn't "enough visibility" to decide on Brexit-related moves, he said.