business
R-Rated X-Men Give Fox More Punch as Wolverine Growls Goodbye
By
Hugh Jackman makes final 'X-Men' appearance in 'Logan'

Studio ramps up Marvel movie development, Snider says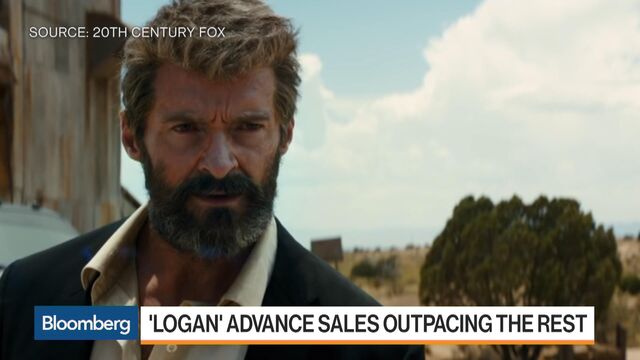 20th Century Fox is dealing with mutant succession issues.
With the debut of "Logan" this weekend, audiences say goodbye to Hugh Jackman as Wolverine, the popular, metal-clawed Marvel Comics character in the $4 billion "X-Men" superhero series from Rupert Murdoch's 21st Century Fox Inc. Patrick Stewart, who has played mutant team leader Charles Xavier since 2000, has also said it will be his last time in that role.
The "X-Men" series is Fox's top franchise, delivering its best box-office sales. The studio demonstrated the potential by spinning out a new hit from the mostly unheard-of character "Deadpool" last year. But Fox has trailed Disney, Universal and Warner Bros. in ticket sales the past two years, and "X-Men: Apocalypse," released last May, fell short.
Fox has moved in fits and starts to reinvigorate an aging franchise in an ever more competitive field for blockbuster comic-book movies. "Logan" will rely on Jackman, who's played Wolverine for 17 years, to propel "X-Men" into a successful future without him. His swan song has received critical acclaim, and the studio is so bullish that it's increasing development of Marvel movies.
"It's the most that we have ever done," said Stacey Snider, the veteran Universal and DreamWorks film executive who became sole head of the Fox studio in September. With the new Marvel pictures, Fox is aiming for "quality and visionary filmmaking, with an idiosyncratic individual approach, not a cookie-cutter approach," Snider said in an interview.
The Marvel pipeline at Fox, home to megahits like "Avatar" and "Titanic," includes another "X-Men" movie and more spinoffs like "Deadpool," including one about a thief called "Gambit." The studio, which licenses the mutant human superhero characters from Marvel owner Walt Disney Co., also has rights to the Fantastic Four and could mine the X-Force team behind "Deadpool." 
Disney, with movies like "Iron Man" and "The Avengers," has established a template for superhero films: build followings for individual characters, then pit them together in ensemble megamovies that yield even bigger box-office results. Warner Bros. is following a similar route with its DC Comics-based movies, which are culminating in a giant "Justice League" film in November. Disney's movies feature witty banter and bright colors; Warner Bros.' have been more serious and brooding.
Read more: Bloomberg Intelligence on profitability of "Logan"
After some internal debate, Fox is opting for a more varied style -- sometimes darker and more grown-up -- while also mixing films about individual characters with ensemble stories.
Unlike Disney, which stays family-friendly in its Marvel movies, Fox is free to create R-rated or non-mainstream superheroes as it did with "Deadpool," about a former special forces member who is disfigured by experiments and left with super healing powers. That $58 million production appealed to the baser side of superhero fans' tastes and became a surprise global hit. Its $783 million in worldwide ticket sales made it the biggest R-rated film ever.
That kind of room for experimentation could help the studio catch up to Time Warner Inc.'s Warner Bros., whose characters include Batman and Superman, and possibly Disney.
"Fox now is in a position where it has some more flexibility that when these stories call for a heavier rating they can put more money against it knowing they've had success in the past," said Erik Davis, managing editor of Fandango.com. "That gives them a flexibility that DC does not have and that Marvel Studios does not have."
The third "Wolverine" movie, R-rated "Logan" is the most acclaimed "X-Men" movie to date, with 93 percent positive reviews from critics at RottenTomatoes.com. Advance sales are outpacing all "X-Men" ensemble movies and past standalone Wolverine features, according to online ticket seller Fandango. The picture could open with domestic weekend sales of $86 million, according to BoxOfficePro.com. The studio is forecasting $65 million.
The new film cost $97 million to make, not including marketing costs. The story finds Jackman's character in rural Texas, where he's looking after Stewart's Xavier, who has become frail. He must emerge from hiding to protect a young mutant in danger. The film, with its dusty locales and reluctant hero, looks and feels more like a Western than the standard comic-book blockbuster.
In all, the nine movies in the "X-Men" franchise have generated $4.38 billion in worldwide ticket sales for Fox, according to researcher Box Office Mojo. Jackman, a 48-year-old Australian who has won Tony and Emmy awards and been nominated for an Oscar, has appeared as Wolverine in all but one of them, including three where he's the main character.
Fox isn't betting everything on "X-Men." The studio plans four sequels to "Avatar," the all-time box-office leader, and Snider is looking for growth from follow-on features from other series like "Planet of the Apes," "Kingsman," "Alien," "Predator," even "Murder on the Orient Express."
Still, it's clear the studio has a lot riding on its big-screen mutants. Fox is holding three dates in 2018 for untitled Marvel movies. And while "Logan" may be the last "X-Men" feature with Jackman, it won't necessarily be the last appearance by the Wolverine character in a movie, Snider said.
To Davis at Fandango, the question is whether Fox can repeat the success of "Deadpool" with the "X-Men" movies that follow.
"I'm more concerned about them being able to step out of the box with those ensemble movies," he said, "and serve up something that is as radical and inventive as these R-rated movies."
Before it's here, it's on the Bloomberg Terminal.
LEARN MORE