business
Your Evening Briefing
Here are today's top stories
Bloomberg News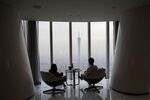 The evening briefing will soon be available in your inbox every early evening. To be among the first to get it, sign up here.
Not even Donald Trump can put the brakes on China's wealth-creation machine. The fortunes of the 36 Chinese billionaires on the Bloomberg Billionaires Index have increased by 13.2 percent — or $39.2 billion — since Trump was elected. In all, the world's richest 500 people became $207 billion richer. Missing out on the party, however, are Mexico's mega-wealthy. Former world's richest man Carlos Slim has lost more than most, taking a hit of $16 billion after the U.S. president's tough talk on Mexico sunk the peso. —Kristine Servando
The world's biggest banks have been fined $321 billion since the 2008 financial crisis, for an abundance of regulatory failings, including money laundering and terrorist financing. The tally, compiled by Boston Consulting Group, is set to increase in the coming years as European and Asian regulators catch up with their more aggressive U.S. peers.
The Russia question.  U.S. Attorney General Jeff Sessions twice met with Russia's ambassador to the U.S. during Trump's election campaign, even though he said during his confirmation hearing that no contact had occurred. The Justice Department revelation prompted top Democrats in Congress to call for his ouster after barely a month in the job.
Asia's fastest-growing economies also have the fastest-growing slums. In many of Asia's booming cities, sprawling, illegal slums house the millions of workers who power their economies. As villagers are drawn to urban areas in search of work, many discover affordable housing is non-existent. More than 20 percent of the urban population in Vietnam, China and Indonesia live in shantytowns.
Here's how long it takes to earn your breakfast around the world. Residents of Abu Dhabi, Osaka and Zurich can earn enough in less than five minutes to buy their first meal of the day. In Caracas, where inflation is soaring, it takes almost nine hours, according to the Bloomberg Global City Breakfast Index.
What's driving Australia's property boom? In the financial capital Sydney, home prices have risen 73 percent over five years, ranking it second only to Hong Kong as the world's least affordable housing market. Find out where the money's coming from and what regulators are doing about it.
Mystery traders illegally made millions investing in shares and derivatives ahead of Softbank's announcement that it would buy Fortress Investment Group. The traders are believed to be overseas investors, according to U.S. regulators who secured an emergency court order freezing the traders' assets.
Your phone could soon sound as good as a $15,000 hi-fi. Backed by Jay Z and the Qatari wealth fund, French inventor Pierre-Emmannuel Calmel wants to squeeze the technology of his high-end Devialet amplifier into your mobile phone. Could his company become the next Dolby?

Before it's here, it's on the Bloomberg Terminal.
LEARN MORE