This $200 AI Will End Tennis Club Screaming Matches
The In/Out rig scans court lines and maps the ball's path.
By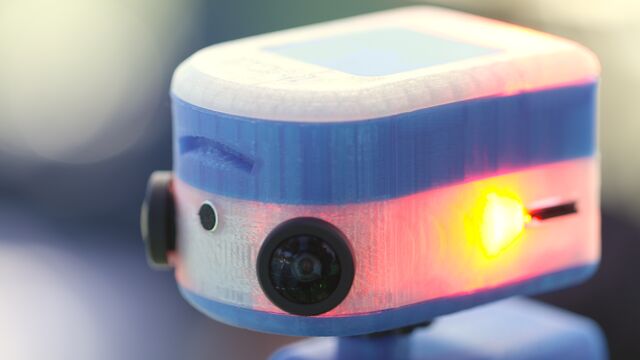 Visit just about any tennis club on a Saturday, and you're likely to witness otherwise sensible adults losing their minds over line calls. Players suffer complete meltdowns as they hurl insults. Parents morph into brooding teenagers. Friends become enemies. Postmatch beers can undo some of the damage, but the shame and resentment linger for days.
More civilized times may lie ahead. French inventor Grégoire Gentil has designed a $200 GoPro-size device that can be fastened to any net post and detect whether balls are in or out with surprising accuracy. It's called, reasonably enough, the In/Out. "I was born in Paris and raised on clay," Gentil says. On clay, the ball leaves a mark, and he recalls many arguments over a blemish on the court. "It was the starting point of this, I would say."
Gentil, 44, now lives in Palo Alto and built the In/Out in his living room lab. The device monitors both sides of a tennis court using a pair of cameras similar to those found in smartphones. After attaching the In/Out to the net with a plastic strap, a player pushes a button on its screen, and it scans the court to find the lines using open-source artificial intelligence software. AI also helps the device track the ball's flight, pace, and spin. "This would not have been possible five years ago," Gentil says.

In a test at Stanford, Gentil and I played for an hour, and the In/Out beeped whenever one of his shots sailed long or wide. (I don't remember missing any.) On close calls, we rushed over to watch a video replay on the In/Out screen. At hour's end, Gentil whipped out a tablet and connected to the In/Out app, which showed where all our shots had landed and provided some other stats.
Although equipment like the In/Out has been around for years, Gentil's is the only one that costs about as little as a decent racket. Top tournaments, including the Grand Slams, use Hawk-Eye, a Sony Corp.-owned system of superaccurate cameras that customers say costs $60,000 or more to set up on each court. Given the price, it's typically reserved for show courts. Sony didn't respond to requests for comment.
PlaySight Interactive Ltd., a startup in Israel, makes a six-camera system that's less accurate than Hawk-Eye but costs a mere $10,000 per court, plus a monthly fee to collect data that can be reviewed online or in an app. PlaySight's setup also includes a large screen that lets players see line calls and ball speed without interrupting the game. The company has sold its gear mostly to tennis clubs and universities.

Chris Edwards heads the product testing work done by retailer Tennis Warehouse and has tried all three tracking systems. "The In/Out doesn't bring the same depth of insight as PlaySight," he says. "But as far as a portable, cheap device goes, the In/Out has the potential to be the best by far. I haven't seen anything else like this."
Over the past decade, Gentil has made a dozen products. He sold a software company to Cisco Systems Inc., designed an augmented-reality motorcycle helmet, and built a hand-size drone that can follow a person around. He spent two years developing the In/Out, tuning the software, even 3D-printing a plastic tennis ball-shaped case for it. It's been a tumultuous process, Gentil says. "You get an algorithm working on the tennis court one day and think you will sell hundreds of thousands of units, and the day after, nothing is working."
Gentil acknowledges his machine's limits. The In/Out has a 20-millimeter margin of error, compared with about 3mm for the Hawk-Eye, and can get confused during doubles matches if the extra players block its line of sight. Gentil says he hopes to improve the device's accuracy and recommends that two In/Outs be used for doubles. As for the possibility that Sony or PlaySight might sue him over the concept of his invention, he's filed some patents himself, he says. "If Hawk-Eye is coming after me tomorrow morning, they are going against innovation and against the tennis community. I think I might have the tennis community with me."
The bottom line: Gentil's $200 line-calling AI isn't as accurate as rival products, but unlike them, it's affordable enough for mass adoption.
Before it's here, it's on the Bloomberg Terminal.
LEARN MORE