technology
Snap Leaps in Debut Even as Concerns Over Growth Threaten Rally
By and
Shares closed at $24.48 apiece, well above IPO price of $17

IPO valued app maker at twice Facebook's sales multiple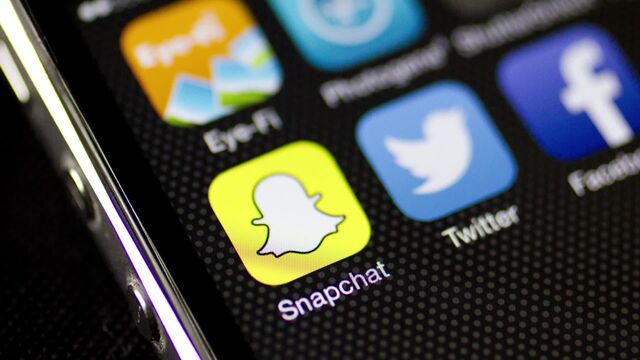 Snap Inc. surged 44 percent in its stock market debut, valuing the disappearing-photo app maker at more than $28 billion.
That's a vote of confidence in the company's ability to grow quickly and fulfill its promise of new products to change how people communicate. Snap, which started with a mobile phone app for sending vanishing photo and video messages, has been building out its advertising and media business, reminding investors of the early days of Facebook Inc. and Google's YouTube.
Even so, some analysts are already betting the rally won't last: Two have already given the shares a "sell" rating, one with a price target of just $10. Why? Snap is years from profitability, with a net loss higher than its revenue. User growth on the Snapchat app slowed in the fourth quarter, drumming up skepticism for how big the company's advertising business can be. Investors still don't have a clear picture of how the company plans to become profitable, so instead must put their faith in Chief Executive Officer Evan Spiegel, who rarely talks publicly about his vision.
"There's reason for caution," said Jessica Liu, an analyst at Forrester Research Inc. The success of Facebook -- which priced shares at $38 apiece in 2012 and now trades around $136 -- is an anomaly, she said. Snap needs to improve its user growth and prove the value of its ads. "Its TV-like revenue pursuit is new and untested."
Does Snap's trading pop mean the IPO market is back?
Shares closed at $24.48, giving the company a market valuation of about $28.3 billion. Snap sold 200 million shares in its IPO at $17 each, above the $14 to $16 marketed range. It was the biggest social-media IPO since Twitter more than three years ago, and the first tech company to list in the U.S. this year.
Opening Bell
A little less than two hours before Snap started trading, Spiegel and co-founder Bobby Murphy rang the New York Stock Exchange opening bell alongside exchange President Tom Farley. Unlike most executives on listing day, they didn't hang around on the floor for the opening trade price to be set. Instead, they headed to Goldman Sachs Group Inc.'s headquarters about a mile away, according to people familiar with the matter.
Goldman Sachs was the right-lead underwriter and stabilization agent on the IPO, alongside left-lead underwriter Morgan Stanley.
Spiegel and Murphy didn't want to do the typical circuit of post-IPO television interviews, one of the people said, asking not to be identified as the details are private. Instead, they wanted to be in front of the real action: Huddled around the fourth-floor trading desk of Goldman Sachs managing director Benny Adler.
Surrounded by senior technology investment bankers and equity traders, they watched Adler's screen as he evaluated demand, set opening price indications and determined the open time, according to another person. During the wait for the perfect open price, Goldman Sachs Chairman and CEO Lloyd Blankfein and David Solomon, co-president and chief operating officer, stopped by to personally congratulate Snap's founders on the $3.4 billion deal.
As they huddled, the indicated opening price range narrowed from $22 to $24, to $23.50 to $24.50 a share. Finally, at 11:19 a.m., shares opened at $24, greeted by applause from the equity trading floor, the person said. As for the co-founders, they seemed pleased with the price.
Facebook, Twitter
At the IPO price, Snap had a market valuation of about $20 billion, implying a multiple of about 21.4 times EMarketer's estimate for its 2017 advertising sales. That means the company went public at a valuation at least twice as expensive as Facebook, and four times more costly than Twitter Inc.
Snap, which posted a net loss last year of $515 million, even as revenue climbed almost sevenfold, has plenty to prove. It needs to continue to increase revenue per user and address slowing user growth -- which fell below 50 percent in the fourth quarter for the first time since at least 2014.
"Snap presents investors with the opportunity to invest in the company behind an innovative, large-scale, and distinctively young-skewing platform," said Brian Wieser, an analyst at Pivotal Research Group LLC. "Unfortunately, it is significantly overvalued given the likely scale of its long-term opportunity and the risks associated with executing against that opportunity." He gives Snap a sell rating.
Away from execution risk, the company also needs to convince investors to put their complete trust in its management. Snap listed non-voting shares, the first company to do so in the U.S., according to its deal filing. That means stockholders will have no sway over things like director nominations and executive compensation, and won't be able to bring matters before the annual meeting. Co-founders and majority holders Spiegel and Murphy will be responsible for the decisions that lead to Snap's success -- and on the hook for its mistakes.
At the same time, its advertising model is still evolving, with many brands using the platform to experiment with one-off campaigns before committing to longer term spending. While the advertising business has been built up from nothing in about two years, advertisers have said that the ad-buying process is still overly complicated. They're also concerned about only being able to access a narrow demographic through Snapchat -- its core user group of teens and twenty-somethings.
For more on Snapchat's experimental advertising model, click here
Expectation Game
The aftermath of an IPO is always a game of expectations, with companies measured against what they promised in pre-listing presentations. Snap's pitch to investors is distinctly different from Facebook's or Twitter's. While those companies emphasized trying to become a global brand, Snap will instead focus on developed markets, it said in its IPO filing. The company doesn't want to be measured primarily on user growth, a metric that has plagued Twitter since its IPO. Snap says that metric will be "lumpy," as will its performance. 
Instead, it will ask investors to focus on how engaged its users are with the app, and how much revenue the company can maker per user.
"The company has done a good job setting expectations at the right level," Hemant Taneja, a managing director at General Catalyst Partners, said on Bloomberg Television. His venture firm invested in Snap.

Still, it will be difficult to escape the comparisons. Facebook, with about 1.2 billion active daily users on its flagship platform and 1.2 billion monthly users on its messaging tool WhatsApp, trades at a multiple of about 10.5 times revenue estimates for this year. Facebook's Instagram introduced a video-reel feature -- similar to Snapchat's stories -- that already has 150 million daily users. That's in line with Snap's daily active count of about 158 million.
When it comes to what happens next, Snap will be keen to follow Facebook's trajectory over that of Twitter.
Following a first-day trading technology glitch, Facebook climbed less than 1 percent and languished for more than a year. Once the company's strategy of betting on mobile software started to pay off and revenue and profit exceeded estimates, it surged: The company now has a market valuation of about $395 billion.
Twitter, on the other hand, had an impressive early run after its 2013 IPO, then proceeded to stumble as user growth slowed. With more than 300 million monthly active users, the site is valued at 4.8 times projected revenue -- and with a market valuation of about $11.5 billion is already significantly smaller than Snap.
Snap faces what those companies faced, but is framing its future differently. Instead of being dependent on its Snapchat app, the company changed its name a few months ago to emphasize that it will eventually be a portfolio of many products, like its Spectacles video-capturing glasses, and other experiments to come
First-Day Pop
Demand outpaced the number of shares offered in the IPO by a multiple of 10, people familiar with the situation said. But executives held out because they wanted to fill the order book with longer-term shareholders, one of the people said. The company expected about 50 million shares of the stock purchased in the IPO to be subject to a lockup period of a year, according to the prospectus. The investors that agreed to that condition were awarded with a larger allocation, the person said.
Given the interest, Snap could have priced the shares at $19 each, the person said, but executives wanted to ensure that shares would make a decent gain in their debut. For now, they got their wish.
— With assistance by Drew Singer
Before it's here, it's on the Bloomberg Terminal.
LEARN MORE